Weekly Giveaway : Do the Locomotion with Eadweard Muybridge
OK, that was a cheap connection between a Motown hit single and the motion study work of Eadweard Muybridge.
Love em both, however.
Anyway, when the Tate Museum opened their exhibit of Eadweard Muybridge's work recently, we immediately went to the site and hoped to see some of the great videos that the Tate has been making coupled with their exhibits, and found out we couldn't see them in the states.
BUT……
The Tate has provided many things for your on-line perusal, and we recommend you check on the site.
Like a brilliant article from noted collector Michael Wilson on the man, the artist, the scientist.
And for you lucky readers in London, the show is up til Jan. 16.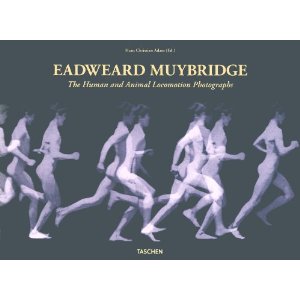 If you are now familiar with the name Muybridge, you have probably come in contact with the images at some point in your life.
This week, we'd like to give away a copy of this latest in the books of his life and work, some are are considering the most complete file.
Eadweard Muybridge: The Complete Locomotion Photographs

From the product description on Amazon:
"This title discusses the grandfather of the moving image. English photographer Eadweard Muybridge (1830-1904) was a pioneer in visual studies of human and animal locomotion. In 1872, he famously helped settle a bet for former California governor Leland Stanford by providing photographic proof that when galloping, a horse momentarily lifts all of its legs off of the ground. Muybridge accomplished this feat by inventing a complex system of shutter releases that allowed him to capture freeze frames of the horse's gallop – proving conclusively, for the first time, that the horse does indeed lift all of its hooves in the air for a fraction of a second. For the next three decades, Muybridge continued his quest to fully catalog many an aspect of human and animal movement, shooting hundreds of nude or draped subjects engaged in various activities such as running, walking, boxing, fencing, and descending a staircase (the latter study inspired Marcel Duchamp's famous 1912 painting). This resplendent book traces the life and work of Muybridge, from his early thinking about anatomy and movement to his latest photographic experiments, and is copiously illustrated with his complete locomotion plates as well as biographical pictures and texts. The work of this icon of 19th century photography, still very relevant today, is most deserving of this long overdue XL tome that will delight art and photography fans as well as horse lovers."
Details on entering to get this book for free, gratis, zero lettuce, no sheckels,no cost to you, will be in the NEWSLETTER you may have signed up for on the top right hand of the page you are reading now.
Sign up by tonight to be eligible for this weeks giveaway. The Newsletter goes out tomorrow, Weds. morning PST.
And who can't love a museum that creates a fun app for an exhibit? The Muybridgizer is free and available now.
Thanks Tate!