The Naked iPhone : You better strip down to use the tools
Last night on the New Years Eve broadcast coverage you could see tons of iPhones shooting away.
All neatly tucked into their cases, safe from the bumps and grinds of pockets, bags, and the world.
At the same time we are seeing a deluge of accessories, designed to dress up your phone and make it think it's a full service camera.
And it is, in some respect.
The sharing aspect and ability to immediately upload and post a photo/video/ with a written message is one of the biggest things to happen in recent years, thanks to smartphones
iPhone and facebook maybe weren't the first, but they are the best.
So what are some reasonably priced tools to use?
Well, first of all is the array of lenses available. And we have tried a bunch of them.
Not going to go to the Schneider optics system, while a superior set-up to most, it's a pricey alternative ( about $200) to the outstanding Olloclip 3-in-1 Lens
, which we've seen for under $60.
And the magnetic ones really are a waste of dough on so many levels. Bad fit, poor optics, magnetic ring is simple but the adhesive is too weak. Many times the lens took the ring off when removed.
We are big fans of the Olloclip. Nicely machined, good fit on the phone, and crisp lenses, well priced.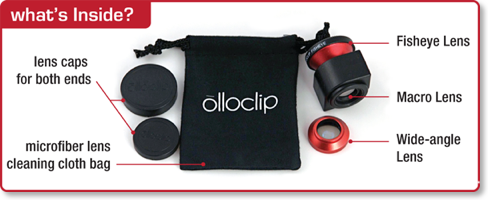 BUT…….
You do have to have a naked iPhone to use. The snug slide on fit happens when you have no case or skin on the phone.
Like so many of the accessories for iPhone, the manufacturers can't design shapes and dimensions to fit all of the options out there, so they design for a naked phone.
We generally wear a skin, but may rethink that.
Next up is stability:
Like many small cameras , lighter the unit = more shaky images.
So let's put on one of our faves, The Glif:
.


Slips on the bottom of the phone and volia, you have a 1/4-20 tripod mount. Just add a Gorillapod or tripod of choice, and you are in business. $20.
Another fave is the Gary Fong Flip-Cage
. For about $20. you get a very well designed, folding mount for your iPhone or actually any point and shoot cameras.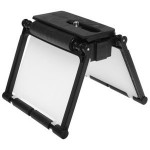 Add a Fong iPhone mount for $20, and you have a stabilizing, light diffusing, macro copy stand, for your phone in a pretty darn small package. We recco the Gary Fong tripod mount for this rig as it makes the phone sit right for all of the uses.
Once again you are taking the iPhone out of it's case for the tripod mount.
One of the first solid stabilizing performers out there was the Owle Bubo
a complete solution with a wide angle/macro lens, although the mic was not usable for the iPhone 4.

This company then became, Action Life Media and released the mCAM lite
Always good to see a company grow.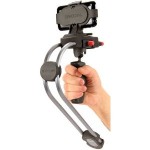 Of course you could go with a Steadicam Smoothee
if you're doing some traveling shots.
So lenses, stability, and of course, APPS.
A great book we got over the holidays is The Art of iPhoneography: A Guide to Mobile Creativity

Published in April 2011, the world of APPs is constantly changing and updating so this may give you some good ideas of what has been available.
One other uber cool accessory we've been working/playing with is the Kogeto DOT
.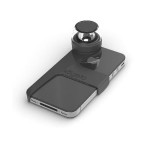 Shoot 360º video with sound and immediately upload to social networks. One of the most fun $80 you may spend. Works with a skin on. But probably get a better "snap" sound when mounting without. Made over 50 of these vids and post em on our Facebook page occasionally. And yes, will be posting from the CES floor
We have tried MANY of the options out there, and will probably try many more.
A few things to remember:
*iPhones are terrible in low light
*A case is a good thing to protect you life connection smart phone
*There will be another iphone coming. And another. and another.
So the shape may change. And perhaps your shooting tools will either have to adjust or you buy new ones.
*Spend wisely, my friends
And watch for our vid posts from the CES floor coming soon. Our correspondents will be cruising about finding the coolest stuff out there.
Posting on our Facebook page.