We're giving away a free photo book: Radical Camera – No Joke
We know that April 1st has brought all kinds of pranks online, from home nuclear devices , to tales of celebrity deaths.
Even Lomography got into with the announcement of the LomoKino HD version (yeah, they're all about film and analog so HD never crosses their lips)
We're on the up and up.
For years we gave away photo goods very week. We're back. Details after the jump.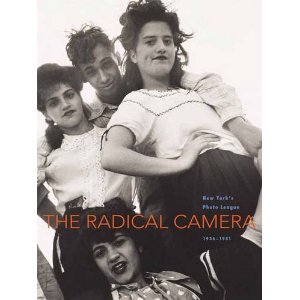 This week, it's the book The Radical Camera: New York's Photo League, 1936-1951
While the exhibit enjoyed a good run at the Jewish Museum in NYC, you get to peruse some of the best in NYC street photography from the comfort of your home.
Honestly, I loved this show so much, I made multiple trips to see it.
Mixing amateurs and pros, this conglomeration of photographers in NYC , started during the New Deal of FDR, captured the rebuilding of the city with a certain wide eyed documentation of a reemerging hotbed of humanity. The same celebration of the working class, was mixed with the discovery of the hidden treasures brought to light by photography: the neighborhoods.
Known for some of their parties and even scavenger hunts, this group of like minded artists and documentarians, spread almost a sense of wonderment in their work.
Till the red scare and McCarthyism came to infiltrate and close down the fairly benign group.
A documentary, "Ordinary Miracles" has just been released further exploring the Photo League, it's members, and credo.
The book is thick and rich with over 150 duotones, and insightful commentary.
the official word:
"Artists in the Photo League, active from 1936 to 1951, were known for capturing sharply revealing, compelling moments from everyday life. Their focus centered on New York City and its vibrant streets—a newsboy at work, a brass band on a bustling corner, a crowded beach at Coney Island. Though beautiful, the images harbor strong social commentary on issues of class, child labor, and opportunity. The Radical Camera explores the fascinating blend of aesthetics and social activism at the heart of the Photo League, tracing the group's left-leaning roots and idealism to the worker-photography movement in Europe. Influenced by mentors Lewis Hine, Berenice Abbott, and Paul Strand, artists in the Photo League worked within a unique complex comprising a school, a darkroom, a gallery, and a salon, in which photography was discussed as both a means for social change and an art form. The influence of the Photo League artists on modern photography was enormous, ushering in the New York School.
Presenting 150 works of the members of the Photo League alongside complementary essays that offer new interpretations of the League's work, ideas, and pedagogy, this beautifully illustrated book features artists including Margaret Bourke-White, Sid Grossman, Morris Engel, Lisette Model, Ruth Orkin, Walter Rosenblum, Aaron Siskind, W. Eugene Smith, and Weegee, among many others."
How do you get a copy of this book, gratis from photoinduced.com?
Like this:

Sign up for our newsletter. It's free, we will NEVER share your email address, and you can opt out anytime.
On Weds. AM PST, you will get this newsletter in your in box and there will be some photo news, and details on getting entered for this.
We ask a question, all correct answers are sorted and a random selection from these correct answers, will determine our one winner.
You can only enter once, and this giveaway is limited to the US, sorry.
(official rules are listed here)
And exact details will be in the newsletter.