Record Exec/Photographer brings a personal view "For The Dance Of The Light"
When an artist picks up a new medium, there is a freshness to the vision, as a usually revived communicative passion, is reignited.
And then there are those that have a creative vision, which is funneled through others, who eventually create with their own eyes.
Nancy Berry enjoyed a successful career in the music industry for over two decades as the former Vice Chairman Virgin Music Group Worldwide and former Vice Chairman Virgin Records America.
Not bad, right? Worked with some heavy duty, brilliant creative folks.
6 years ago she picked up a camera, and has been able to cross over from the creative business side into her solo, photographic work.
Operating exclusively "in camera" for the effects shots, she creates all of the physical elements herself, and then destroys them after the shoot, ensuring that the series can't be replicated. From props, wardrobe, make-up, sets' etc., she hand cures the imagery.

© Nancy Berry
This is a clear cut, closer, personal look. The tweaked color, ground level camera position and positioning of the feet, seem almost psychedelic,and Kafke-esque. Like an insect that came up to examine a magnifying glass. So, is the introspection for the subject, or for the viewer to discover?
She uses a range of modern & vintage digital, film and digital infrared. as her mediums.
Her straight ahead images, using no effects work, have different stories to tell.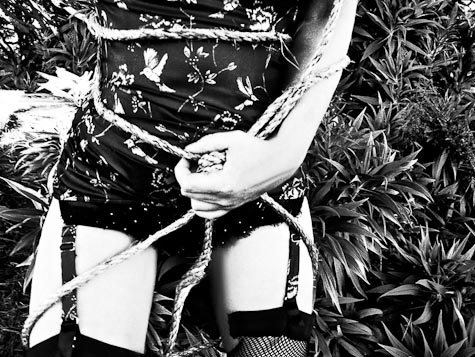 © Nancy Berry
The knotted rope by the pelvis, coupled with the lingerie, speaks to a different muse. It's clear that the presentation is that of a consensual act, but faceless, and non threatening.
Is the viewer already involved, or questioned?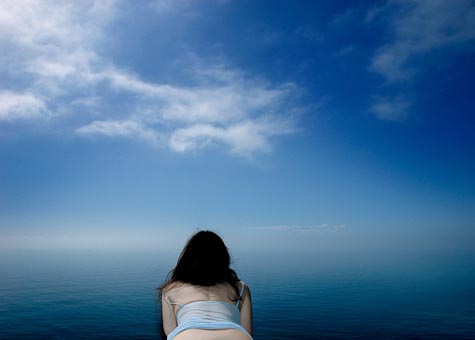 © Nancy Berry
With a hint of sexuality, Nancy Berry has taken a fairly mundane view, and with proper cropping, teases another story.
One more of her detailed in camera explorations, below. Again an internal discovery, with the viewer allowed to skim the surface.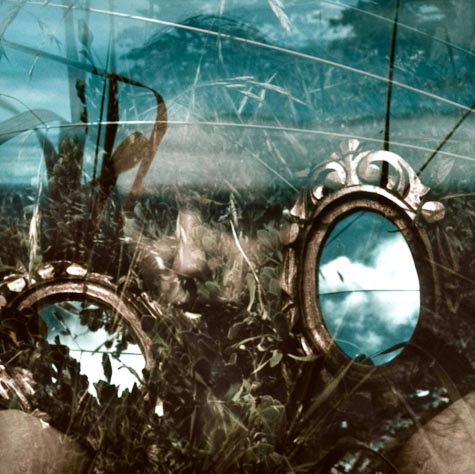 © Nancy Berry
Now here's the kicker:
Nancy Berry makes her exhibition debut with her "For the Dance of the Light," photography show featuring self-portraits and landscapes.
The exhibit will be open to the public for one day only on Friday, May 18th from 10am – 5pm at the Pacific Design Center (8687 Melrose Ave Suite B315- 3rd Floor) in West Hollywood.
The Pacific Design Center is quite a good space for exhibits. Lots of good spaces, great parking.
But I guess you better make it there on your lunch hour, because this is a one day deal.