Chuck Close : a consistency of vision, told in a variety of mediums
The massive Polaroid portraits of Chuck Close were always a trademark in the artists' early days.
One of the few artists invited to shot with the unique, immense, format camera (20×24), his signature tight, facial portraits were a perfect fit for the medium.

His paintings continued in his exploration of the detail of the photographic image, with pointillism, near Seurat, breaking down the subjects features, into not just a separate color, but a controlled swirling design.
You can step away, and see the whole, or get in tight to appreciate the intensity of the breakdown of the whole.
There is currently an exhibit at the Pace Gallery in NYC, showing a current collection of his work, with not only paintings and prints, but photographs that have been woven as jauquard tapestries.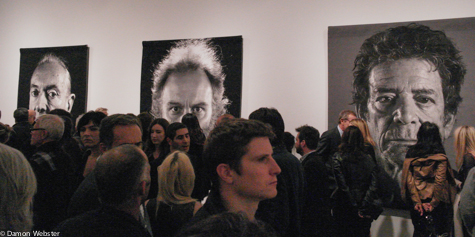 Using images, apparently from his series of daguerreotype portraits, the photos have been loom woven, resulting in 9x7FT hanging portraits.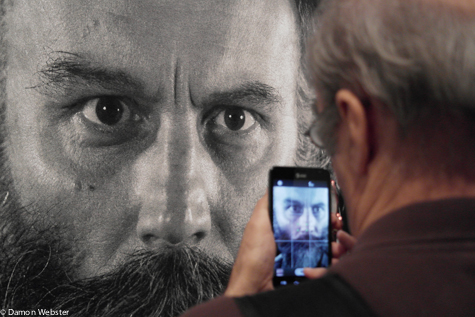 Always one of our favorite books, Chuck Close: A Couple of Ways of Doing Something

we highly recommend it still. Not only has he resurrected the arcane process of dageureotype, from the beginnings of the medium, he gives each portrait a page of it's own to let you enjoy its beauty, in an oversized book format. On the opposite page is a poem on its subject by Bob Holman, who now runs the Bowery Poetry Club
There are also a few portraits, one self portrait in particular, that actually made some of the attendees opening night gasp.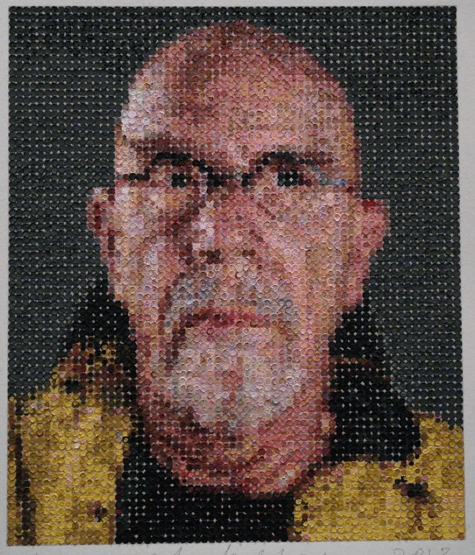 Using colored felt dots, he creates a signature style self portrait.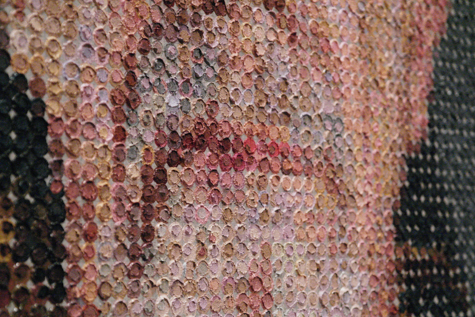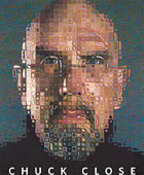 Of course if you can get there to see it in person, it's best, but for those who cannot make it, Pace Gallery has produced a fine, oversized, well made catalogue for only $30.
Worth picking up.
An added bonus on the opening night, was the appearance of Paul Simon who accompanied Chuck Close through the gallery, discussing the work.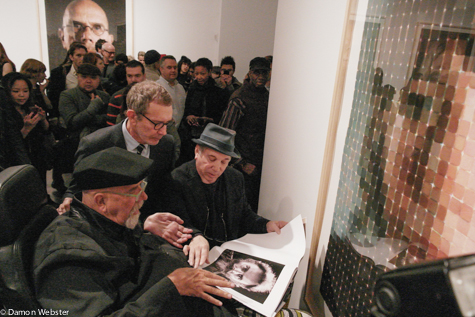 Chuck Close, Paul Simon, and Pace Gallery owner, Arne Glimcher
Good times.
Chuck Close
Oct 19, 2012 – Dec 22, 2012
Pace Gallery
534 West 25th Street
New York NY 10001
Tel: 212.929.7000
Tues – Sat 10 to 6