Like any good Fair, it brings out the community
Whether it's a county fair, state fair, or in this case a photo fair, one of our favorite parts is that the community comes out.
Not out of the woodwork, but comes out to share in a common interest.
At the county fair there may be funnel cakes, the worlds biggest squash, fried twinkies, and the locals will all come out to partake.
At the PhotoLA Art Fair, no blue ribbon food, but a great gathering of world class dealers and the photo community.
That last part always has always been the extra fun for us.
After looking at many, many, many photos, we needed a little break, and wandered into the food area.
Now in one fell swoop, we met Kim and Gina Weston, Ed Martin, and Winston Swift Boyer.


Now we've written about the Weston's before, and you should take a look at their site for the most current work.
Ed Martin has been a cinematographer and photographer for most of his 84 years, and his most current work, uses a scanner as camera.


© Ed Martin
And then Winston Swift Boyer, who's site has a full range mix of portfolios for you to peruse.
Here is just one image from his panoramic series (our particular fave)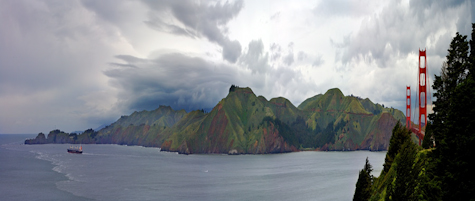 © Winston Swift Boyer
Later in the evening, the Center (formerly the Sante fe Center for Photography), held a photographers fling, essentially a photographers mixer. There we met up with a ton of the artists who braved the reviewers gauntlet for the past 2 days, and heard from the pros, critics, writers and gallery owners, as to where they felt their work was at or going.
And when we say brave, we mean it.
Imagine taking a portfolio of your work, that you spent years shooting, months making a presentation suitable for review, then spending dough to have it critiqued by those you respect.
Whew. "That's nice" is not what you are looking to hear, nor is "Why do you even do this?"
Hopefully these folks heard a constructive range that helps them in their photographic journey forward.
So, along with the established folks coming to see & visit, and the new breed, figuring the next steps, were also the mainstays who had a vested interest in the event.
Like Pulitzer prize winning photographer David Hume Kennerly, showing work at the Frank Pictures Gallery Booth,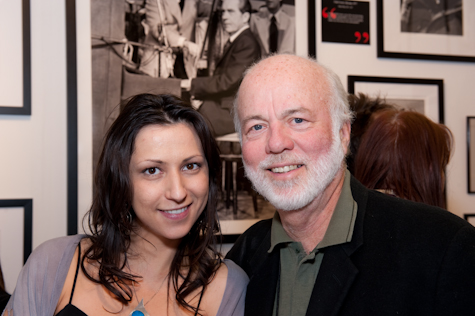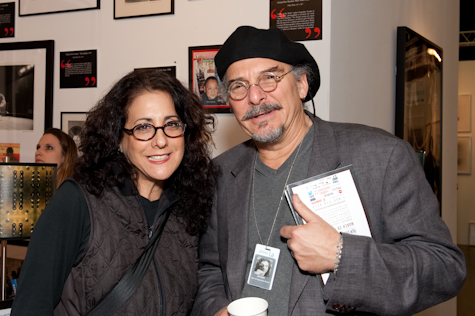 and Jeff Dunas photographer and creator of the Palm Springs Photo Festival seen here with Amy Kawadler, teacher and Canon marketing Exec.
Jeff is also currently exhibiting a retrospective of 30 years of his work at the Duncan Miller Gallery.
Yep, the community loves to come out to the fair.
No fried twinkies, or prize winning pigs, but plenty of chewing the fat.
We did promise to bring you some of the highlighted exhibitors links, and we will.
Shortly.
There should some links you can check out in this post, to keep you busy for now though, hopefully.
Another 8 coming your way.
Plus we saw something at the fair that we've never seen before: A $500,000 photography book!
We'll even have some images from the tome. And if that's too rich for your blood, there was also a $400,000. photo book at the same place.
Now, if we all pool our money together…………