Yes, the portable battery powered LED light market offers sooooo many options. You can honestly get the perfect light for what you require to illuminate.
Top of mind for me right now is small, portable, bi-color, with a decent battery life.
LumeCube has been a player in what I'd call the action LED light market. I own a few, and whenever I snorkel, this is on my action cam.
Bulletproof product, in my opinion.
When they introduced the lite panel last year, I was all over it! Looking for an event/trade show interview light, ticked a lot of the boxes, but had one main problem for me:
You couldn't ramp it down enough. The quality of the light was great, but it was way too intense for the interviewee. I had to add some additional diffusion just to take it down a few notches. They did fix that issue and came out with the Lite Panel GO. I still wanted to get something that was even MORE compact.
The folks at Lume Cube heard this from a few folks, and went to work.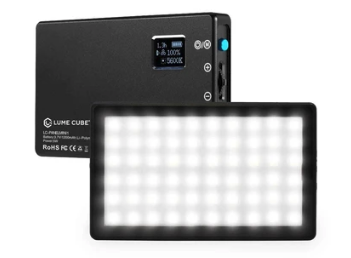 The new Panel Mini has so many cool features, and has an awesome battery life And not just by making it it smaller.
Well, it is smaller, but some of the best features is the fact that you can ramp down the output to 1%, select your color temp, and it's about the size of a business card!
Continue Reading »