The best, new, innovative, photo product we've seen!
We go to our fair share of photo trade fairs, consumer electronic shows and email blasts upon email blast of new gadgetry promising the path to glory. Or the path to the perfect photo.
Sometimes it does feel like the comics I read a kid, with the claims running rampant.
Those sea monkeys never did have crowns, nor carried tridents.
So when we first found our way into the tweet-up room ( kind of a press preview ) the rows of new products draws you in. Who's got the right pitch? Which product should we be sharing with you, and perhaps making your photographic life, just that much better?
Lots of clever ideas that help solve problems we all have: carrying gear, lighting subjects, and keeping subjects attention.
One item broke through all of that: CamRanger
What the heck is this?
Basically it is a wireless controller for your DSLR. It creates an ad-hoc wi-fi network for your camera.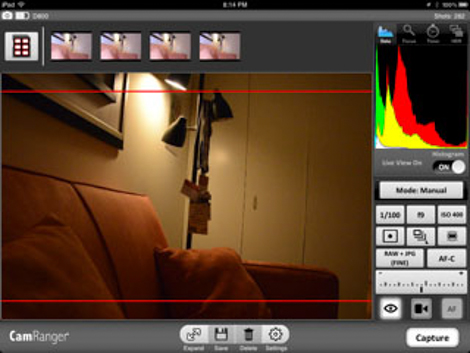 Using your iPad, iPhone, and the free app., you can adjust not only the exposure settings like aperture, shutter speed, ISO, White Balance, HDR, you can touch focus your camera from the tablet!.
And how about an intervalometer? yep, it does that, too.
Here's an amazing trick feature: auto layered focus, called Focus Stack
What the what?
OK , if you have shot a product shot where you were lighting it just right which called for a certain f/stop, which in turn gave you a certain depth of field.
With this app, you can shoot a stack of images wirelessly, with slight refocus so when the single shots are layered together, you have a front to back focus. And since you do not touch the camera, your chance of vibration is minimized if not gone.
So you see all of the control on the face of the tablet. You can even touch screen your focus point on the tablet.
OR
You can lock out all of that info, and just have the shots show up clean.
Like if you have a client. Let them take the tablet where they want and be comfortable, while they watch the shoot.
All of this is great, but there is one more major feature: it will work in movie mode!!
Yep, you can change your focus point, while in movie mode.


An important point: you are saving RAW images on your camera's media card, while displaying jpegs on the tablet.
You do have to adjust the SIZE of the jpeg, so a shoot can be handled full screen for display. Took a bit to find that out.
But don;t worry. It's a small company with amazing support

This was truly the most innovative new product I saw at PhotoPlus Expo 2012.

It comes with a cable for your DSLR, either USB 2.0 or USB 3.0, charging block, and the simple directions.
One thing it doesn't have is a hot shoe connection or a 1/4″-20 tripod socket.
You are relegated to using the included neoprene pouch, with a caribbiner. attach to a neck strap or tripod.
We have been told that a solution for this is coming.
What blew me away was the software. Robust, well thought out, and seemed to have all of the functions I would need, plus more.
And we know that this company is going to keep upgrading. They have just made the app for MAC OS.
Check the app in the iTunes store and see what you think.
MSRP about $300.
Highly recommended.
CamRanger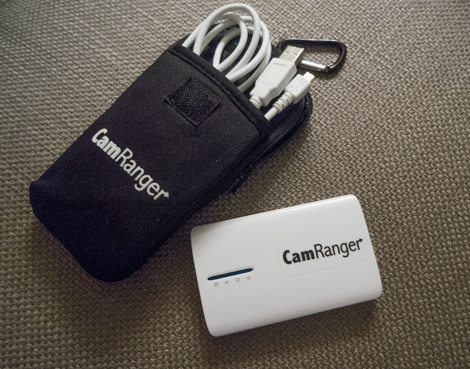 But we're not done with the subject of triggering your camera.
Not by a long shot. We've been testing a range of units, each with it's own set of specs made to fit your needs and wallet.
Stay tuned.