Wary of Subscription Based Software? Adobe makes it easier to swallow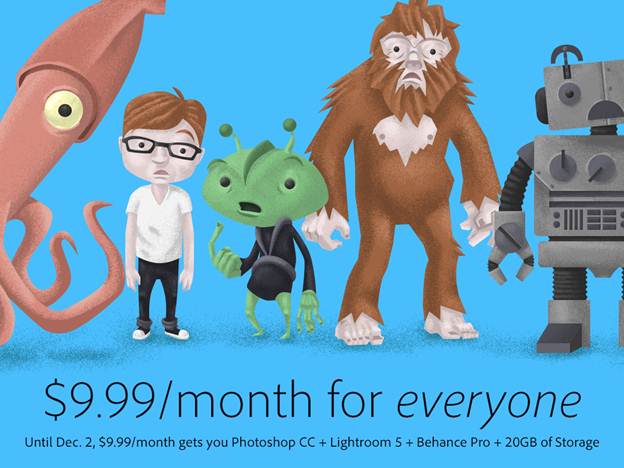 Adobe initially launched the Photoshop Photography Program in September to support the needs and workflow of photographers who use CS3 or later. Now, for a limited time, Adobe it is extending this offer to all photographers for $9.99/month as an annual subscription – valid from Nov. 20 (9:00 a.m. PST) through Dec. 2, 2013 (11:59 p.m. PST) on Adobe.com.
The Program offers access to Photoshop CC and Lightroom 5 (plus respective feature updates and upgrades as they are available), 20GB of cloud storage and Behance ProSite, all via Adobe Creative Cloud all for $9.99/month as an annual subscription.
Upon the expiration of this limited offer, the Photoshop Photography Program will continue to be available for $9.99/month to those photography customers who own a previous version of Photoshop Photoshop Extended, or Creative Suite, version CS3 or later (CS3.x, CS4, CS5.x, or CS6). This offer expires Dec. 31, 2013. For more information on the Photoshop Photography Program, visit http://www.adobe.com/products/creativecloud/faq.html#pslr-bundle.
Considering the cost of the programs and the upgrades, this is a pretty amazing deal.