Stevie Nicks : 24k Gold At the Morrison Hotel Gallery

Stevie Nicks/Morrison Hotel Gallery
"For every love affair, there are pictures" Stevie Nicks
What do rock goddesses do when they leave the stage? Take Polaroids, it seems.
Stevie Nicks may be on tour now, but her photography is stationary on display at the Morrison Hotel Gallery at 116 Prince Street for the month of October
When viral meant sickness, and the interwebs were far off, Stevie Nicks was exploring photography, while on the road with the biggest rock band in the world at the time, between 1975 and 1987.
This was the time when private photos were private, no negs could be found, no digital images hacked. One image was the original, and the only way you would see it, was if the owner wanted you to.
In this new exhibit, you see some amazingly high res scans of Polaroids made by Stevie Nicks, blown up to massive dimensions. Nash Editions took care of the printing.
Self portraits, sure, and the known persona of the artist gets presented and stretched here. The images illustrate a creative mind that after giving a performance to thousand, comes back to a hotel room and continues to create in a different medium.
Photography can be a solitary endeavor, and perhaps after the intensity of the group/audience dynamic, the relative quiet of a singular exploration gave her a different release. The immediacy and singularity of the Polaroid image, that one of a kind imagery with instant gratification, appear here as a testament to the always on, visual mind.
The fact that she kept shoe boxes full of these images, underscores her connection and feeling of importance of these photographs.
Honestly, though: how many photographers out there have thrown away images?
Whenever I see a series of self portraits, I look for a revelation, a glimpse into the truth of the subject. We can all find our most flattering angle, Ms. Nicks has many, but what have you told me different?
Along with photographs depicting an almost monochromatic zen to the series, there are 3 images in particular, that show the subject at her most stripped down, vulnerable self. You'll have to see them yourselves at the gallery.
Make no mistake, this is not a metaphor for any lack of strength.
This is why this exhibit is important for her fans, and as a photographic glimpse of a time period.
You get the artist after what could be big performance or event, creating new stories, plus the sprinkle of a different reality. Unfettered, simple, self portraits. These images give you an insight you may never see.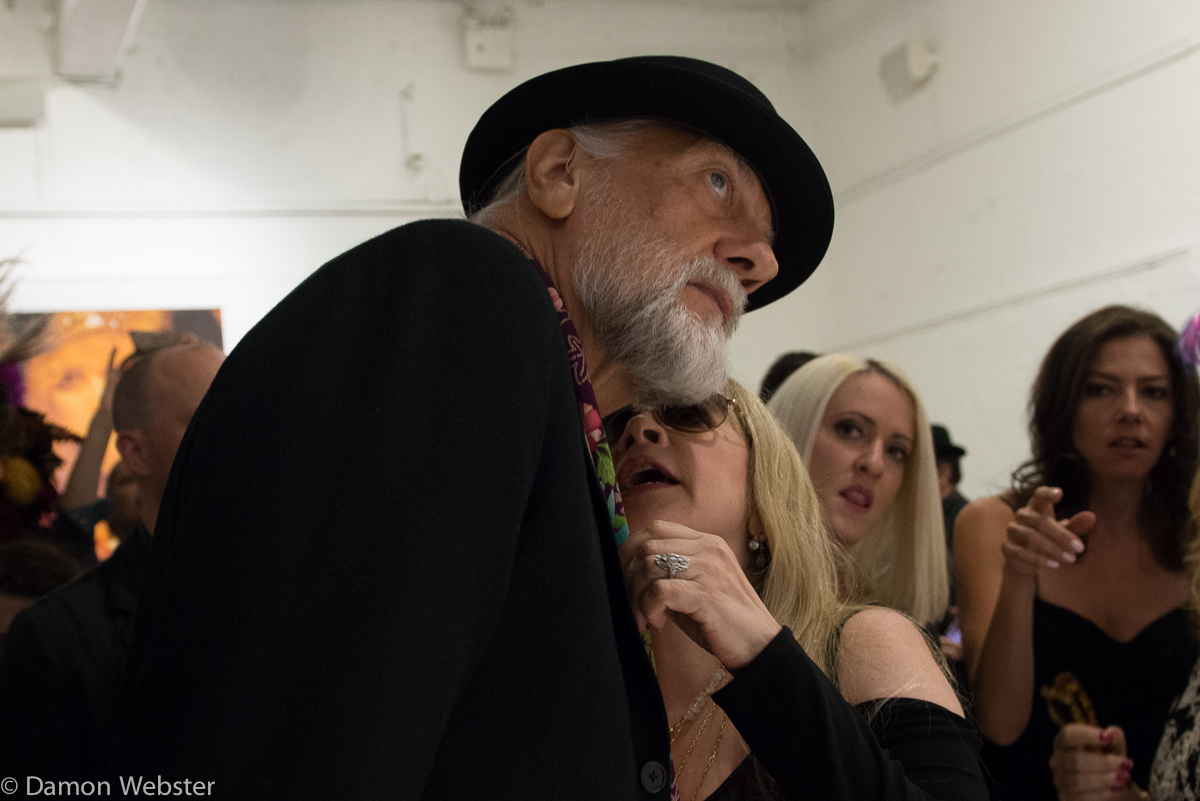 As the show opened, Mick Fleetwood, joined her as she walked from photo to photo, describing private notes to him as his tall frame bent down to her voice, almost on her toes. It was a very sweet scene.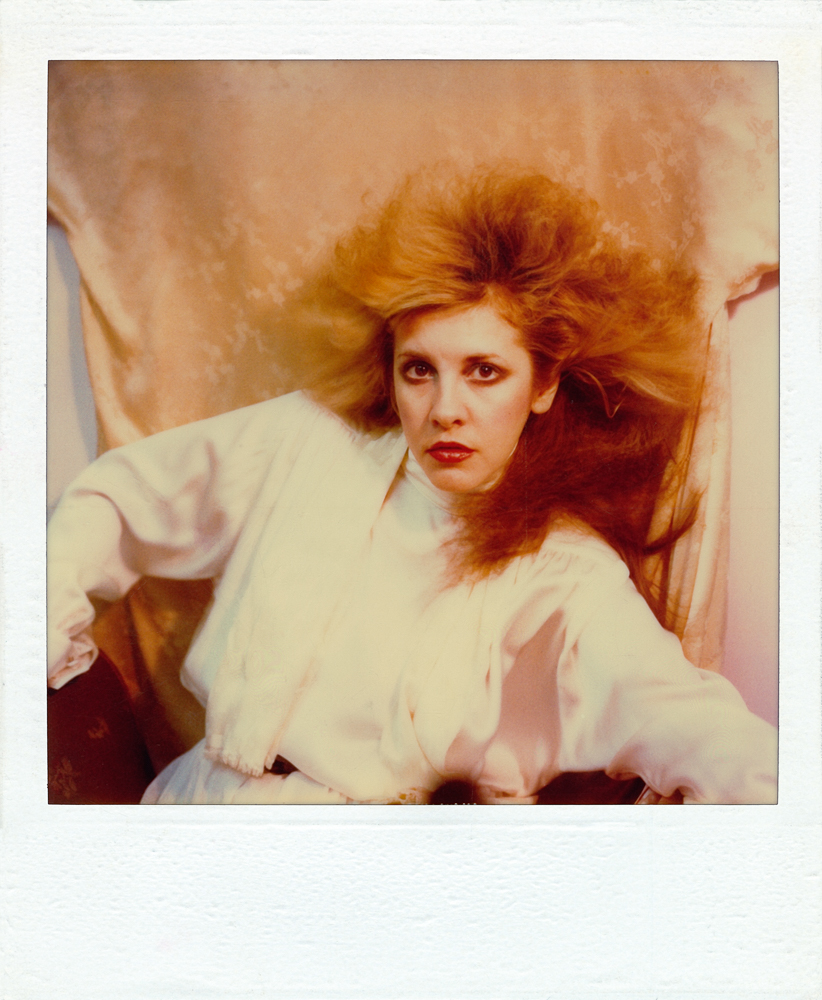 Stevie Nicks/Morrison Hotel Gallery
STEVIE NICKS ON HER SELF PORTRAIT POLAROIDS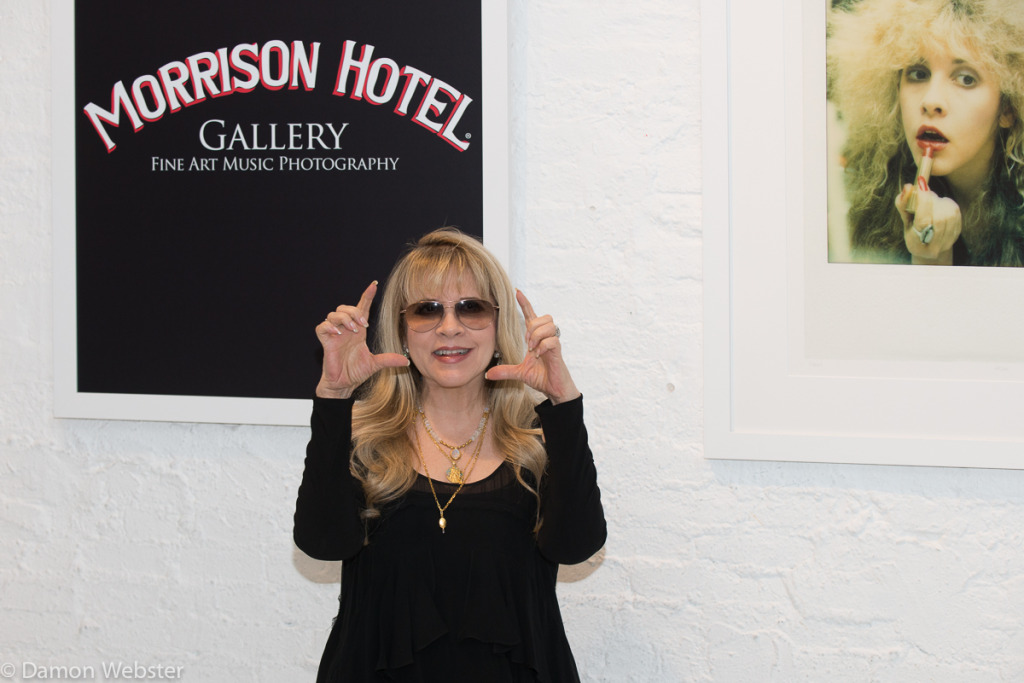 I wanted to learn how to become a photographer and since I don't sleep at night, I started thinking, who am I going to ask to stay up all night and then do a show the next night? I'm not going to get Christine (McVie) to be my model. She's going to say, 'Are you crazy? I'm going to the bar. Bye.' Then I thought, well, why not use a plant and I moved on from there.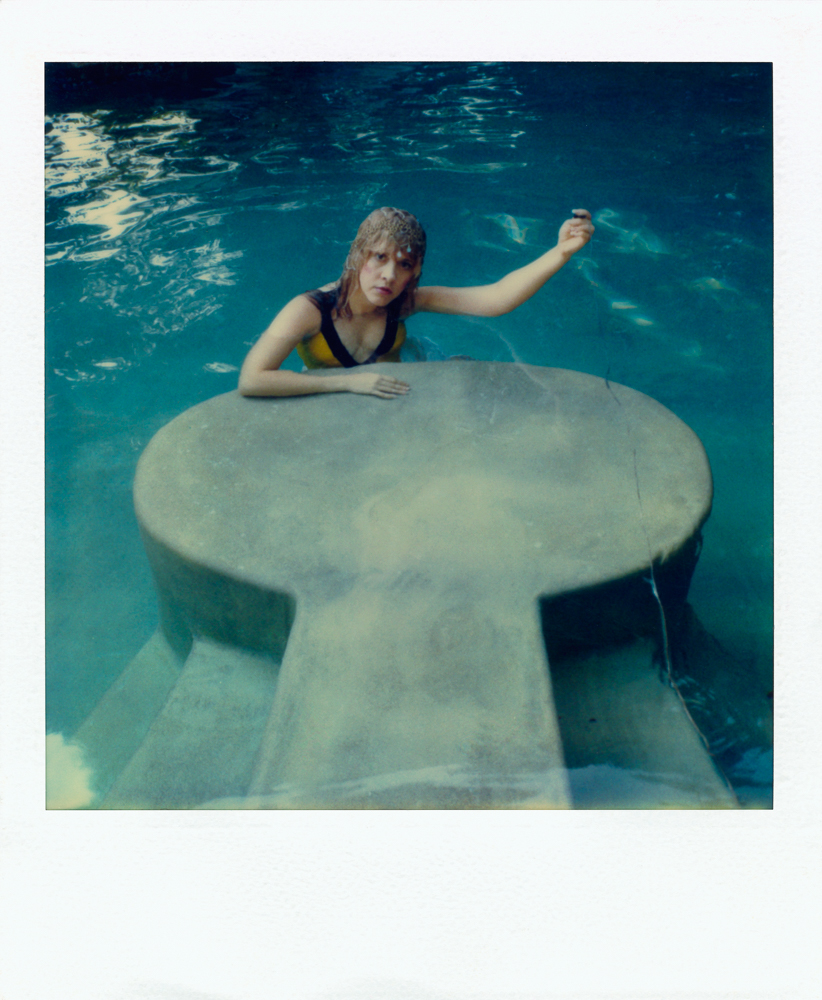 I had a long cord that plugged into the Polaroid, and I put it on a tripod. I would sit with the button in my hand so that I could be completely dressed in a long white gown with red lipstick and big hair. Remember, this was the middle of the night. I was usually in the Presidential Suite and if the light on the plant wasn't bright enough, I'd go into the bedroom, find a huge lamp and drag it into the living room and I'd put it on the plant. Then I'd hop back in the picture and press the button. I usually had to take about 12 shots until I got it just right. Lots of times I'd run out of film and I would send people out to buy me film in the middle of the night. I was doing this forever and I didn't stop until Polaroids were almost impossible to use because they all eventually broke down and we couldn't find film anywhere.
I don't think there's any comparison between digital and Polaroids. There's just something about Polaroids and the film that felt so special. I didn't even get a digital camera until 2002. I've learned how to shoot on it and I think I'm pretty good at it but I liked the option of there being more of you in the shot.
I don't consider this series of Polaroids "selfies", which are usually you and somebody who's standing behind you. My portraits could be full body and lots of props. You could be on a chaise lounge with shawls and feathers and a cat or dog. They were well thought out.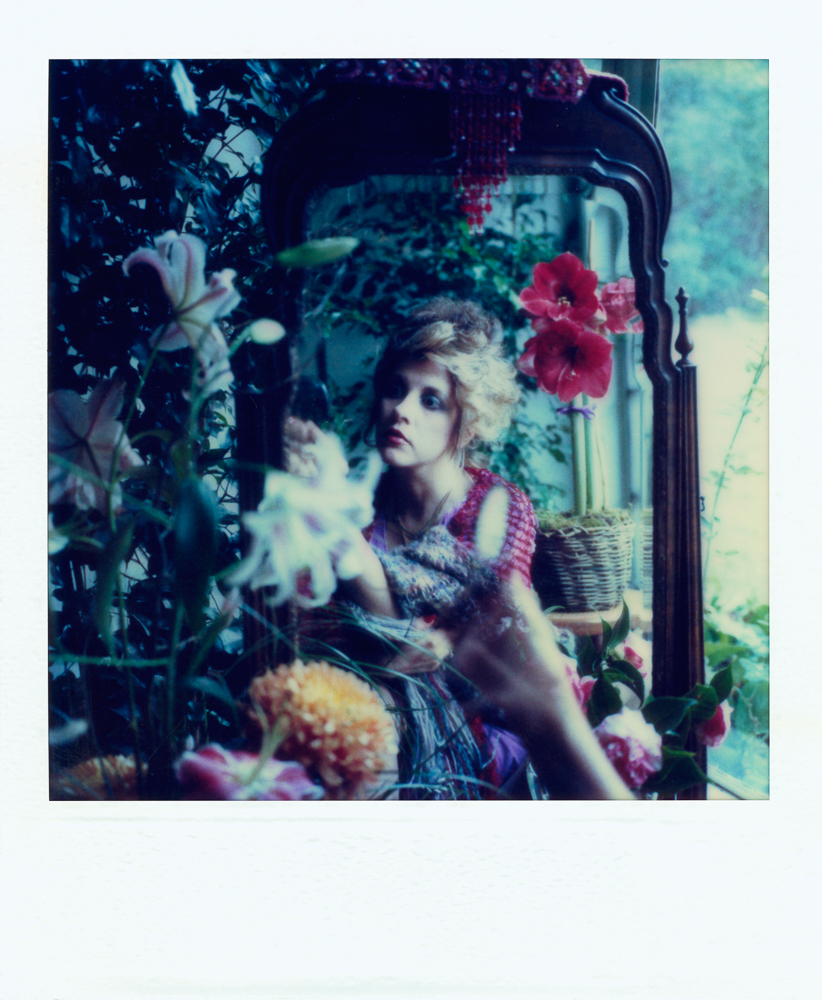 I picked up the shots I took each night from the floor and I'd put them in a shoebox and move on to the next city. They were smushed together but that kept them in really good shape. They stayed pretty well preserved. I always hoped that there would be some kind of an outlet for them.
When I started looking back at these songs I wrote years ago to select what I would record for my new album, I began to look at all the Polaroids I had taken during that time. For every love affair I had, there are pictures.
Peter Blachley, Morrison Hotel Gallery co-owner and founder on the exhibit:

"Morrison Hotel Gallery has always been known for its commitment to the best in fine art music photography. Over the years, we have presented a wide range of musicians who are also painters and photographers. Stevie Nicks offers a deeply intimate and revealing side to herself in this exhibition. Her choice of set and color combined with a fascinating creative imagination documents a very special time in the history of music. These beautiful photographs – totally honest and authentic exquisitely capture the artist during her ascendancy to the top of the rock and roll world. "
Dave Stewart on the images and exhibit: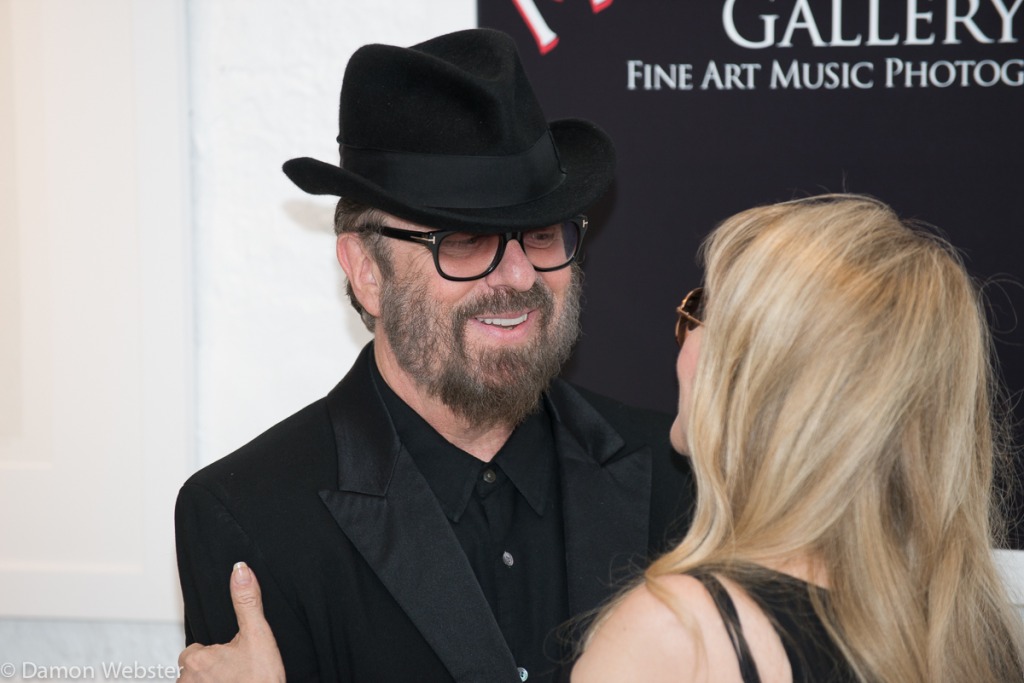 "When Stevie was showing me some Polaroids she had in a shoe box about a year ago I couldn't help but notice the amount of care and attention to detail she had taken in taking these photos. I asked Stevie particularly about the self-portraits and her eyes lit up. She then proceeded to tell me about the time she took each photo and the way in which she took them. While on tour in various cities, she had to hunt down a store that sold a long cable release cord that could be adapted to the Polaroid camera and using lights, mirrors elaborate costumes etc. to create these different personas. As I looked at these original self-portraits, Stevie started telling me the stories behind each one and in my mind, the photos grew bigger and bigger. I visualized these photographs on a much larger scale and suggested that I could have some printed by Nash Editions as a test and if she likes the results, maybe she could proceed and put up an exhibition with my friends at The Morrison Hotel Gallery. The result is an intimate look – a frozen moment in time through the eyes of the artist herself – during a period when she was as successful as any rock star could ever be and at the same time as vulnerable and lonely as every artist can be when it's 4 AM. Everyone else is asleep and you are still wide awake, flying high and still trying to make sense of it all."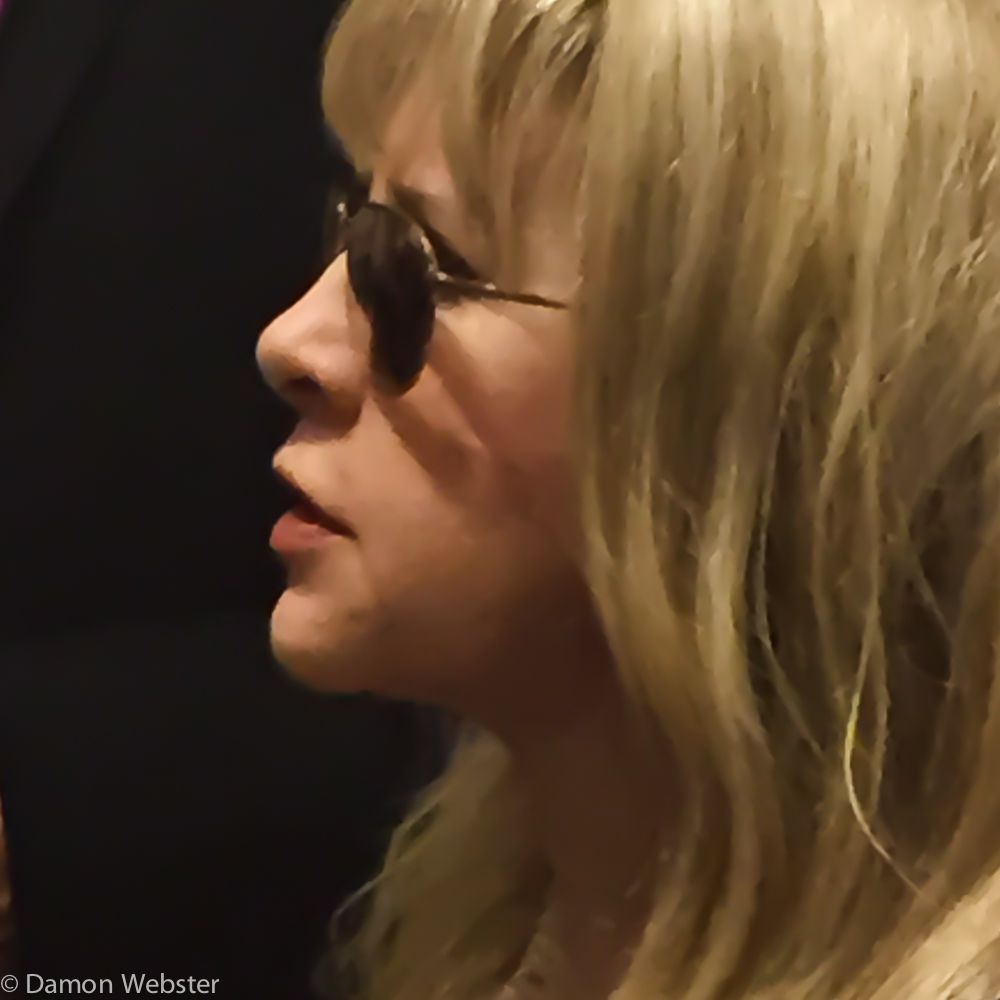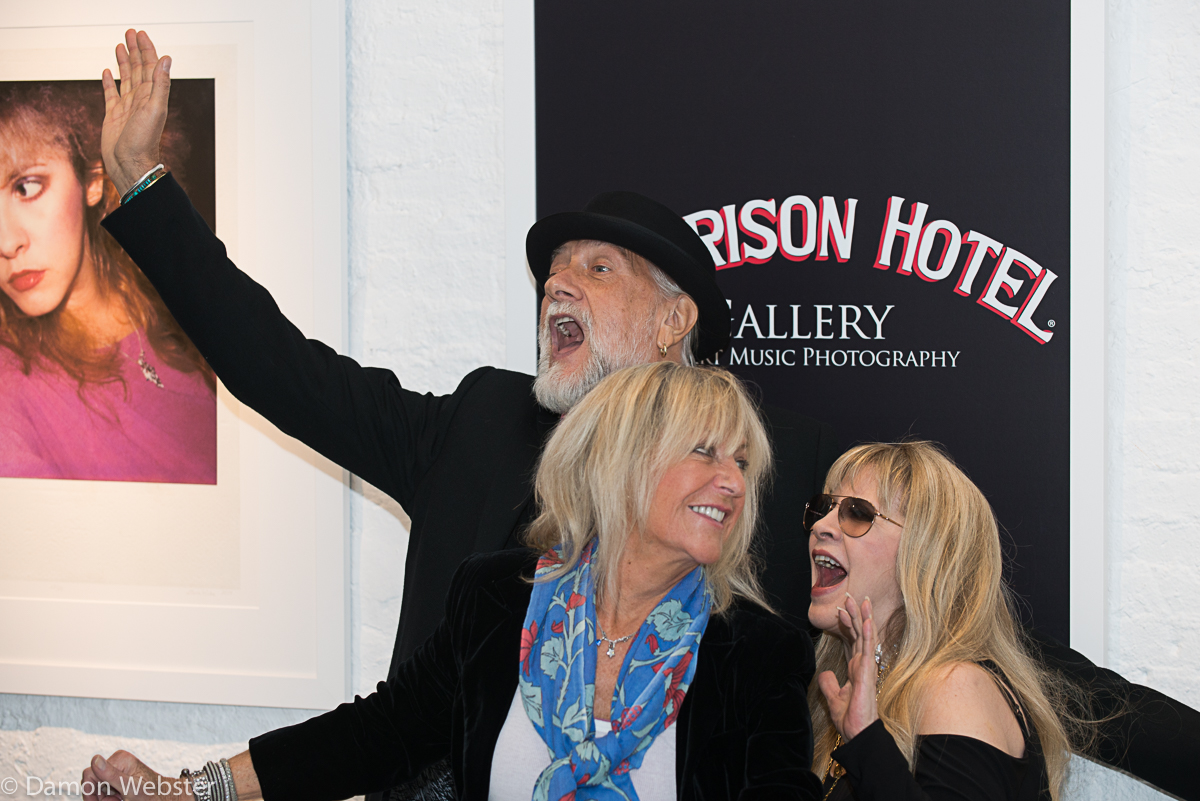 You can see the images on display now, at the Morison Hotel Gallery
116 Prince St
New York, NY 10012
(212) 941-8770
and purchase prints through their website