Padcaster : An iPad studio tool AND a DSLR Camera Cage
There are times when the gear you need, is cloaked in another format, used for something completely different.
After purchasing the Black Magic Pocket Cinema Camera recently, the small size is amazing for the media quality you can generate.
There are some drawbacks: you need an external sound recorder, and the small size means you need some way to stabilize the camera. A cage would take care of a lot of needs.The search was on for a solution.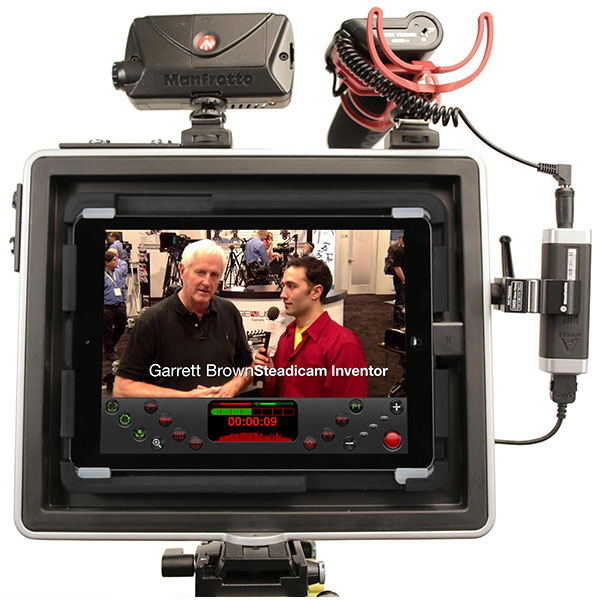 Enter the Padcaster.
Originally designed to act as a tablet frame for shooting video, ( see the home page) this has solved a bunch of problems for my video shooting.
A frame that has a series of 1/4-20 , and 3/8″ holes, along with a centered base, that allow you to use the aluminum frame as cage for your DSLR or 4/3 camera. Add on a mic, light, Zoom recorder, plus combine it with a quick release video mount, and go from handheld to tripod easily.
This company has created 2 frame sizes, iPad and iPad mini. One is best for DSLR's and the other for a 4/3rd camera as a cage.

OK, they are truly meant to use the polyurethane insert (very strong) insert your tablet, and then you can purchase their padcasting package with lens, mic, and mic adapter, plus all of the mounting hardware, and shoot edit on the fly and upload your newsbreaking story. Or kids recital.
On the site , they give you a list of all of the accessories available.
How was it in the real world?
Took it out to Rockefeller Center today, and gave it a whirl.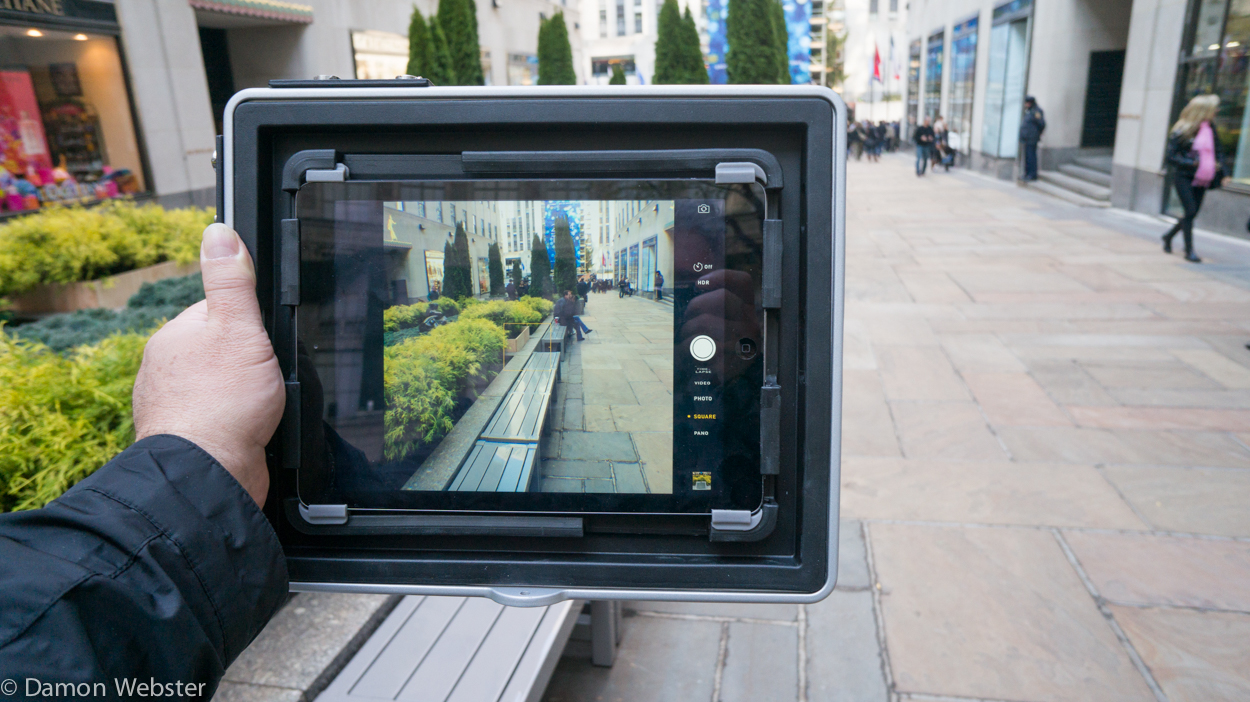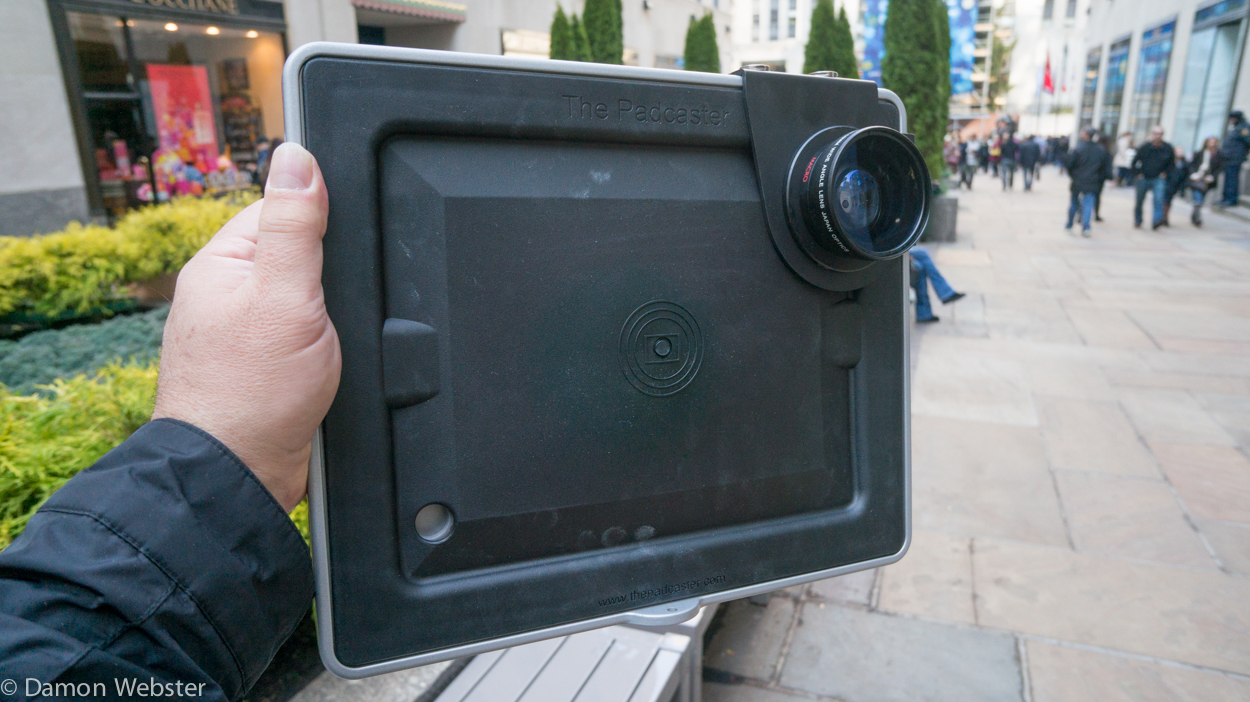 First of all, the full size frame with iPad Air and lens installed, fit perfect in my Think Tank CityWalker

Very important, as the rig could've been unwieldy.
Felt firm and steady in the hands as the extra weight gave the vid a bit of smoothness. Almost like a FigRig
The hand movements to operate all were in a good place, even with the added frame dimensions.
A bit of fringing on the lens, so I'd use another from the bag, but easy enough to swap.They give you step rings, so more made for the add on type lenses. If you want to use your real glass, there must be an adapter that'll hook you up.
On the mic, you can swap out for a wireless lav receiver mounted on the cold shoe, your favorite Rode, or just go for a Zoom. Lot's of stuff on the cage, so gauge your comfort level. def go for the JAM guitar inout for iPad as that'll get your audio in easily.
My preference is a Mini cage with the BlackMagic Pocket Cinema, Litepanel mini, Rode Mic ( may switch it up to a juiced link pre-amp) and a Manfrotto quick release base.
I will tell you that they are making a new tripod mount screw for the Mini. Just a hair too long, right now. I used some furniture foam discs to make the size slack, and my rig works, and it is solid.
This goes in my bag right now.
I'm not an iPadcaster but, I can see how this rig will make things easier for you if you are, especially by editing on the tablet after your shoot, and uploading fast.
Like I said, I had a need, and this rig fit it perfectly and at the right price.
The size,the versatility, the overall build quality makes this a solid buy.
Could be just right for you,too.
Check em out on padcaster on amazon

If you're looking to get the basic rig, it's about $100 for the mini and $160 or the fullsize.