Photoinduced Holiday Gift Guide 2014 Part 1: GoPro or GoHome
Ahhh yes, it's that time of year again!
Gifting for others, self gifting, deals aplenty, and the economy moves forward.
But how to discern the right goodie to get?
We've been looking at a ton of good through the year and will let you know what we feel is worth your time, and wrapping expertise.
Today starts the posting of the Photoinduced Holiday Gift Guide with Part #1, and in a shift from all photography, this time we'll start with GoPro products. This is one piece of gear that should be in your kit, and the accessories that are available should make the recipient a creative wonder. Or delight them as they open the package.
First up this year is one of the best tools we've seen in awhile: the 3 Axis stabilizer from DSLR Pros. Using a GoPro 3 or above, this trick bit of cool gear makes handling a tiny camera, making pro smooth moves an easy task.

About $350.

Next up is a sweet GoPro stabilizer that uses you as the operator. NO Batteries. The Steadicam Curve is a great entry level stabilizer, that does take some practice, and uses weights to make a proper balance. What w like about this is that when the handle is locked in place, you have a great handheld grip for your GoPro. Another advantage here is that you can use any of the GoPro series of cameras with any combo of cases, LCD screens, Batteries, Etc., just make sure you follow the extensive guide and balance right.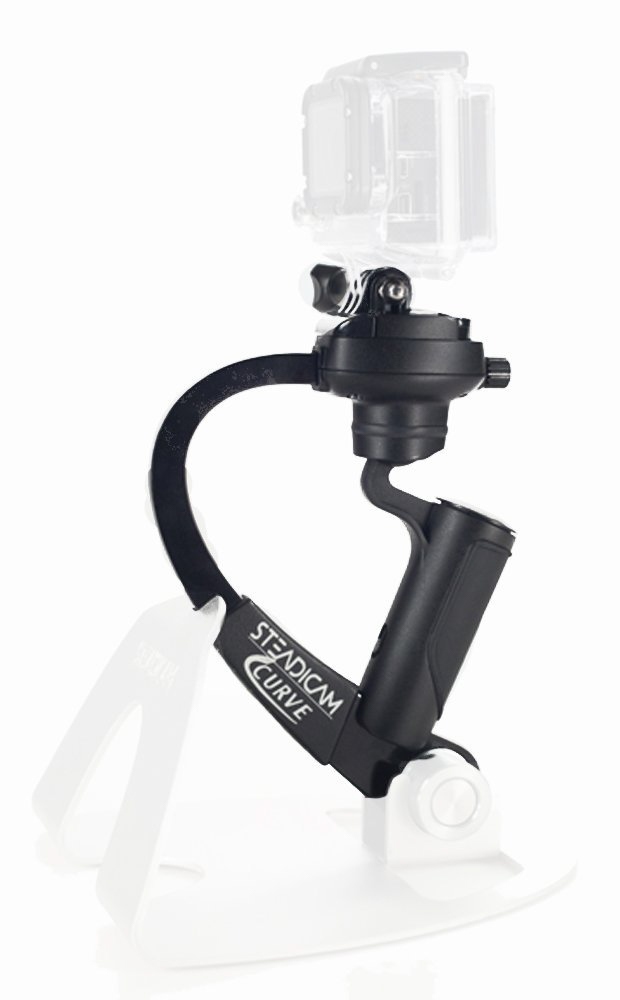 The Steadicam CURVE sells for about $100
Batteries, Batteries, Batteries: You need em, and maybe don't need to stop shooting and change out the batts.
The PolarPro PowerPole is the world's first battery integrated extension pole for the GoPro. Built into the pole is 5200mAh (the equivalent of 4.5 GoPro batteries) allowing you to film for up to 10 hours. This pole is constructed out of 100% aluminum from the tip to the base giving it unsurpassed durability. In addition to it's strength it is also very lightweight weighing in at only 13 ounces.The tip of the PowerPole contains two full size USB ports for charging multiple devices at a time. Splash resistant bands cover all exposed areas protecting the GoPro pole from moisture. The pole is however not waterproof and is intended for above water adventures. To charge the Gopro while filming you will need to be using the frame, or skeleton housing. The pole is compatible with the standard housing however you will not be able to plug in the charge cable with this housing. Love this Thing!!


The PolarPro PowerPole sells for about $130 @ Amazon
From the same company as the PolarPro is this sweet phone case, The ProView.
Take your smartphone and use it as the monitor and control central for the GoPro in a case or frame. It's a 2 piece case, with the top having a standard GoPro mounting.
And they include a regular top when you're not filming. Simple design, works like a charm.One note though, the iPhone 6 size is coming soon.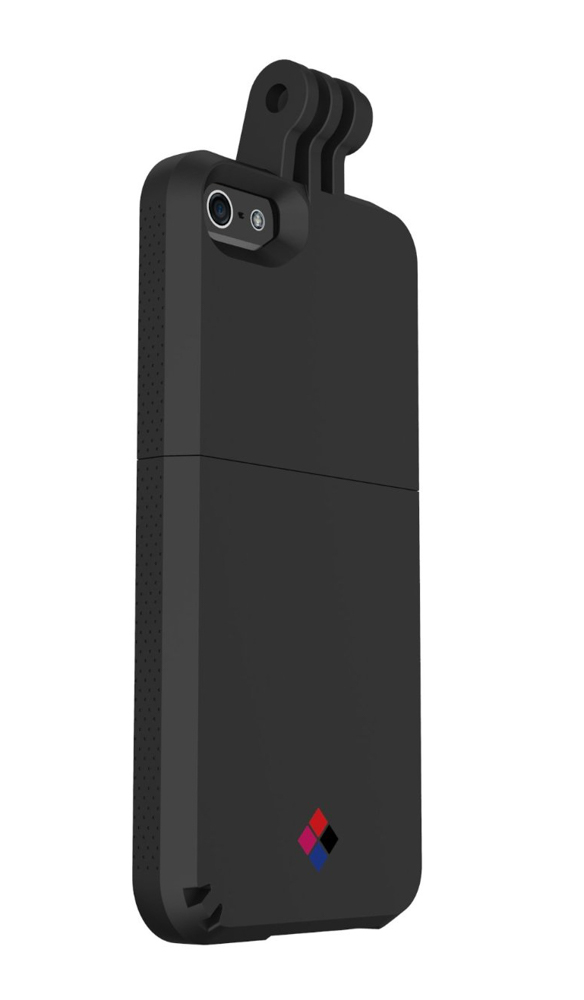 Only about $30 for the PolarPro GoPro Phone Mount
And to store your GoPro and any accessories, we like the Fotodiox GoTough Cam Case for a single cam or the double for 2. Cut foam to fit it all right, and a mesh top lid for the stashing the hardware.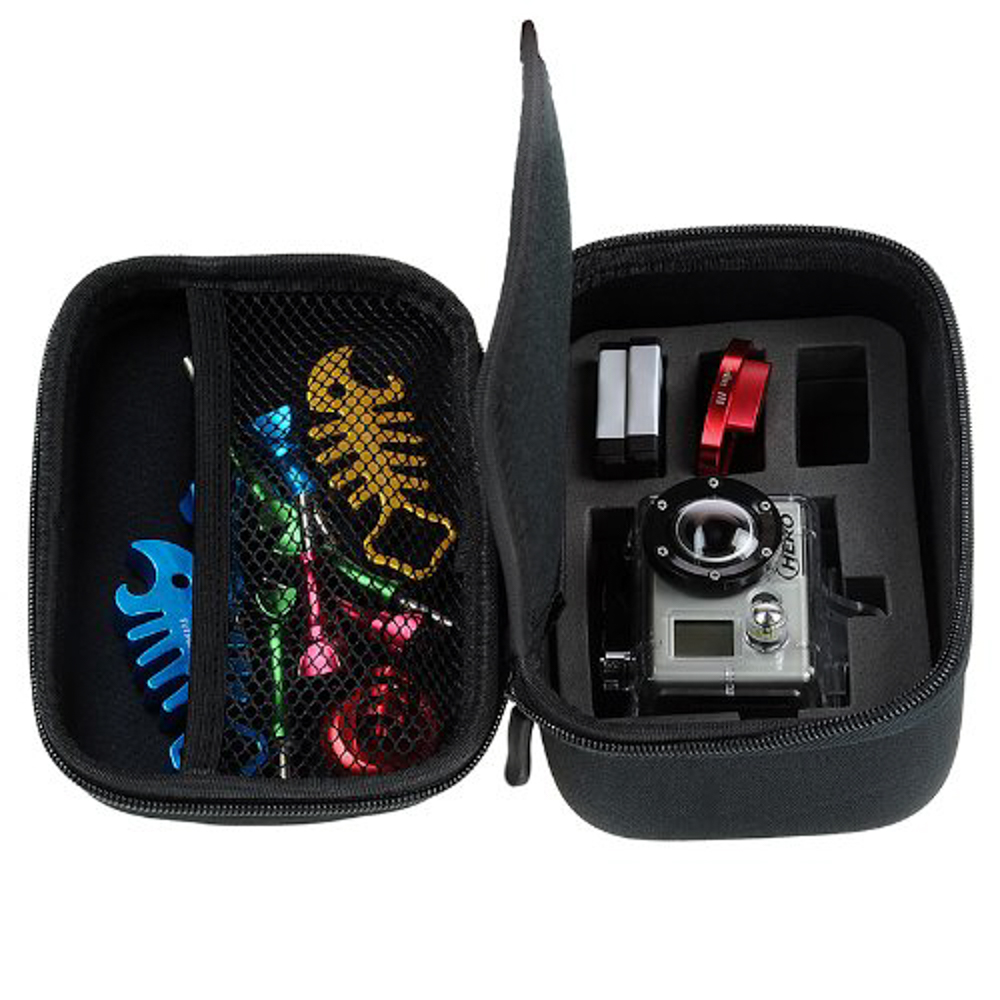 (items pictured inside the case are NOT included!)
Can't pass this Fotodiox Single GoTough CamCase
for about $10.
Back to batteries for a second. Not the sexiest of gifts, so maybe it's a stocking stuffer. Everyone needs extra batteries. For everything. Just the way it is.
Sure you may want to make the original camera manufactures batteries, and we applaud you. However, we like to save some dough, and have used Wasabi batteries for awhile now. To make things easier to figure out, always use the Brother label maker to put the name of each units specific battery charger so there's no confusion. Trust us, with a bunch of cameras needing batteries, there are some similar shaped chargers. But you knew that, and I'm sure already are on the label system.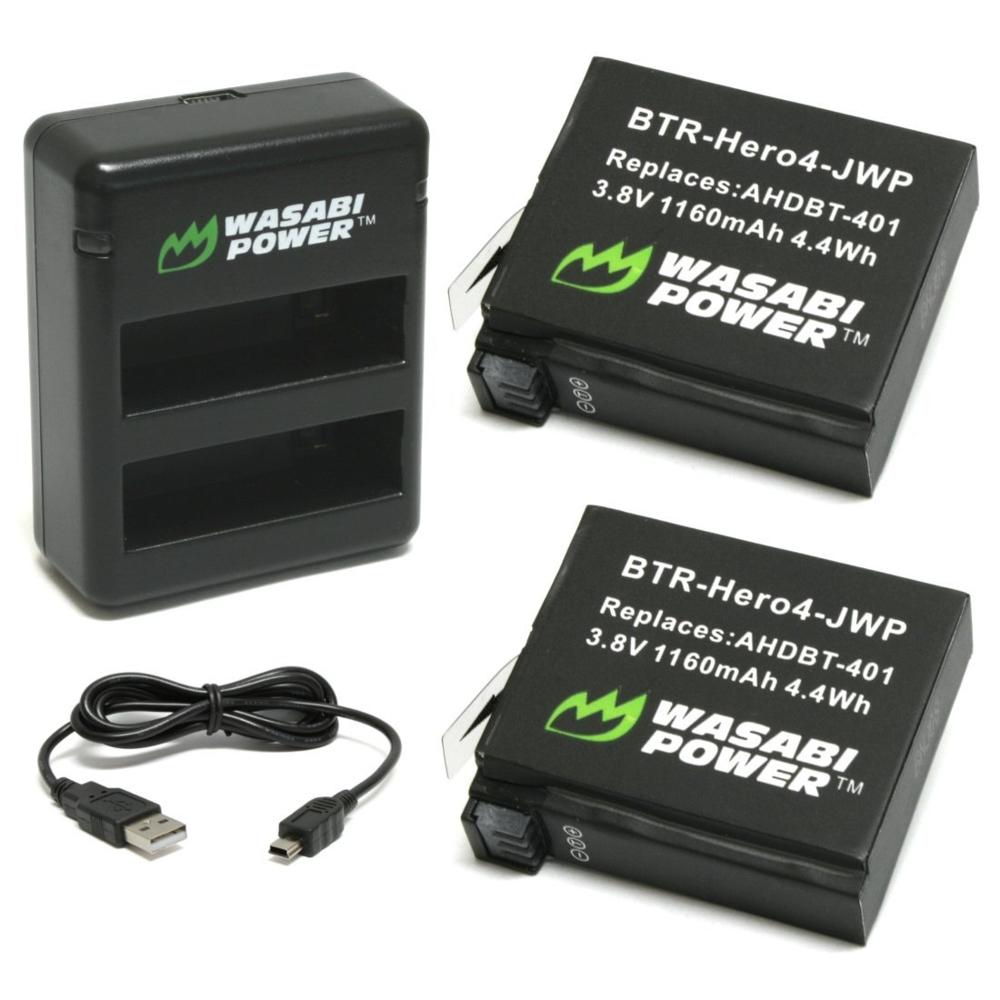 For about $23, you can stuff the stocking. Or gift for one of the nights.Wasabi Power Battery (2-Pack) and Dual Charger for GoPro HERO4
OK, Now for the gift that will make any shooter smile: The latest in the line of GoPro's, The Hero 4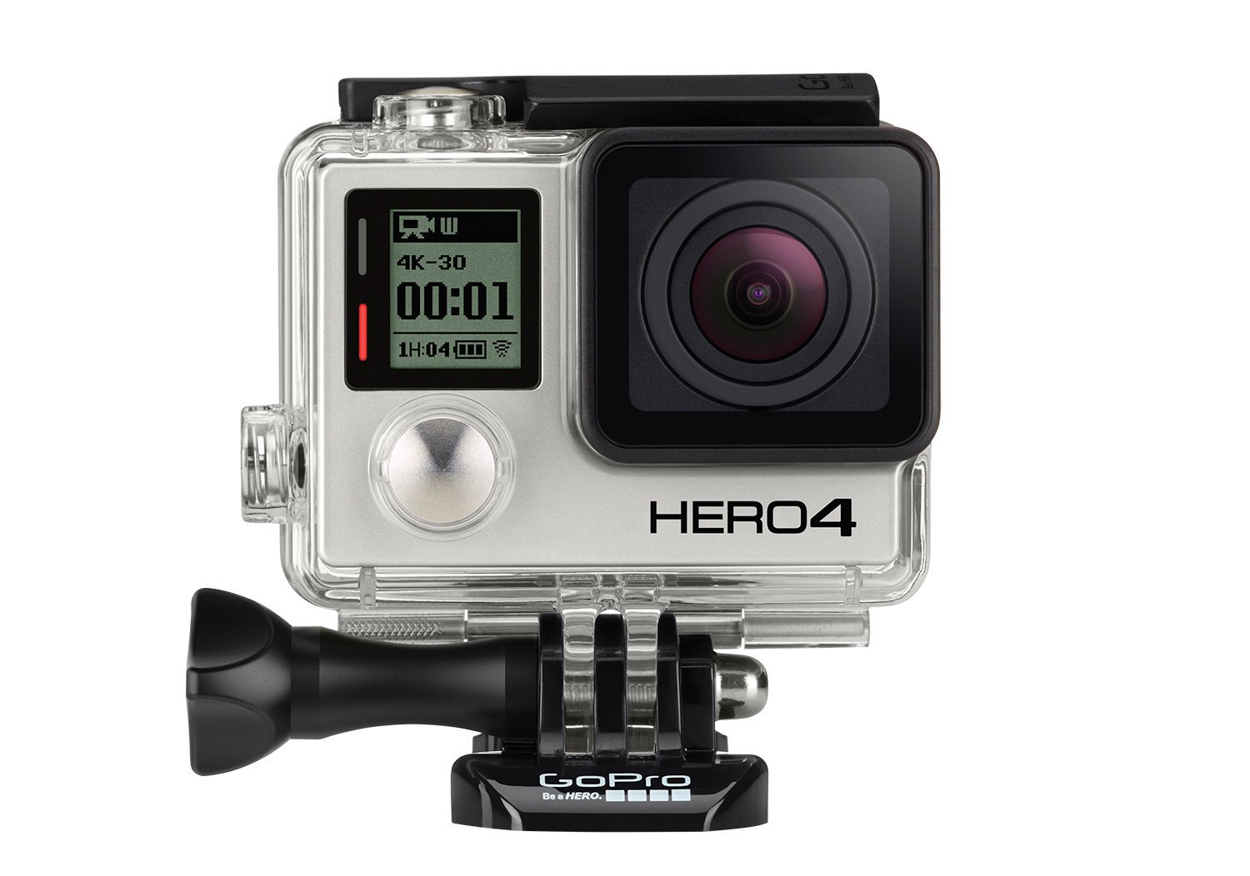 2x the Performance: With improved image quality, a 2x more powerful processor and 2x faster video frame rates, HERO4 Black is the most advanced GoPro ever. With professional Video up to 4K30 – records ultra high-resolution, high frame rate 4K30, 2.7K50, and 1080p120 video.
Fast, Powerful Photo Capture: Captures high-quality 12MP photos at speeds of up to 30 fps.
Built-In WiFi + Bluetooth: Delivers enhanced connectivity to the GoPro App, Smart Remote
Durable + Waterproof to 131′ (40m): Designed to withstand extreme environments and conditions. Wearable + Mountable: Enables immersive self-capture during your favorite activities. Compatible with all GoPro Mounts: 60+ mounts and accessories – and counting – for capturing a wide variety of perspective and activities. GoPro App + Software: Control your camera remotely. View and share your content. Easily create gorgeous GoPro-style videos.
Protune – Now for Video + Photos: Cinema-quality capture and manual control of color, ISO limit, exposure and more. Night Photo Lapse: Customizable exposure settings up to 30 seconds for single and Time Lapse photos. Auto Low Light: Automatically adjusts frame rates for optimal low-light performance. High-Performance Audio: New Audio System captures clean, high fidelity sound and nearly 2x the dynamic range. Ultra Wide-Angle Glass Lens: Enables engaging, immersive footage of you and your world. Selecable FOV: Three FOV settings – Ultra-Wide, Medium and Narrow – allow for a broad range of perspectives. HiLight Tag: Mark key moments while recording for easy playback, editing, and sharing. QuikCapture: Power on and record automatically with the press of a single button. SuperView: Captures the world's most immersive wide-angle field of view.
GoPro HERO4 sells for about $499.
That is the top of the line, but if you're not sure if the person you are gifting is really into all of this, limit the investment and still have a solid gift. Introduce the lucky recipient into the world of GoPro with the new entry level unit, the GoPro Hero.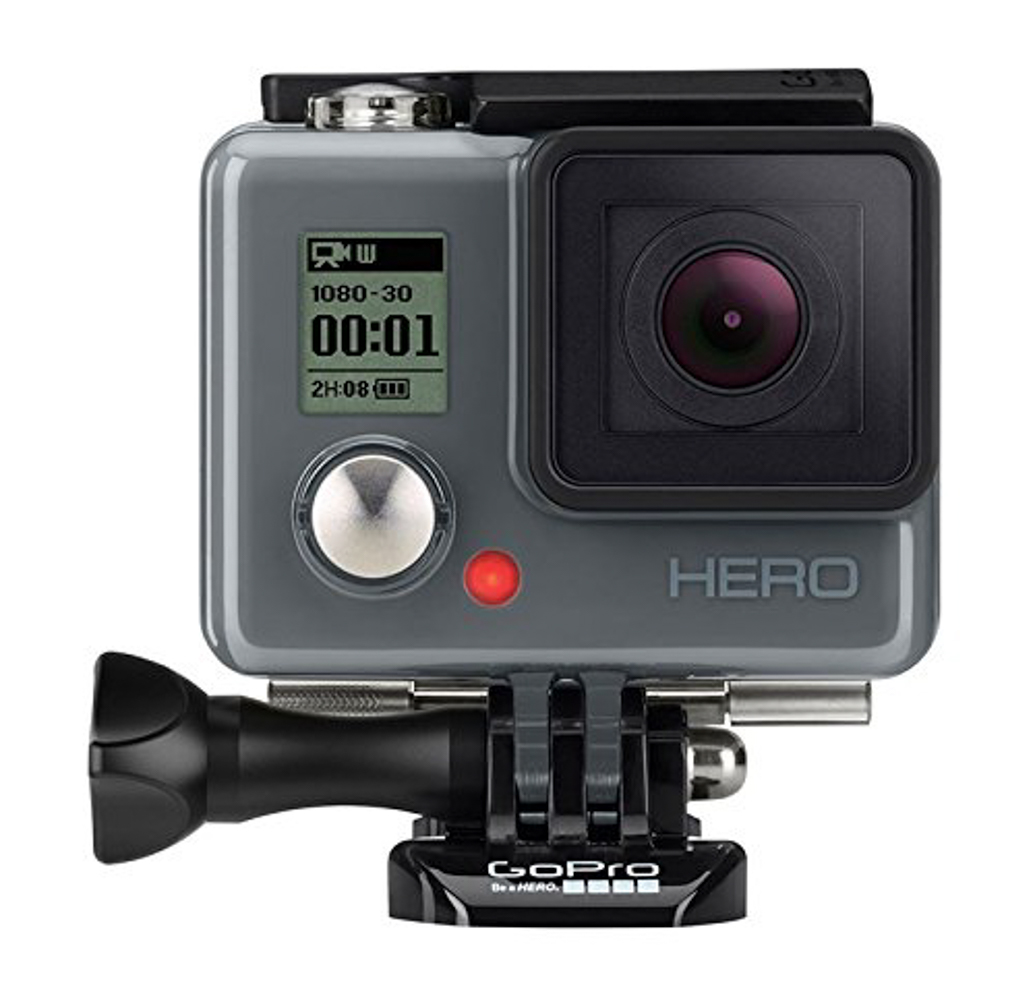 You don't need to do extreme sports to enjoy the camera.
I've worn it to parades, and capture the crowd and the festivities. Even if you just want to make a time-lapse from your window, his is a great camera that is easy to carry, easy to use.
Stunning Video Quality: Record gorgeous 1080p30 and 720p60 video., Diverse Photo Capture: Capture 5PM single, Time Lapse and Burst photos up to 5 fps.
Built-in Microphone: Record audio with the built-in microphoneDurable + Waterproof to 131-Feet (40m): Designed to withstand extreme environments and conditions
Compatible with all GoPro Mounts: 60+ mounts and accessories. GoPro Software: View and share your content.
External Memory: Supports microSD cards up to 32GB (class 10 or UHS-1 required) Sold Separately.
Now this unit does not use a replaceable battery, so one less thing to buy.
Wasabi Power Battery (2-Pack) and Dual Charger for GoPro HERO4
More holiday gift ideas to come!