Adobe Brings the Creative Cloud Forward – Again!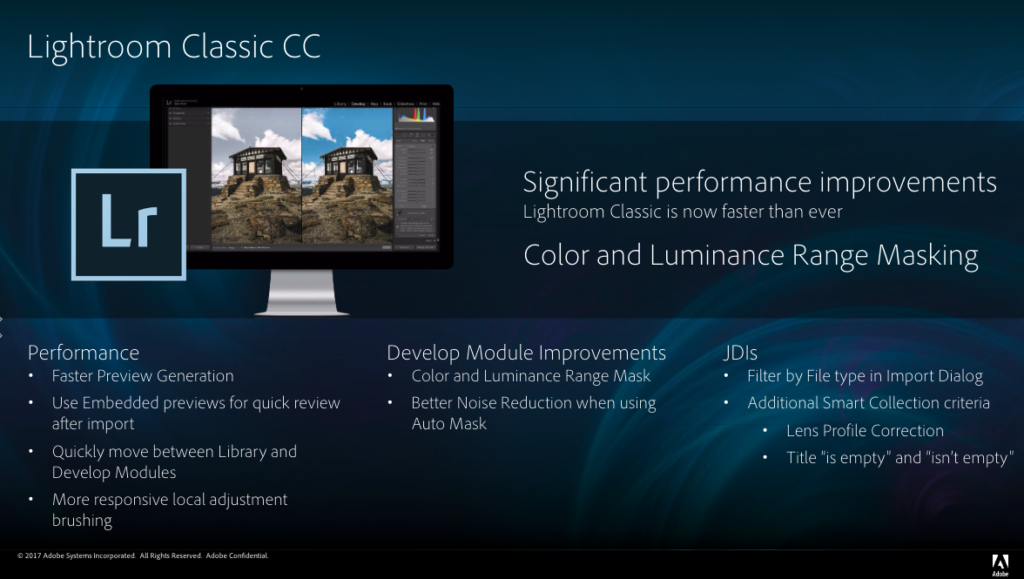 There are 2 main reasons I will always be loyal to Adobe Lightroom:
Search engine for images
Connection to Photoshop.
Now, what the connection to Photoshop gives you is a constant upgrading of the tools in LightRoom. This new version is way faster on the search, and adds in tools, that honestly, felt a bit MAC like in simplicity.
Wait, was I needing a complex solution?
Nope. What I NEEDED was a great way to share fast on social, a way to catalog and search images to gather them. I have so many photos of lunch (yep, I'm one of those folks), that this new Adobe Sensei function made it way easier to go through my hundreds of thousands of images on LR, and sort them for me.
And that is just a one RAID drive.
The amount of time that function alone saves me is immeasurable. Someone talked to me about a book of these photos. Much better culling through the sorted collection.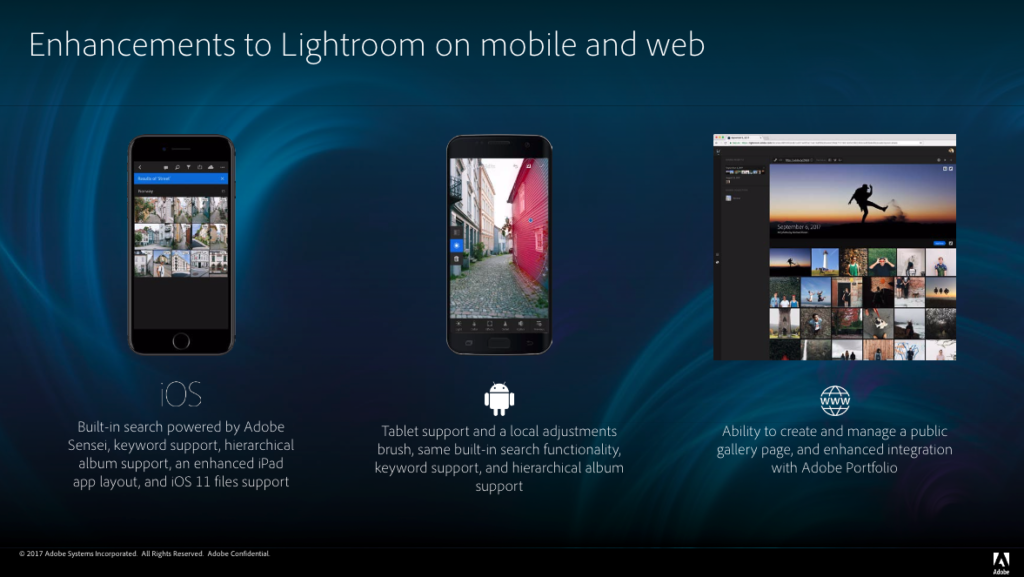 I want to try the Adobe Portfolio, although I'm invested in another system. Perhaps this is the time to connect all the dots in one place.
Speaking of dots, the process I go through to post to social, just got a whole lot easier. Not a new idea, but more integrated.
Another key point is the syncing capability. You can edit FULL RESOLUTION images, wherever, and have the same corrections sync with collections. That saves the transfer time.
The test for me will be the amount of images I can transfer at a sitting. Will report back.
One point about the high quality of the search algorithm: A few years back, my mom passed away, and I had been photographing her in the last years of her life. Unique, one of a kind, precious images.
The hard drive died. It was under warranty , so the company gave me a new one, but not the point.
The thumbnail in the catalog gave me the file names, and let me search for the location of the images. I connected eery hard drive I had to the computer. By having the Adobe supplied info, I was able to track copies of every image on a different hard drive I had backed things up to.
Adobe for the win.
And always back up your images multiple places.
Adobe is a premiere digital imaging software company, and always has been. All they do is make it better.
And now, the official report:
Adobe (Nasdaq:ADBE) today announced the all-new Adobe Photoshop Lightroom CC cloud-based photography service. Launched over a decade ago, Lightroom became the industry's leading desktop application for editing and organizing photography. Now in an increasingly mobile-centric world, and with major improvements in smartphone cameras, Lightroom is transforming digital photography again. Built for professionals and enthusiasts, the new Lightroom CC fulfills the demands of today's photographers for a more accessible, cloud-based photography service for editing, organizing, storing and sharing their photos from wherever they are.Featuring a streamlined user interface, Lightroom CC enables powerful editing in full resolution across mobile, desktop, and the web. With Lightroom CC, photographers can make edits on one device and automatically synchronize their changes everywhere. Lightroom CC makes organizing photography collections easier with features like searchable keywords that are automatically applied without the hassle of tagging. And Lightroom CC makes it simple to share photos on social media."As the leader in digital photography, today Adobe is unveiling Lightroom CC, our next generation photography service," said Bryan Lamkin, executive vice president and general manager, Digital Media at Adobe. "Lightroom CC answers photographers' demand for a deeply integrated, intelligent, cloud-based photography solution.
Key Lightroom CC capabilities include:
•The most powerful image editing technology: Built on the same imaging technology that powers Photoshop and Lightroom, Lightroom CC offers a new streamlined interface with easy-to-use sliders, presets, and quick adjustment tools.
•Edit anywhere: Lightroom CC allows photographers to edit full-resolution photos anywhere – on mobile devices, desktop,or the web. Edits made on one device are automatically synced across devices for anywhere access.
•Worry free back-up, cloud storage: Lightroom CC has scalable storage options for safe and secure back up of full resolution photos – including raw files.
•Powered by Adobe Sensei: Adobe Sensei uses machine learning to automatically apply searchable keywords to objects in photographs – making organization in Lightroom CC effortless.
•Built-in sharing tools:Lightroom CC makes it easy to share photos directly via social media and to create custom Lightroom web galleries that can be shared via link. Photographers can also share their work through new Adobe Portfolio integration with Lightroom CC.
•Updated award-winning mobile and web experiences: oLightroom CC for mobile on iOS: Built-in search functionality powered by Adobe Sensei, keyword support, hierarchical album support, an enhanced iPad app layout, and iOS 11 files support. oLightroom CC for mobile on Android: Tablet support and a local adjustments brush, along with the same built-in search functionality, keyword support, and hierarchical album support as seen in the iOS app.
•Ability to create and manage a public gallery page, and enhanced integration with Adobe Portfolio, which enables subscribers to easily import collections and publish their best shots to a customized Portfolio website in just a few clicks.
Updates to Adobe Photoshop Lightroom Classic CCPreviously known as Lightroom CC, major updates to Lightroom Classic CC include an enhanced Embedded Preview workflow that enables users to scroll through large sets of photos to select a subset of images significantly faster than before.
Lightroom Classic CC also features new editing capabilities, including a new Color Range and Luminance Masking functionality that enables users to apply precise edits.
As contrasted with the cloud-centric, anywhere workflows of Lightroom CC, the new Lightroom Classic CC continues to focus on a more traditional desktop-first workflow with local storage and file and folder control.
Availability, Plans, and Pricing:
The all new Lightroom CC is available across three photography plans:
•For photographers that want an all-in-one plan that offers the full benefits of the Lightroom CC service plus the transformative power of Photoshop, the Creative Cloud Photography plan with 1 TB includes Lightroom CC, Lightroom for mobile and web, Photoshop CC, Adobe Spark with premium features, Adobe Portfolio, and 1 TB of cloud storage ($19.99/month, but available at $14.99/month for the first year for existing Creative Cloud Photography customers)
•Lightroom CC has also been added to the existing Creative Cloud Photography plan with an additional 20 GB of storage to help users get started on the new service.
This plan remains at $9.99/month and includes Lightroom CC, Lightroom for mobile and web, Lightroom Classic, Photoshop CC, Adobe Spark with premium features, Adobe Portfolio, and 20 GB of cloud storage.
Creative Cloud All Apps members also have access to the new Lightroom CC service.
•The all newLightroom CC plan addresses the needs of photographers who want a cloud-based photography service for editing, organizing, storing and sharing their photos from wherever they are, and includes Lightroom CC, Lightroom for mobile and web, Adobe Spark with premium features, Adobe Portfolio, and 1 TB of cloud storage ($9.99/month)
For those who are truly mobile and don't require a desktop photography solution, the Lightroom Mobile plan for iOS and Android is available with 100 GB ($4.99/month).
For more information on available plans, please visit https://www.adobe.com/creativecloud/plans.html.