CES 2020 – Look Ma, No Wires!
This year at CES we saw so many earpods, headphones, and wireless chargers, the market is so crowded, and you have to figure out what to get. And you know that in a year there will be better, faster, smaller. So what do you go for now?
Let's start with the wireless charger category. Does this scene look familiar, when you travel, or even at home?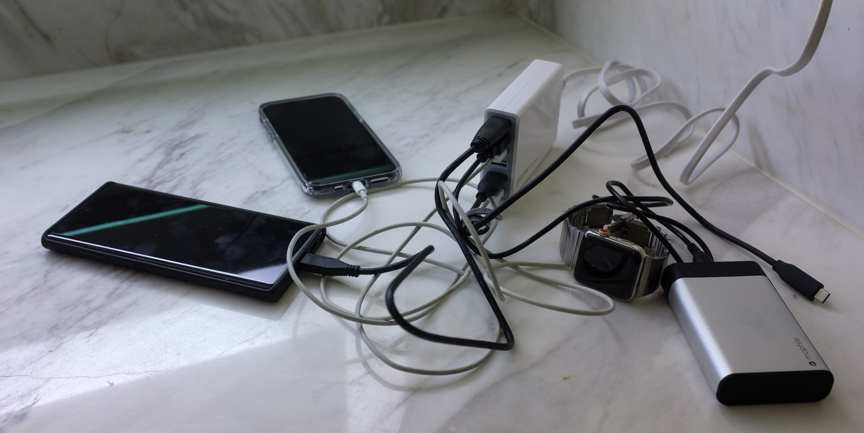 When I land at a hotel, I unload my Peak Design tech pack, and get the multi hub block set up, then attach all of the charging cables for my devices. 2 phones, watch, extra battery charger, headphones (not shown). A real mess.
Enter the wireless chargers!

You know how they work: a coil is set inside a platform, and the phones. or devices that can, get recharged, just by being placed on the platform. No cables.
Here is a basic rundown: there are the simple circles for a single device, then the multi chargers that currently handle 3 devices. OK, yes, saw one at CES that handled 6 devices, but it was not something you travelled with. Twas heavy and expensive, about $250. And not available yet.
In the single circle versions for one phone or AirPods, the brands you love have a version: Mophie, MyCharge lead the pack. One thing to remember is that due to current technology, the device has to be in direct contact with the circle to charge.
Not a big deal, unless you use some sort of pop-socket, or a rig to help you hold onto your phone. It the raises the phone off of the charging base, which means no direct contact, and no charge.
Pop-Socket, who has a massive following, introduced a wireless charger with a circular opening well, to fit the pop-socket while on the case, allowing your phone to have direct contact with the charger! If you are a pop socket person, you need to get this charger. It has some weight, so maybe just for home/office, but they heard the fans, and created the right product.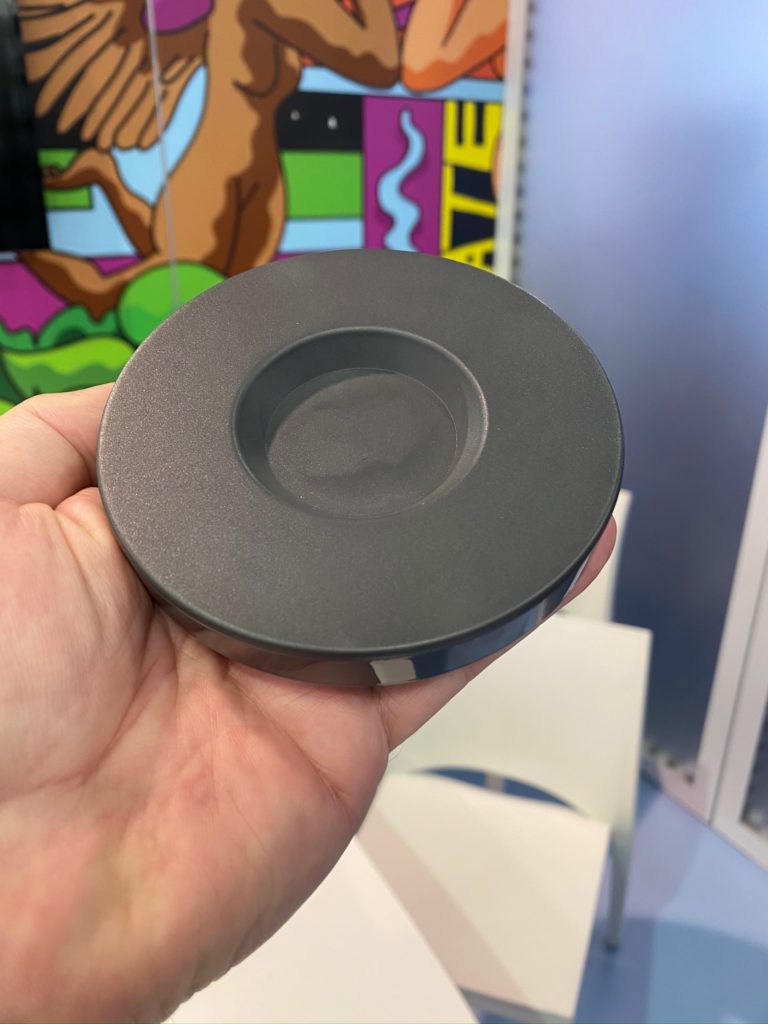 Winner! No more having to take off your case to enjoy wireless charging! Whew! BTW, just had a look and the charger is sold out, so get on that list of you are a pop socket fan!
And that mess of wire at the top of the post? How do you take care of that?
Satechi has currently won the war for this multi device, perfect travel charger. Lightweight, small footprint, and critical point here: retracting Apple Watch charger! And about $110 after the on-site discount code.
There are a few companies that showed products that were not ready for market.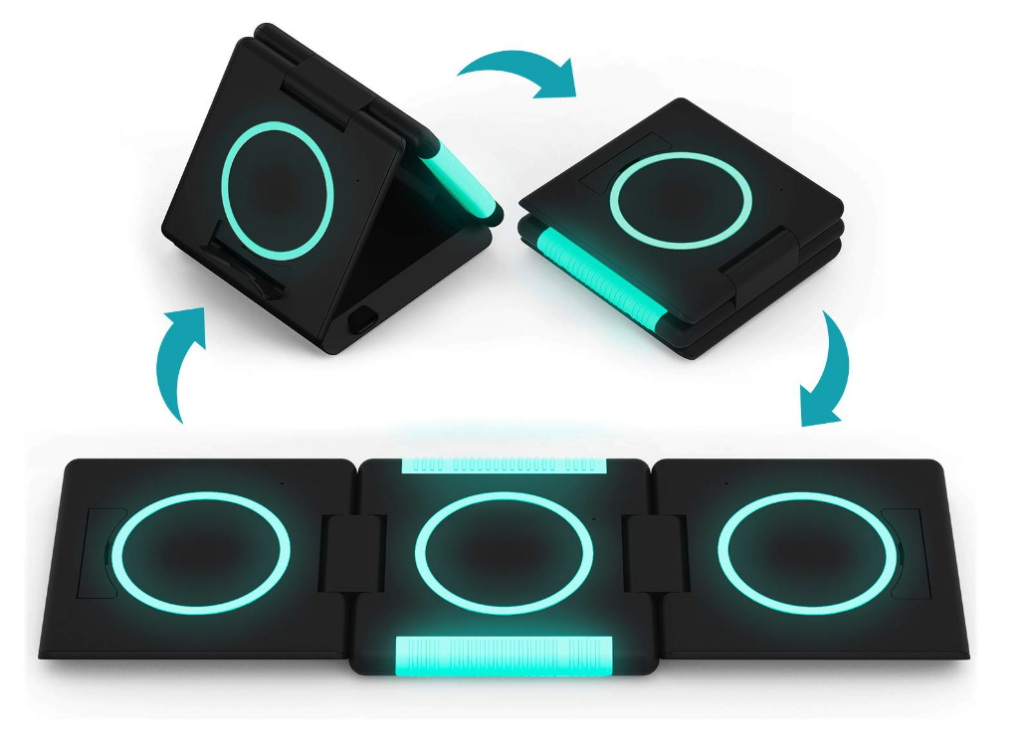 Ampere shared a folding charging unit (above) with some cool new designs coming. This unit is available now. Like so many things about this design, but the weight and bulk kinda stuck with me. Since this is designed (I think) to be a travel unit, that became part of the assessment. As a home unit, just fine.
Eggtronic had a multi unit with retracting watch charger, than will charge faster. coming soon.
Mophie has a perfect 3- device solution, which is great for the home, but the watch charger doesn't retract, so a tough call for travel. I've been using this one on my nightstand.
So for my money, the Satechi is the current travel champ, and will be coming with me on the road .
After all, who needs that rat's nest of wires on you bathroom counter??
NB: all of the current tech call for a 2-3 mm max height diff for contact between device/charger. Coming tech will be a 12mm clearance allowing more grips on the back of phone cases to be used.
Silly stuff? Maybe, but when you get hooked on the wireless charge, you want it to work in all facets of your life. And it will keep evolving: design wise, power delivery, and then that whole " no need to be in direct contact" tech.