Peak Design Goes Mobile With Some New Tools
My fave walkaround bag is the Peak Design Everyday Sling 10 L. Some of the other bags in the line serve me well as combo office/gear bags (what's an office?), or a perf weekender backpack.
The design touches on this bag, showed me that workers  know how to make the right kind of camera bag. I will always have a close look at their upcoming products.
Now, when I'm Zooming away on my laptop, I always have my phone next to the computer for slacks, txts, etc. Problem as finding the right compact phone stand.
Tried the Pop-Socket, and while cool, didn't alway stay where I need it to, especially with any finger movement.
Peak Design came up with a system , that uses interchangeable connectors to stand up/attach/and otherwise put the phone where you need it.
There are good parts and other parts they are working out, but let's look at the good parts first:
You get a choice of a case that uses magnets to secure the parts. Limited choice right now, but there is a solution. You can get a freestanding magnetic square, attach it to your favorite case and each part pops in like it was made for it. That way, no matter what phone you currently use or change out, you can just add a square and you're set.
My main use was the phone stand or mobile tripod: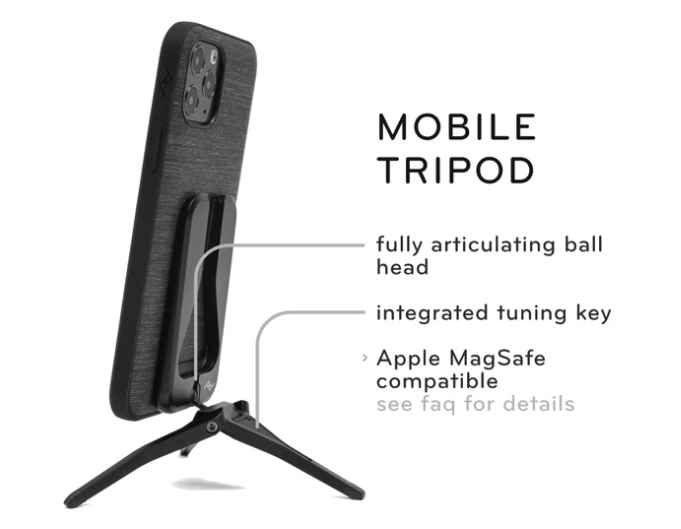 It folds flat, is infinitely variable for horizontal or landscape placement.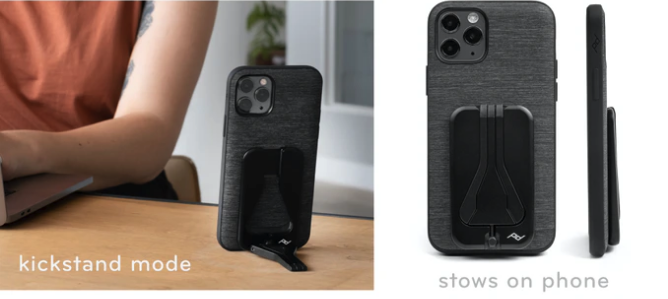 This is what the guts of the mag system looks like:
Plus, the good news is that your phone charges wirelessly, when you take off the stand, and still have the case or connector on. Sweet!
And there is a wireless charger that folds flat.

By the way, if the  stand ever seems to be losing stiffness, there is a tool, they call a tuning key,  built into the stand, so you can tighten as needed. Great design!
Slim, clean look, and for me that is the star of the show.
Some of the other parts of the system include:
a wall or other flat surface mount,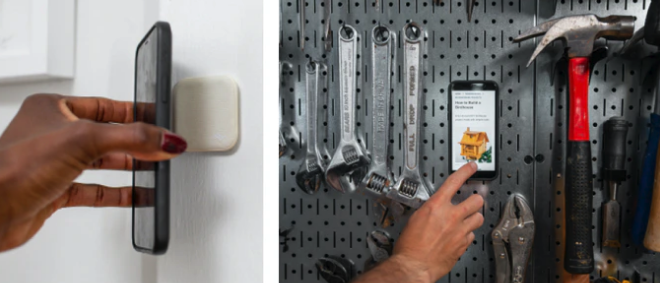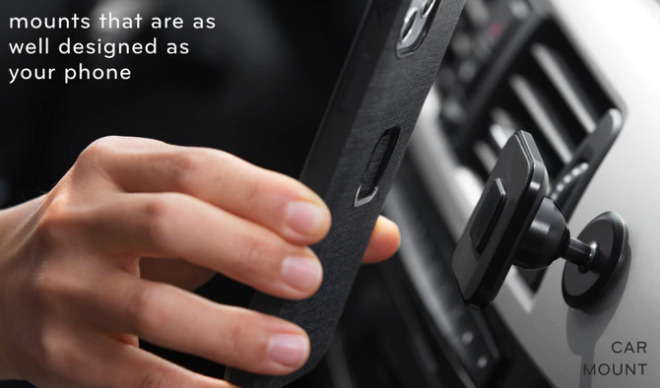 In order:
I never have the need to mount my phone on a wall. But you may.
When mounting a $1000 phone to your handlebars my magnet, if you hit a bump in the road on the bike mount, I'm afraid that the magnets may not hold. PD assures me it is a strong enough connection , especially designed for performance bikes. The teeth on that part, are what holds the phone securely, in addition to the magnets.
On the dashboard, concerned about the stickum on the mount and putting it onto a dash. Yes, they say you can remove by seesawing dental floss between the unit and the dash, but depending on the material on your dash, seems a bit dicey.
So, at the end of the day, I love the stand system! Have used the PD case, and the square on my one case, and works like a champ.
With an incredible slim design, it doesn't overly bulk up the pocket.
Because it's a system, you can transfer from case to case just by adding another mag square. Finally, some release from planned obsolescence!
Even as I have been working through the initial release for review, new improvements have come up, and additional accessories, and you should have a look to see what will work for you. the charging stand was a new addition, so will wait to see that unit.
And the Kickstarter campaign ends tomorrow , 12/17, so you can still get in on it and catch a solid discount. Not for under the tree, ships in May 2021.
Don't be concerned about the kickstarter aspect. This company never flakes, and have always overdelivered.