Real World Review – OWC for the Traveler
Felt so good to be back on a set: 75 crew, 25+ talent, 8 person Stills crew, plus 14 clients and agency folks. (yes, I produce commercials)
Flew across country, and set up in the hotel conference room for wardrobe fittings (remote), meetings and a pre-production meeting. Part remote/part IRL
First thing up – let's connect to the big screen!
Conf Room had an HDMI cable to connect, although we all had MacBook Airs.
I had packed my OWC travel dock, and had it in my backpack! The perfect tool with its HDMI input!
Worked like a charm!


OK, above, is a cleaner look at my set-up, once I was visiting family. In the conf room it was more like this:

You've all been there, I know.
With all of the files for the project: pre-pro book (204 mg alone) , documents, storyboards, contracts, shooting boards, storylines, talent auditions, etc. my little MacBook Air hard drive was getting filled up, and a little sluggish.



So, I plugged in the OWC SSD into the hub, and created a set of job folders , and offloaded all of the job docs to that. Back to some usable speed. Plus the added RAM that was freed up.
On every job I produce, I'm usually doing some behind the scenes shots, and these days, some video.
Only available to the agency and client as it's all NDA'd, but I needed a fast card to work with for vid , especially.
The new OWC line,ATLAS S PRO SDXC UHS-II V90 Media Card did the trick.
You probably don't need a photo of the SD card.
So the hub has all of the ports I needed for work: HDMI for video transmit, SD reader for my captured content, pass through power USB C port, so I save a USB C on my laptop, and 2 USB ports for anything I needed. Like a way to charge my phone! And as you can see below, the USB-C cable fits neatly into the base.  PLUS, the hub is also bus powered so if you don't have access to power, you can still connect all the peripherals.
Last feature I want to highlight is the ability to disconnect all of your connected items at once, using the included software. Just saves disconnecting each item (SSD, SD card, Phone, etc.)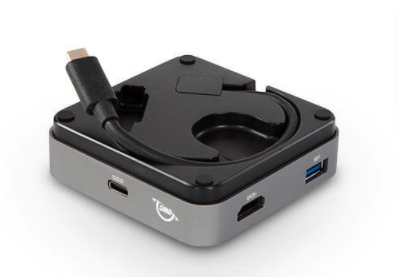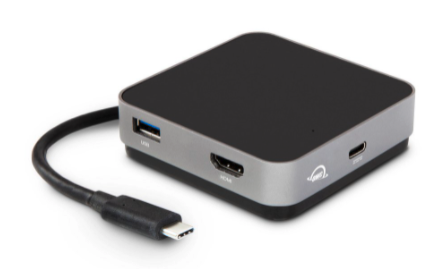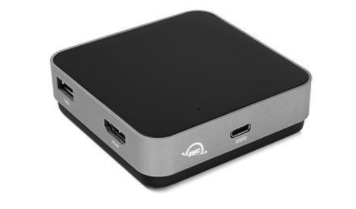 Overall, this whole system will be with me from now on.
Small footprint, enough ports, SD reader, super fast SD card, and the ability to hook into a video system convinced me.
Sure, you want to know what all of this costs:
The Travel Hub is about $55.
The SSD Envoy depends on the size. I went for the 1TB, so about $220
The Atlas SD card, also depends on the size. The 256 GB was a great worker for the shoot days. About $250