Tools Of The Trade – Start Your Post Process Right!
Before your shoot….
Be prepared to get the best quality out of your project, with these simple steps below to get quality images.
And save time in your post production.
To start, there are a couple of things to carry if you are doing a shoot where there is time frame and money involved.
Yep, when you are hired for a shoot, generally, there is an expectation of delivery of files asap.
Just the way it is.
Of course, no matter what you are shooting, these tools below with help you create the finest images.
A: Color Chart
B: Exposure Calibration on set
C: Monitor Calibration
So Let's get into iT!
One thing I have found is a must carry on your shoot is this:
A color chart. This is a super simple thing to add to the scene for the first shot in each lighting situation. Place it into the scene , or have your talent hold it in a way that reflects (sorry) the lighting, towards the lens.
The Datacolor Spyder Checkr Photo is my preferred choice.


What you are doing here is placing true and accurate color references into your shot so when you go to post you have a baseline color.
Know that you only put it into the first shot, and it doesn't have to live in the scene.
I know you know, but just wanted to emphasize.
The unit includes 30 colors, 6 skin tones, 24 grey scales, 2 grey patches, 3 white adjustments and 3 black adjustments.
Because of the Ultra-matte targets, you get the truest color renditions in any lighting conditions for precision color correction of your image file. Basically, it ends up streamlining your post-production workflow by generating HSL-presets with the Spyder Checkr Software, for the most accurate, consistent color.
Here's a video that shows best uses. Sure it does talk about the full line of products, and you can glean from it what applies to the way you shoot.
And also, this sweet unit that is simple to use, the Spyder Cube. I think of this as the best way to baseline exposure.
Sure, i tweak all of it at the end, but I want to have a standard to work from.

Plus it is reading light sources that may come from diff directions
The Spyder Cube's unique 3-dimensional design differs from a traditional gray card. It allows you to see primary and secondary light sources for more precise white balance correction and includes a black trap for absolute black reference. Its chrome ball allows you to see specular highlights.
and not only gives you a grey scale but also has this small reflective ball on to get you the proper reflective shadows calibration.
Here is an instructional vid so you can see how it works.
If you have ever been on a VFX shoot, you will see the VFX supervisor holding a much larger reflective sphere on a stick, that will give them critical info in the post process.
Simply, choose either, or both. In conjunction, they cover exposure and color, and a great combo. If you go for only one, I'd say the Checkr.
And shoot RAW!
OK, you now have a series for photos that no matter what light you shot with, you have a standard coloration, grey scale, and reflective info in a frame.
The next part, which is an often overlooked by newbies and semi pros, is the calibration of your monitor.
It does depend on the light in the room that your monitor sits, and how consistent it will be.
I know you may be working on a laptop in the field, and maybe more important to calibrate the monitor.
Datacolor has a unit that makes color calibration super easy! It's the Spyder X,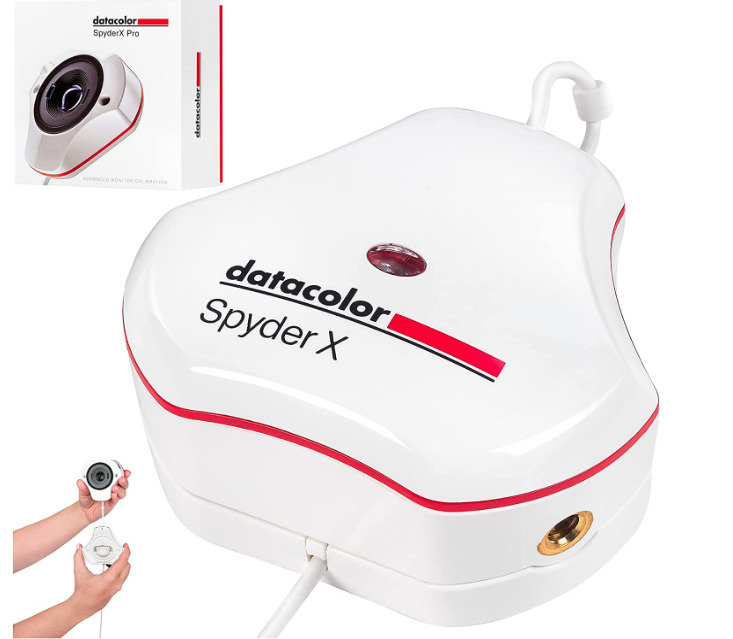 Basically, you install the software, plug in the device, and launch the program.
It will automatically start walking you through the simple steps. Even tells you where to place the calibration device.
See that screen below? It has the shape of the calibration unit that pops up so you know exactly where to place it.
One simple initial correction to the white balance, and you're off!
It also locks onto itself. One part is the balance part to hang off the back of your monitor, so the front part reads and calibrates the monitor.
One thing it also reads, is the ambient light in your environment, See that red, raised thing about the units name? That is seeing what you room light is like.
In a perfect world you would have an Eizo monitor, blinders on the monitor, and a consistent light in the room every time you color correct.
May not be your reality. I know it isn't mine.
Now, time changes things, and light differences changes things, so when you save the calibration file, the software will remind you in a month to do it again.
Yeah, I wish I could just do it once, and never again, but not the way monitors work, unfortunately.
Now the main unit you should get is the Spyder Pro. If you are working with 2 monitors, you want to get the elite software.
Nothing worse than to have different results on 2 monitors.
To be honest, I have 2 diff models from Dell, and I've had to match them up so I could use either to export correct color, and exposure files for whatever use.
There you go! Some tools of the trade that you should incorporate into your workflow!