Remember that guy Barry that you took photographs of in college? His last name wasn't Obama, was it?
Last night at the M+B gallery in Los Angeles a new exhibit opened called BARACK OBAMA: THE FRESHMAN.
The photographer, Lisa Jack, a fellow student at Occidental college, photographed our future president at 20.
This single roll of film, comprises this show and give a tiny, fleeting, glimpse of the man would make history.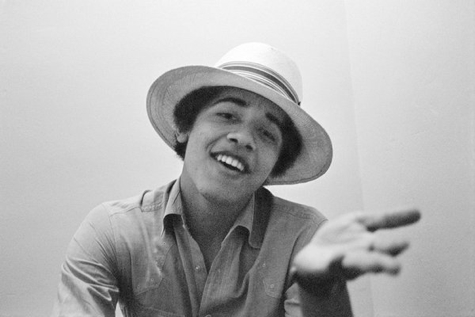 © Lisa Jack
On the shoot itself, Lisa Jack described it as initially awkward. "Barry" showed up to the shoot with a bomber jacket, flared jeans, a pack of cigarettes and a Panama hat he thought would look "cool." Initially, he posed self-consciously, but as the shoot progressed, the personality and charisma we would all later bear witness to emerged. He began asking questions, which was unusual since normally the photographer asks questions in an effort to draw out the sitter's personality. According to Jack, the key to Obama's personality was his desire to understand where one comes from and how that determines one's sense of self. Being herself a young undergrad, her interests did not lie at the time with questions of identity and selfhood, but rather she secretly hoped that "Barry" would ask her out afterward. He did not, and although pleased with the photographs, they did not maintain contact afterwards, until a random chance encounter 28 years later in Washington DC. Lisa Jack ceased photographing and went on to pursue psychology and is currently a professor of Counseling Psychology at Augsburg College. After having her one roll of film from that day sit neglected for almost thirty years, Jack now offers up these images "so that others may see a side to him [she has] yet to observe captured in the maelstrom of contemporary media".
The amazing thing about this show is the crowd it drew. This art gallery would never be a destination to a vast majority of the attendees who came. Painting one wall like an American flag, people would pose next to photographs of the young Barry, almost as if he was there.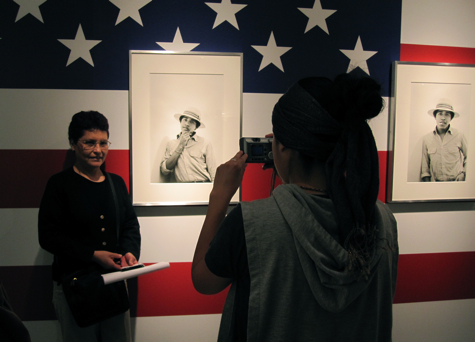 They searched his face in the photographs to see if there was that glimmer of future success, some telling pose that foretold the future.
Simple compositions, he appears confident and happy to be the subject of Jack's camera. Lisa told me that he was just one of many students who became her photo subjects. And how many of us have grabbed anyone we know to pose so we can work out lighting, lensing, exposure, composition and perhaps, as she said, a closer understanding ?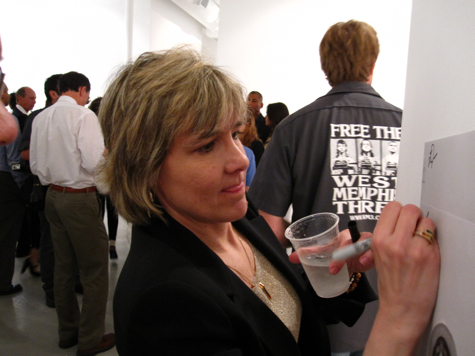 Lisa Jack, signing posters.
The entire contact sheet covered one wall and was a crowd pleaser. Perhaps that is the print to buy. Each image, lined up in true sequence. Spare $8k?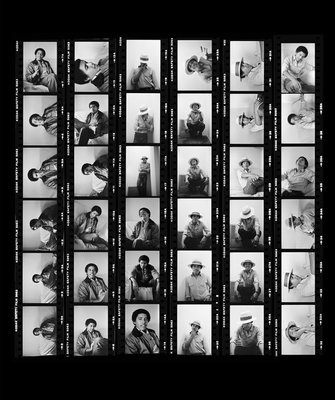 The prints themselves start at about $1000, for an 11×14 print, and I'm sure they will do well. the people taking the orders could not put their pens down.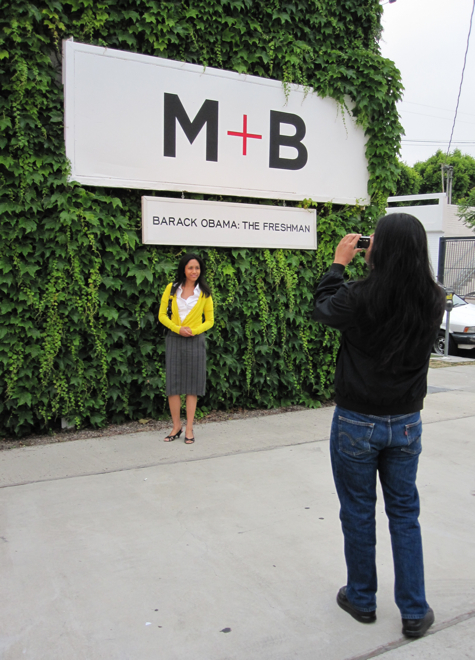 The phenomenon is incredible. rare in our history has a politician, created such sycophants.
Couples were even taking photos in front of THE SIGN!
Lisa Jack did a fine job on the photographs. She doesn't take picture these days. It was a dream she had to be a photographer.
This one roll of film, though, has changed her life.
So, who is in your archives? Or are you about to shoot the next luminary?
M+B
612 North Almont Drive
Los Angeles, California 90069
T 310 550 0050
F 310 550 0605
Tuesday – Saturday, 10A – 6P