Weekly Giveaway – Instant Photos! (kind of)
Last fall, we made a visit to NYC for PhotoPlus Expo and, of course, a stop at the International Center of Photography, or ICP.
Always a solid group of photography exhibits under one roof, and this time was no exception. A celebration of the tintype, filled the back room with over 150 images, all captured on metal. Titled, appropriately, America and the Tintype.
Whether they were formal portraits or a more common vernacular variety, these "instant "photos of their day were a common sight in many homes.
In the 1880's!
The photographers would go from town to town with their darkrooms, and document your life. For a nominal, and very reasonable price.
This was part of the fascination on this exhibit. You were not just looking at the upper class portraits, it was the more modest families, the more down to earth folk, who could afford to get their picture made.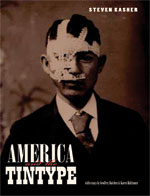 Way before August Sander would produce his monumental work on the various castes of German society, this show gave you a sense of transition from the time when only the rich had an oil painting commissioned for their visage to be immortalized, to this affordable strange metal portrait, that had a permanence we can examine today, was made available for an affordable price.
It was also a lighthearted show, as people seemed to have fun while they were photographed. OK, they still had to hold still, but there was sense of humor, at times.
You can still purchase this show in book form from ICP
And here is our weekly giveaway: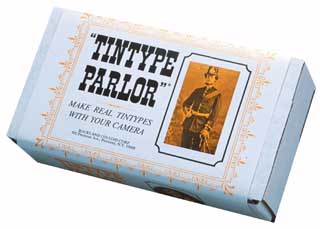 Rockland Colloid's Tintype Parlor is an authentic re-creation of last century's tintype process, the form of "instant" photography that was popular in your great-grandfather's day. Tintypes often found in antique shops. Rockland Colloid's tintypes are sensitized metal plates that are thin enough to be cut with scissors to fit inside any camera. You can dress your friends in old costumes and create an authentic bit of Americana. In addition to tintypes, the Tintype Parlor can also make Ambrotypes, a version of tintypes that is printed on a glass plate. Developer and fixer are included in the kit.
Tintype Parlor Includes: 5 -Metal 4×5 Plates ;Tintype Emulsion; Developer; Fixer
And we are adding some elements we felt you would need. Like a red safelight and a developing tray. Picked them up at Freestyle in Los Angeles. Remember we told you about that cool store, that is a mecca for old school classic processing supplies?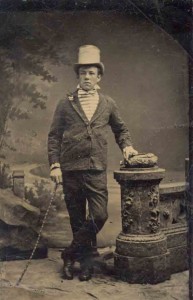 And here is a great link for some history, and process tip.
It won't be a simple deal here. It'll take a little dedication and the desire to create an image that is one of a kind. Unique.
That alone is pretty darn cool.
From ICP:
"The tintype is one of the most intriguing and little-studied forms of nineteenth-century photography. Introduced as a low-cost alternative to the daguerreotype and the albumen print, the tintype was widely marketed from the 1860s through the first decades of the twentieth century, and quickly became the most popular photographic medium. It was the picture making preference of the people, and was almost never used for celebrity portraiture. The tintype was affordable, portable, unique, and available almost everywhere. Because of its ubiquity, the tintype provides a startlingly candid record of the political upheavals that rocked the four decades following the American Civil War, and the personal anxieties they induced.
Stepping before the camera, a person would strike a pose for two to ten seconds, perhaps pose again, and then wait as the iron plate—with its sensitized collodion emulsion—was exposed in the camera, absorbing the reflected light directly off the subject. It was then developed, dried, and varnished. A few minutes later, the result appeared. That the pictures were darkish or that they were reversed left to right did not matter to the tintype client, because—at least in the latter instance—reversal was expected, based on previous experience of the daguerreotype and the mirror. And unlike with the carte-de-visite, there was no negative: the tintype was basically a negative adhered to a varnished metal plate, one that yielded an image that was unique and durable."
So there you have it.
We're going to drag out an old Speed Graphic, 4×5, and see what we can do.
Details on getting this kit, including the safelight and tray, will be in this weeks NEWSLETTER. Sign up by Tuesday night and on Weds. morning at 9:00AM PST, the NEWSLETTER arrives safe and sound in you inbox (and if you don;t see it, check your spam box; sometimes until you approve us, it sneaks in there)
Say, how do you like our new, spiffy, HOME page Twitter block? Kinda like your own personal photo press feed.