Weekly Giveaway – Gorillapod Redux: This time we go bigger!
( At the end of the article we have a special 20% discount code for you if you'd like to go ahead and purchase one of these from the manufacturer. )
Thanks for the great response last week on the Gorillapod giveaway.
Heck, I just used one this weekend for a shoot to hold a flash where there was no place to attach it. Nor an assistant to hold it.
So this week, as promised we're giving away ANOTHER one!
This time it's the larger one, rated at 6.6 lbs.
The Gorillapod SLR ZOOM.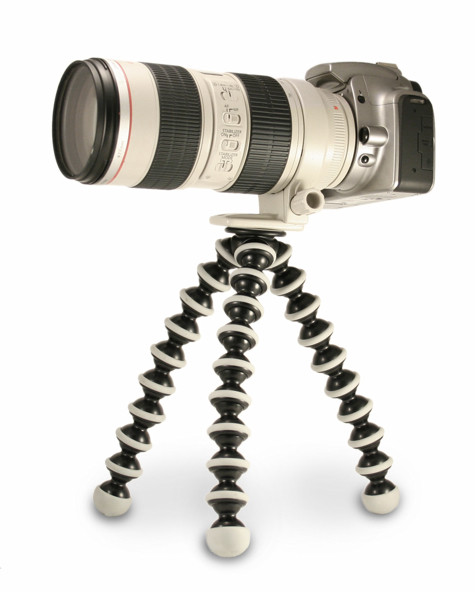 (Of course the camera and lens are NOT included in the giveaway. But you knew that)
We have also used this for our video B-roll work for awhile and have been very happy. (Check the previous article on the site to see the rig)
Plus it does have 2 thread sizes for your mounting choices. We know, it may seem like a small point…til you need it.
Remember to follow some of the tips we had in the previous article for most secure mounting, and also pick yourself up a nice ball head. Or take the one you have on your monopod and use it on this, like we did.
And we have to tell you about another one of our favorite Gorillapod items, perfect for use with the iPhone.

It's not a giveaway this week, but
the Gorillamobile travels with us all of the time.
We saw this last fall and it is in the backpack at all times, plus at the work station.

Check it out for a hands free experience, with the speaker and mic actually facing you! Sweet.
(just wish iPhone's had a better battery life. Get an external add-on battery, and you'll be happier)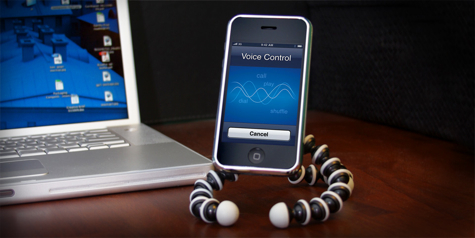 If you'd like to be entered into our weekly giveaway for a chance at a free SLR ZOOM, sign up for the NEWSLETTER by tomorrow (Tuesday) evening.
Then on Weds. at 9:00 AM PST, you will get an email from us with all of the details.
It's pretty darn easy to enter, and this is our way of saying thanks to our most loyal readers.
OK, we also get a better handle on what you like. and that way we can bring you content that you want.
Hopefully.
If you'd like some different stuff, let us know. We are open to any and all suggestions.
And if you are looking to get one of these straight away, we have a special 20% discount code for you:
When you got to the Gorillapod site, order up and when you check out, add this code: PHOTO20, for a sweet photoinduced.com 20% discount.
Oh, and the correct answer last week was "Steve McCurry".