Oscar Winning, Beautiful and a Talented Photographer : Jessica Lange is honored by the George Eastman House
When you hear about an actors passions other than what they are famous for, you may sometimes wonder: is it the fame that legitimizes the other endeavors? Or, in the case of Jessica Lange, can you look at her photographs and be fully objective on their merit ?
Quite honestly, we feel that there will never be a disassociation between the two.
Brad Pitt and Jeff Bridges more currently, and Gina Lollobrigida, Roddy McDowell (original Planet of the Apes), are all actors who proclaim their passion for photography, as in behind the camera.
Heck, even Harold Lloyd who was an A list silent movie actor, had a passion for 3D photography, and there are a few books, which we have give away here, attesting to that fact.
So what is it?
They have incredible access to behind the scenes of their films, as Jeff Bridges, famous for his panoramic cinema shots, gifts the cast and crew with books of photos from the experience. Or even Andy Summers, from the Police, who's life- on-the-road-of-a-rock-star photos traveled extensively last year, complete with companion book.
Brad Pitt's name came up in the world of photography recently, when his wife picked him up a Littman 45 for his birthday to feed his passion.
Gina Lollabrigida, a bombshell actress in the 60's fought for respect as she transitioned into becoming a photojournalist. Roddy McDowell just released his 3rd book, containing only mobile phone photos.
Just scratching the surface here, of course.
Most photographers hate being in front of the camera. Imagine if that was all you did.
There must be a certain solace or reversal of control that occurs when an actor switches positions. The photography that most actors seem to take on, is the reportage segment, or the fine art.
A complete 180 from the sets and lights of their vocation.
Perhaps it becomes what fills the time on sets.
As one actor has said "I'm paid to wait, not to act". And the waiting can open your mind to many things.
The solitary art of photography must appeal to those who are constantly surrounded.
How should a viewer react ? Separate the 2 entities? Experience the images simply for what they are and not who made them?

These are the kind of thoughts that came up as we visited the Rose Gallery in Santa Monica, for the Jessica Lange: 50 Photographs exhibit.
Who can forget this Oscar winning actresses performances, and her sheer beauty?
You can't.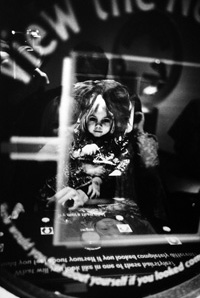 Photo at right © Jessica Lange
Her work has a design element inherent within the frame, with a classical tendency.
The 50 B & W silver prints have a grain structure depicting an era of a 30 year span, right before the digital age entered the photo world.
They are not like the humor of a Garry Winograd, nor the darkness of a Robert Frank, but a mostly delicately balanced tale told with a brilliant use of light. The feel of the prints are reminiscent of those photographers, though.
Although there are hints and shadows of Ms. Lange in some of the images, she is never overwhelming, but presenting a scenario.
Graphical elements frame a life that is not confrontational, while eliciting a story. A momentary one, and an observational one.
Rarely do you see a face up close in the throes of an emotional moment. These are quiet stories, with a preface and conclusion, you have to bring to the viewing.

Walking around the gallery, we picked up on our gut favorites, then went around around again.
It was a very calming experience.
Could we separate the body of work from the other life of the photographer?
Nope.
And the galleries and book publishers don't want you to.
She is having an exhibit of her work, at the same time, at the prestigious George Eastman House in Rochester NYC and has received the very first George Eastman House Honors award.
When the award is given it will also kick off a film series of her work, to run simultaneously with the exhibit.
Every bit of press on her book talks about her work as an actress, her love life, and her early training in photography at college.
Not a ton about the work.
We ponder and query: Should the persona of the artist, influence the validity of the art?
It will of course, influence your experience of it, as it was intended.
At some point should it have a blind taste test to see if you feel the same if the artists name was unknown, then the "aha!" moment to reveal the celebrity behind it ?
Or is the curiosity of the talents of someone from another field, enough to boost the rating of the piece?
If Picasso draws on a napkin, but it's crap, is it still massive because it's freakin' Picasso?
In some strange way, yes. It is human nature to associate.
You may not buy it or hang it on your wall, but you sure want to see it.
We did.
(Addendum: maybe the analogy is more like if you had a kinescope of Picasso's rare appearance on Alfred Hitchcock presents, where he played the creepy guy in the cafe.)
What do you think? There are some links in this article that can help you look for her work, and you can buy her book, also.
We dig her work, for the work. In the 50 there are some great, iconic pieces, no matter who she is.
(the shot on the cover, for instance, has the dogs teeth just shining perfectly that you may miss on-line. In a print it's incredible)
What other celebrities do you know of that are photographers? Would you pay more for an image if you know it was made by Brad Pitt?
Talk amongst yourselves, then let's share with the group.
And you can order the book from our Amazon store, here.
oh, and Picasso was never really on Alfred Hitchcock Presents. But if he was, it would be like that.