Weekly Giveaway : HP MediaSmart EX490 Server- Now that's a BIG way to end the year!
You know we are all about backing up your ever increasing digital life over here, at photoinduced.com
And as we find ourselves in either a home or office with everyone needing/wanting to access similar files, the concept of a server is moving away from business into your personal life.
Imagine an entire house of computers being able to share the same music, video, or photo files?
Or perhaps backing up your computer onto another hard drive away from your computer. A little digital vault action.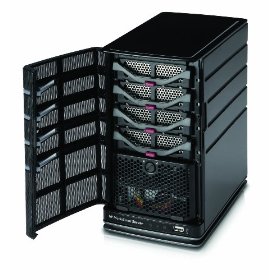 Now this one is very cool: use your iPhone or iPod to access your entire music library remotely.
Who needs a large capacity mobile device, when you can access your entire file system via wi-fi?
That's what the HP Media Smart Server EX490 is all about.
With a 1T, 7200 rpm hard drive included, and a variety of ports, including the new super fast standard eSata, you can now share like never before on this, the latest generation server, from HP.
We first saw this early in the year, and a version ago.
At that time we wanted to see some more MAC compatibility. Yes, we now that 93% of the world is one PC, and HP make PC's
But…….
A large part of the world of photogs and visual specialists are on MAC.
There, I said it.
So..TA DA! here it is. PC And MAC friendly!
And even though it comes with a robust 1Terrabyte Hard Drive, you can add 3 more.
And the best part is WE ARE GIVING ONE AWAY FOR FREEEE RIGHT HERE ON PHOTOINDUCED.COM
What a way to end the year AND the decade!
We make it pretty darn easy for you too.
Just make sure you are signed up for the free weekly NEWSLETTER, where we recap the site, and giveaway free photo goodies every week of the year.
How darn easy?
It works like this :
1. Hit reply to the NEWSLETTER
2. Put the "special word" into the subject line of the email (included/revealed in the newsletter)
3. Delete body of email (saving server space)
4. Add a shipping address
5. Hit Send
The "special word" usually relates to the giveaway item so you'll already be in the mindset.
Plus in this special holiday Newsletter, we'll have some extra goodies for you.
Are you signed up yet?
You can also always sign up at the top of the page, here.
Remember: we don't give out your info to ANYONE. It's just between us. The only reason we need a shipping address, is so we can get your freebie to you.
So, check you inbox on Weds. at 9:00AM PST, and who know, maybe you'll be backing up and sharing your digital life with a new server. For free.
This has been a transitional year for many, and we thank you for your continued support, or for joining us this past year.
As we work on our year in review article we'd love to hear from you and see what your thought of the past year in photography:
iPhone apps? the year film died? The passing of some of the masters ? Annie L going broke?
What was the big photo world news for you this year?