Delkin now protects you from irritating wetness
What we really mean to say is that Delkin products ( the Archival Gold DVD, Fat Gekko people) has come up with a few things to make your life on or near water a little better.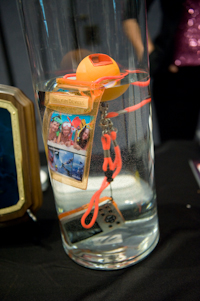 At PMA a couple week ago, they were showing off a waterproof bag, the Jellyfish, for your smartphone or point & shoot, complete with a floatation device AND a bottle opener. Hmmmm.. I guess so you can drink, swim and shoot/txt. Careful with the drunk photos/txt combo.
Just saying.
Have you ever gotten a memory card wet? We have.
They were showing of a new CF card, Combat Flash, that is sealed from the inside and they claim you can drop it into a cup of coffee and it'll still work. Just dry it off first, of course.
Can't wait to try that out.
There was one more product that belongs in the Fat Gekko family, The Gator Clamp, that is a simple vice clamp, with rubber protectors on the feet, that has a ball mount type pole that allows you to put a speedlight, small camera or anything you want. where you want.
We've seen a few iterations of this type of too, but the construction here was very solid and the option of the toothy vice grip rubber protectors so you don't chew up someones nice door or table.
Anyway, you can see em all right here in this video: