Real World Reviews: Fast, Steady and Sharp – Pick 3
As many of you are transitioning to the HD DSLR's, the world of motion and sound has either opened up a new horizon or, just maybe, made you realize how much you need to know how to get quality images in that world.
(Maybe that's why there is a film business with unions and trained pros.)
However, the tools for making watchable videos from your still cameras are growing every day and we know it's part of our duty to check em out and see what works and what maybe doesn't.
Ok, a peak behind the curtain first: I have been a film producer in the world of advertising for decades so hopefully the perspective will be of value with that kind of background.
First of all the gear that was used for this series:
Canon 7D
Bruce Dorn's IDC Run & Gun follow focus unit
Rode SVM Stereo Condenser Microphone

Zoom H4n Portable Digital Recorder
Let's go:
Since you cannot, at this point, use your auto focus in video mode you absolutely must stabilize your camera!
There are many ways to do this: tripod, shoulder brace, shoulder mount, steadicam.
Hand holding your DSLR in vid mode will assure you a jittery shot, once you look at it on a screen larger than the LCD on the back.
Or does it?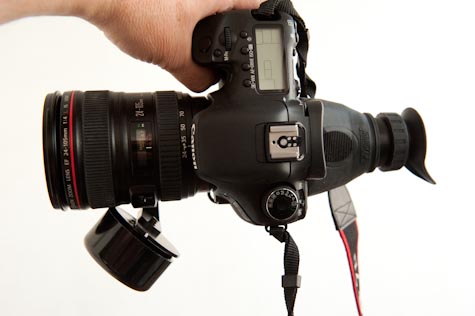 For the still shooter so used to picking up a camera and shooting, director Bruce Dorn has designed a unit called the Run & Gun, designed to take advantage of the smallish size of your camera.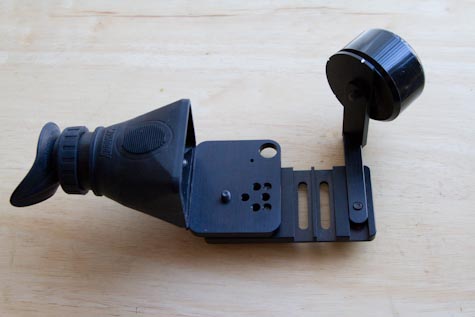 It uses a friction based rubberized wheel to connect to the focus ring of the lens, and metal plate and frame system that connects to a Loupe holder on the camera back so you can look though the viewfinder while you focus.
THIS JUST IN!!! IDC has changed up the design and now use a solid metal wheel with a user replaceable band, plus a hole for a focusing whip: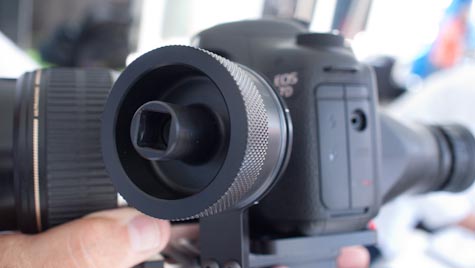 The design is brilliant and they have manufactured this to the highest standards and as soon as you are all hooked up you know you have a pro piece of working gear in your hands.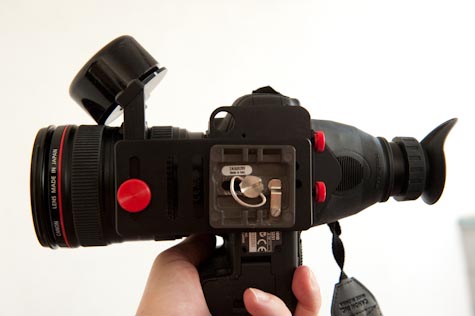 (from below- that is my Gitzo quick release plate you see on the bottom. I'm a fan of tripods when I can use em)
The focusing knob does have to be adjusted to the specific lens for position and alignment, but that was a snap. See those red knobs?
It worked like a charm. I was able to stash it in a backpack and bring it out, at will, to shoot some fast vid. It was an attention getter in crowds of photogs, as there are not many of these about.
here is the designer with product in hand: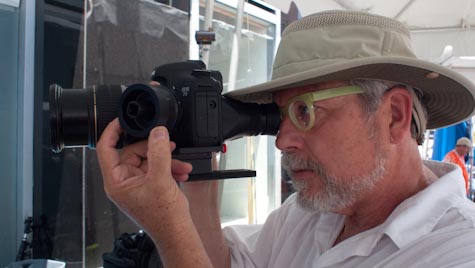 OK, worked great, built to last, low profile, easy to balance since you were holding the camera into your eye and body, so stability was an easier task.
Not the optimum stability, but quite serviceable.
Now the sound………
We were shooting a Canon 5D, and it is quite a feature packed unit. Low light sensitivity was phenomenal, the ergonomics of the back made looking through the loupe and making adjustments a natural workflow.
The color of the files were better than we've seen in the past, as there usually seems to be a red bent in the default color.
One of our favorite features was the one button ease of shooting video in Live View, or switching to stills with a flick of the button. Perfect placement
While shooting stills, the change of focus points was easy to accomplish while in auto mode. Only wish it was full frame for those 18 mega pixels.
For the $1700 USD, you get a solid still camera and 1080p HD video, shooting 24 or 30 FPS.
Then the video.
Since you go back to your roots in the manual mode, the click stop adjustments, and getting a right exposure was an easy task, and when you shoot video, it's so much better to get a solid exposure in camera, as opposed to post.
Just a time saver, unless you are going for a specific look that isn't in camera.
The files were solid and editing, was easy as you'll see in a few days.
Right…we were meant to talk about the sound……
Well it's no secret that the sound on this camera and all of the rest of the DLSR's with video is pretty well crap.
Seriously.
The little built in mics pick up every little turn of a knob, the breathing of the shooter, and on top of that, the sound they do record is tinny, distant and horrible.
At least with recent upgrades you can manually adjust the recording levels.
So now you have this great small HD video rig, you are stabilized, shooting with a small footprint, but now you need to record sound and the built in mic isn't cutting it, quality wise.
Maybe you want to do a quick interview.
Add an external mic, right?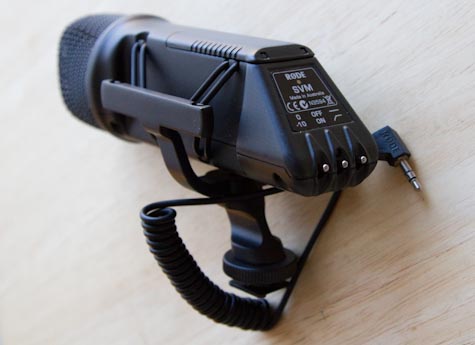 Rode has been supplying the film and video business for years with top quality mics. We'd put this onto our video camera in a second.
Now they want to supply the HD DSLR shooter also.
Ok, so you have a stereo mic that you can plug into your camera and record sound.
You better be point the mic/ camera right where you want it to be, and it better be the same place. The 2 have become 1.
The other part of the sound equation is knowing what kind of sound you are recording.
You need to monitor it also, to set your levels, especially with this kind of mic which is plugged into the DSLR directly.
You can do it with the monitors on the back, but that only gives you volume, not direction. You could do a sound test and upload some samples mic placement tests, which would be a major frustrating time waster.
Where to plug in the headphones that you could monitor the sound with, to set recording levels and mic direction ?
There is some equipment to use, such as a Beachtek or Juiced Link, pre-amp box, that you can add to your rig for monitoring the recording and actually use a variety of pro mics that can be inputted to the box and subsequently to the media card.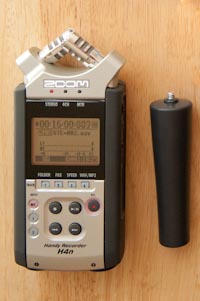 We prefer to use this kind of a system:
For value, the Zoom H4n Portable Digital Recorder
is the hit.
It's an external recording device, not plugging into the DSLR camera.
It is a 4 channel digital recording unit that can be manual or auto.
You can use pro XLR plugs on 2 of the mics.
The pre-amps are darn clean, and you will have to step up quite a bit to get a difference.
It records to an SD card with a variety of formats, including true broadcast quality.
The 2 built in mics can be adjusted from 90-120 degrees of coverage.
Plus we've used this as a plug-in mic right to the computer via USB for narration on vids.
There is so much capability in this unit, for a short price of $300. USD street, that we recommend this very highly.
The Bruce Dorn IDC company also has something called a U-Boat that can take external gear like the Zoom.
We use this recorder with 2, TRAM-50 lavaliers, and Sennheiser wireless transmitters, for interviews, and for general use, we are partial to the AT-4073.
So the recorder is one part, and the mics are another critical part of the package. We just do interviews, though.
Pick your gear wisely.
You should still be recording the sound with your DSLR, as you can do what's known as "double record". Use the cameras recorded track as a guide track to help you line up the recording when editing.
Remember that start/stop thing with syncing up tracks. You maybe turned off the camera but kept recording sound. Lot's to keep track of.
That's why film and video crews exist. Crews being the essential term here.
For most photographers, keeping track of all of these simple items discussed here is quite a lot to work with while you're concentrating on the subject at hand.
Maybe that's why there are Directors of Photography and Directors.
You see all of the gear we looked at here do the job, and can do it very well.
Yes, the large sensor on a DSLR shooting video is great compared to the smaller HD Vid cams. The lenses you can use give you control in an affordable package.
You do know that you are shooting a compressed file that can be up-rezzed, but if it starts as compressed, sorry but….it is an editorial convenience only.
And watch your pans…CMOS sensors only scan one way and they will give you "jelly-cam", a wobbly distorted image.
Now don't get me wrong.
These cameras have their place, and can be very useful tools. We'll help you suss out some of these tools.
There are limitations.
We saw Philip Bloome speak at SXSW about the HD DSLR. Someone asked him what would be his wish list for features on this camera. His simple answer was" It wouldn't be this camera"
Now a flip video can get 10 million views on youtube and a major feature film can go straight to DVD and still not get that many eyeballs.
Content is king.
But we thought you were photographers? Is the content in a still image needing more in your life.
We'll we like to work in all platforms, agnostic, so to speak.
That's while we'll keep bringing you product reviews like this.
Real world, real life, to the point.
Unless you are shooting a dramatic piece, will someone tell me why you would use and HD video camera?
There is a lot of mis-information out there and we'll try to get it sorted. The buzz is all around these products.
Why shoot a system that is inferior to what else is available, with so many work arounds, it's driving the costs up.
We will be sharing a story of a feature cinematographer who just tricked out (2) 7D's to use in certain sequences in a feature film.
Cost about 35k to get them to a good place.
It'll get there. Maybe next year they'll shoot uncompressed files. Maybe there will be a new sensor, so no "jellycam"
Maybe auto focus will become standard.
Or you could buy a video camera that can do that now.