Weekly Giveaway – Ready to hit the trail? Lowepro's got a bag for that!
The good weather is back in North America and that means a lot of you are ready to hit the hiking trail, and get those images that have been hiding from you all winter.
This week we have something that should help you out there.
The Lowepro CompuPrimus AW..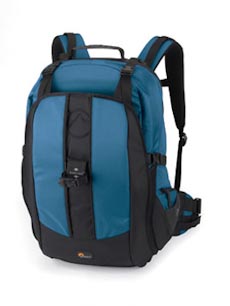 The CompuPrimus AW is designed for the serious enthusiast or professional photographer who wants a dual-compartment camera backpack that treads lightly on the planet and carries a notebook computer. The rugged outer material is made of 100% post-consumer recycled Cyclepet®–providing high water and abrasion resistance while remaining environmentally friendly. An ergonomic, 8-point adjustable harness system with DryFloâ"¢ lining distributes weight evenly and allows for breathable comfort. In addition, an outside "hatch" pocket with compression straps creates ideal storage space for a jacket or hydration system. A full set of premium features includes: All Weather Coverâ"¢, Glide-Lockâ"¢ system, Hideaway Tripod Mount, side access panel, and memory card pockets.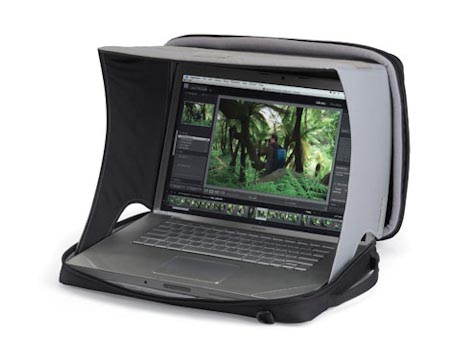 Includes a removable notebook sleeve with integrated sunshade to reduce glare. This alone is one of our favorite components. Use it with the bag, or remove it and use it in the field, anywhere.
Some other views: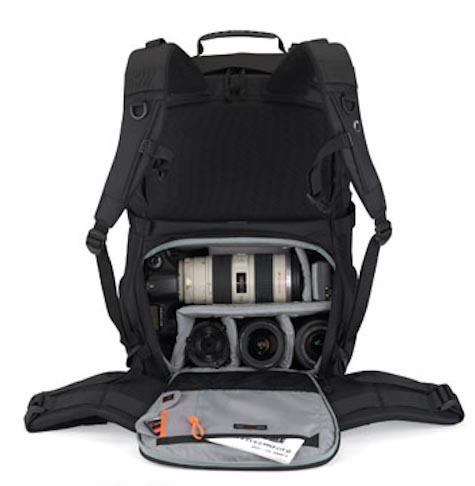 The roomy lower compartment has adjustable padded dividers to organize your pro-sized camera gear.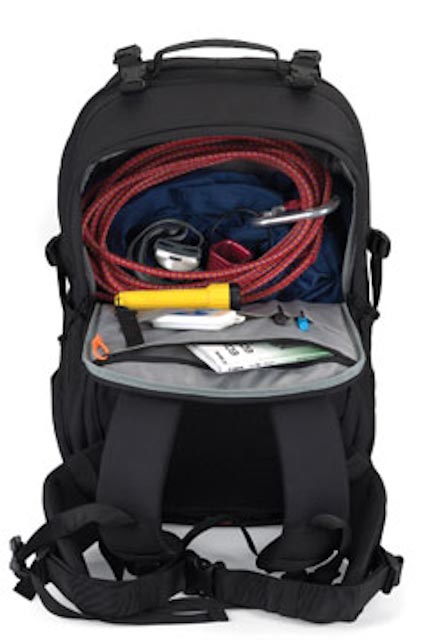 The upper compartment includes organization pockets and space for additional accessories or personal gear.
A portion of the proceeds from each Primus AW backpack will be donated to Polar Bears International (PBI), a non-profit organization dedicated to the worldwide preservation of the polar bear, so if you like what you see and want to buy, you are being a good person on many levels.
Professional Photographer magazine has awarded a 2009 Hot One Award to the Lowepro CompuPrimus AW

! Rugged, eco-friendly and fully equipped, Lowepro's CompuPrimus AW offers flexible options for the serious enthusiast or professional photographer who takes his or her gear on an outdoor trek, an urban exploration, or a global adventure.
Now, this is a big unit for us to ship, so it is only available to subscribers in the US. Apologies, but the shipping costs have gone up like crazy, and we're a small operation.
Don't worry though, we'll have an alt item for those outside of the US.
C'mon you know we love you all!
By the way, another disclaimer: the gear you see otehr than the camera bag, is not included. I know, you know, but just saying.
Looks like the odds for the folks in the US just got pretty good. And if you want in on this, remember: it is only for the subscribers of our free weekly NEWSLETTER!.
It's that extra thank you for your deep support.
If you are not yet a subscriber, sign up by Tuesday night, June 29th to be eligible for this item.