Weekly Giveaway: Bend It, Shape It, Anyway You Want It- Rogue Flashbender
Sometimes when we review a product and we like what it does so much, we do what we can to get one in your hands.
This is the newest addition to the bag: Rogue FlashBender Small Positionable Reflector

Yes, it's a mouthful but, it does the job.
We love simple tools that work. This is one of those tools.
Easy to put onto the flash, hangs on in the roughest of red carpet lines, and crowded events, and gets the light softened the way we like: with no extra added color.
There are 3 different sizes of these beauties, and we highly recommend all 3, but this week we're giving away the middle size.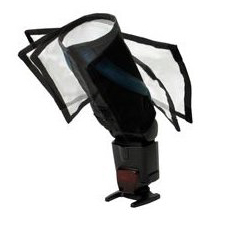 Depending on how you shoot (or how many speedlights you use) it does get into that Goldilocks and the 3 Bears type of deal:
Is one too small? Is one too big? Is the middle one just right?
The answer is they are all right.
You know we always say, the right tool, for the right job.

And if you get our subtle hints, we will probably be getting you the others sizes in the near future.
But this week we are going right down the middle, with the Rogue FlashBender Small Positionable Reflector

( hey, the flash the reflector is attached is NOT included, and I guess we really have to point that out. But YOU knew that, right?
Of course you know the weekly giveway is for subscribers to the free NEWSLETTER, right?
And you know it's our way of saying thanks for the extra support and having a little fun?
We don't have to tell how easy the giveaways are, do we?
Of course not!
That would like saying that you don't know we have Facebook page, where folks join in and post away.
Crazy talk Indeed!
So we'll look for you in the giveaway replies this week, and someone will get shipped this excellent light shaping tool for no bucks. Free as a bird
That's is just how we do things, around here. Every week.
Anyone know the song that the headline refers to? No bonus, just curious.
OK here it is:
(check out the air drums!)