Hit em High, Hit em Low: Nikon releases 2 new fast primes, and one easy to get at Speedlight
They have been very busy, those people at Nikon.
In the past few months they have released an incredible about of new product.
Today, they announce 2 new prime lenses: 35mm f/1.4 G and and a 200mm f/2 lens with VRII.
Both have Nano Crystal Coating for reduced lens flare, with great Bokeh, and use Silent Wave Motors for auto focus.
Why Silent Wave?
Well, if you've ever used a non silent wave lens in video or a quite situation (we have) the racket it makes will distract not only you, but these around you.
And if you are using these lenses for video, as some many folks are, the quiet operation is one less think to think about on your soundtrack.
Wanna see em?
OK. 35mm first….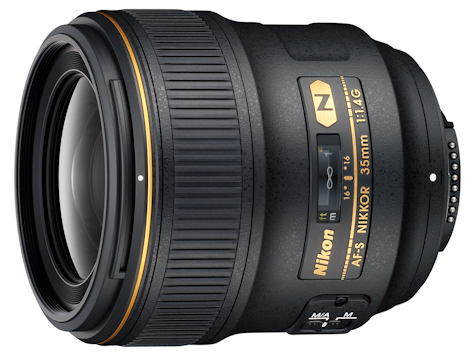 and now the 200 mm.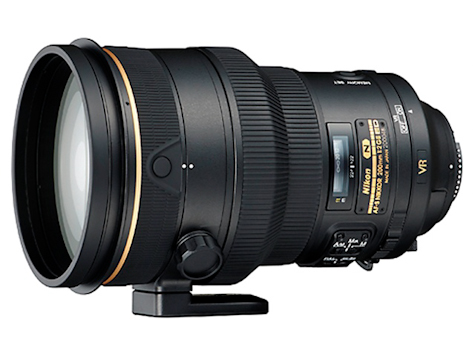 Not for the weekend warrior, as they will sell for $1800. and $6000., respectively.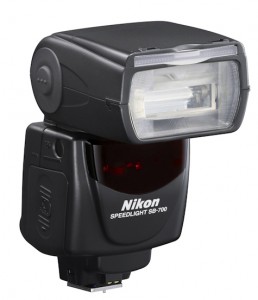 You know whenever a company improves one product, they spread the knowledge through the line.
In this case, the sweet SB-900 speedlight has been joined in the family by the SB-700.
Taking on the simpler control features of it's big brother, this is the perfect unit to go to once you've realized the limitations of the built in pop-up flash on the camera and need more.
You get to choose the light patterns depending on he situation, and the included color filters, allows the flash color to tell the camera what the color balance should be. Mixing light was never easier. they call em Intelligent Color Filters.
In addition, this may be the perfect added speedlight for multi light set-ups, using this as a Remote or Commander flash in your
situation.
Not the fastest recycle time we've seen (approximately 2.5 seconds for full power with NiMH batteries, and approximately 3.0 seconds with AA Alkaline batteries) but that won;t affect most users of this unit.
And at about $330 USD, it's a great deal.
Need the company line?
Here are the press releases:

2010 IS THE "YEAR OF NIKKOR" AS NIKON ANNOUNCES TWO NEW PRO‐LEVEL LENSES TO ITS LEGENDARY LINEUP: AN UNPRECEDENTED NINE NIKKOR LENSES RELEASED IN 2010
NIKKOR AF‐S 35mm f/1.4G and AF‐S 200mm f/2G ED VR II Provide Photographers with Versatility and Exceptional Optical Quality
MELVILLE, N.Y. (September 15, 2010) – Today Nikon Inc. announced the addition of two new pro level lenses to the legendary NIKKOR line. The new AF‐S NIKKOR 35mm f/1.4G and AF‐S NIKKOR 200mm f/2G ED VR II lenses deliver the performance, reliability and stunning image quality that photographers come to expect in a NIKKOR lens. The 35mm f/1.4 and 200mm f/2 VR produce sharp results with excellent clarity and color reproduction whether capturing still images or recording HD video. With the addition of these two lenses, Nikon has introduced a total of nine new NIKKOR lenses in 2010, reinforcing Nikon's role as the world leader in optics.
Exclusive core NIKKOR technologies play a fundamental role in the design of these two new lenses, and both feature Nikon's exclusive Silent Wave Motor (SWM) technology for quiet, fast and accurate autofocus performance. The optical construction of each lens utilizes Nikon's proprietary Nano‐Crystal Coat to minimize flare – both internally as well as from backlit subjects. Further ensuring exceptional image integrity is Nikon's Super Integrated Coating (SIC) for color consistency and reduced flaring. Each lens also incorporates a nine blade diaphragm, to help achieve a dramatic separation between subject and background with a natural out of focus area (bokeh) coveted by today's image‐makers.

AF‐S NIKKOR 35mm f/1.4G: Updating the Classic Wide‐Angle Lens
The new AF‐S NIKKOR 35mm f/1.4 is an update of one of Nikon's most respected and popular NIKKOR lenses. The lens combines a natural yet versatile 35mm perspective with an ultra‐fast f/1.4 aperture, and completes the lineup of f/1.4G lenses announced in the past year, including the AF‐S NIKKOR 24mm f/1.4G, the AF‐S NIKKOR 50mm f/1.4G and the AF‐S NIKKOR 85mm f/1.4G. The f/1.4 maximum aperture allows photographers to shoot handheld in low light and provides dramatic separation between subject and a softened background. This classic wide‐angle provides photographers with an intimate lens perfect for weddings, architecture, travel and photo journalism whether shooting high quality still photographs or video capture using Nikon's D‐Movie feature.
In a wide variety of photographic situations, both FX and DX‐format shooters will enjoy the benefits of extra‐bright f/1.4 viewing and superb image quality. When mounted on a Nikon DX‐format or an FX‐format D‐SLR within the DX Crop Mode, the 35mm f/1.4 has an angle of view that is equivalent to a focal length of 52.5mm in FX/35mm format. The build of the 35mm f/1.4 features 10 optical elements in seven groups with one aspherical lens element that eliminates coma and other types of aberration even when shooting at the widest available aperture. A Rear Focus (RF) system provides smooth and fast autofocus while eliminating front barrel rotation and two focus modes are available — M/A (manual‐priority autofocus) and M (manual focus). A refined manual focus driving mechanism is adopted to reduce focus time lag and improve operational ease in M/A mode.

AF‐S NIKKOR 200mm f/2G ED VR II: Telephoto Lens with Incredible Low Light Performance
The 200mm f/2, like its predecessor, is an incredibly fast aperture telephoto lens that incorporates Nikon's Vibration Reduction (VR) II Image Stabilization system. The VR system provides up to four stops of correction to assist in creating blur‐free images while shooting hand‐held, or for when capturing D‐Movie video content.
Additionally, the NIKKOR 200mm f/2 VR incorporates an Internal Focusing (IF) system that allows movement of the optical elements within the lens barrel and does not change barrel length. Three focus modes are featured, with an A/M mode added to the conventional M/A and M modes. The optical construction consists of 13 optical elements in nine groups including three Extra‐low Dispersion (ED) glass elements and one Super ED glass element that effectively minimize chromatic aberration, even at the widest aperture settings. Also included is a Tripod Detection Mode, which automatically compensates for minute vibrations when mounted on a tripod and allows users to keep VR image stabilization on and active – even when the camera and lens are mounted on a tripod. The 200mm f/2 is optimal for all types of shooting including weddings, portraits, sports, nature, and fashion due to its quick response and detailed lens design.
Price and Availability
The versatile AF‐S NIKKOR 35mm f/1.4G lens will be available in mid‐November with an MSRP* of $1799.95. The new telephoto AF‐S NIKKOR 200mm f/2G ED VR II will be available early October for an MSRP* of $5999.95.
And the Speedlight:
NEW NIKON SB-700 SPEEDLIGHT FEATURES ADVANCED MULTIFUNCTIONAL FLASH TECHNOLOGY IN A COMPACT AND EASY-TO-USE FORM-FACTOR

Nikon's Newest Speedlight is a Powerful Addition to the Versatile Nikon Creative Lighting System (CLS)
MELVILLE, N.Y. (September 15, 2010) – Today, Nikon Inc. introduced the versatile new SB-700 Speedlight, the latest addition to Nikon's powerful and renowned Creative Lighting System for a wide range of photographers and applications. The SB-700 is a high-performance flash that brings simplicity to on-camera, remote and multiple flash photography. Building on the success of the popular SB-600 Speedlight and the advanced functionality of the SB-900 Speedlight, the SB-700 also incorporates a wide zoom range covering the most popular focal lengths and FX/DX-format identification that optimizes zoom settings based on the user's camera body. The SB-700 also provides a more efficient use of batteries and flash coverage in addition to three light distribution patterns for flash-to-scene customization. Whether used as an on-camera flash or as a wireless commander or remote, the Nikon SB-700 Speedlight offers dependable and consistent flash exposure even under the most challenging lighting conditions.
Designed for a variety of photographers ranging from amateurs in the field to professionals in the studio, the SB-700 integrates a host of new features designed to make flash photography simple, accurate and creative. The SB-700 is for photographers looking for an on-camera Speedlight offering more power for greater depth-of-field control than the built-in flash, or an additional Speedlight for wireless multiple flash set-ups. This Speedlight will also satisfy the needs of photographers looking for a compact Speedlight that can be set up as a Commander or a Remote as well as those who want to upgrade from their existing or older Nikon Speedlight.
"When designing the new Nikon SB-700, we were sure to incorporate the features that made the SB-600 Speedlight such a popular and well respected flash unit as well as the advanced technology that users of the SB-900 Speedlight have come to know," said Lisa Osorio, general manager of marketing at Nikon Inc. "The Nikon SB-700 is a multifunctional Speedlight that combines high-quality with a simple yet sophisticated design."
The Nikon SB-700 has many new and redesigned features and that make it easy-to-use, yet powerful enough to assist in tough and challenging lighting conditions and settings. The SB-700's LCD design and layout enables easy-to-remember and intuitive operation, while the multi-step power zoom covers wide 24-120mm angle of view with FX-format cameras. The improved user interface of the SB-700 utilizes a large easy-to-read dot-matrix LCD panel making navigation and usage even easier.
As part of Nikon's popular Creative Lighting System, the SB-700 includes support for Nikon's advanced wireless TTL operation and can function as a wireless Commander with control over two separate groups of Speedlights, or as a Remote Speedlight when controlled by the SB-900 Speedlight or the built-in Speedlight set to Commander Mode in most Nikon D-SLR's. The SB-700 also incorporates a high-speed recycling time of approximately 2.5 seconds for full power with NiMH batteries, and approximately 3.0 seconds with AA Alkaline batteries. The Nikon SB-700 also features a new Quick Wireless Mode with A:B (light ratios) for quick setting of multiple flash units. This makes it easy and quick to control two remote flash units in i-TTL mode.
Additionally, the SB-700 also features enhanced Thermal Cut-Out detection that automatically detects heat build-up due to rapid flash firing. By increasing the recycling time if the temperature of the flash head rises above a certain threshold, the SB-700 protects the flash from damage due to overheating.
For improved durability, heat-resistance and ease-of-use, the SB-700 uses new hard plastic-type color filters for fluorescent or incandescent color temperature balancing. When using the supplied filters, the flash automatically recognizes which filter is being used and adjusts white balance accordingly on select Nikon D-SLR cameras. Additionally, the SB-700's AF-assist illuminator is compatible with the complete line of AF systems used in Nikon D-SLR cameras*.
Similar to the Nikon SB-900 Speedlight, three illumination patterns (standard, center-weighted and even) can be selected in SB-700 to match each shooting situation. When "even" is selected, the light from the flash will cover a subject from center to edges without light falloff. This pattern is suitable for shooting group photographs indoors. The "standard" pattern will cover all conventional, standard flash coverage. The center-weighted pattern provides larger guide numbers than other light distribution types at the same focal lengths. This illumination pattern is suitable for subjects such as portraits, in which the light falloff at the image edges can be ignored.
Like the Nikon SB-900, when the SB-700 is mounted on a camera compatible with user firmware updates, the SB-700 firmware can be updated using the same procedure as with a Nikon D-SLR camera.
Available accessories
The SB-700 uses four AA type Alkaline, Lithium or rechargeable NiMH batteries. To enhance the weatherproof ability of Nikon D-SLRs, optional water guards will be available for select cameras to protect the connection between the flash and camera, allowing users to utilize the flash when weather conditions are less than ideal. The SJ-4 Color Filter set provides a Warming, Red, Yellow or Blue filter for adding color to the background, foreground or just to accent the scene.

Price and availability
The new Nikon SB-700 Speedlight is scheduled to be available in mid-November 2010, and will have an MSRP** of $329.95. The SB-700 will come bundled with the Speedlight Stand, Bounce Adapter, Color Filter Holder, Intelligent Color Filter Kit, Diffuser Dome and soft case.