1 box, 2 OS – Photoshop Elements 9 shakes hands with MAC/WIN at the same time
OK, that has been going on before. But in the same box?? At the same time?
Yep, Adobe has the latest Photoshop Elements 9 coming your way and both OS are supported in the same package.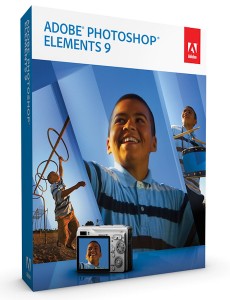 And perhaps even bigger news is the Premiere video edit software is available in MAC as well.
But we'll cover that in another post.
Once again, we'd like to point out the huge advantage of working with a company whose sole purpose for existence is imaging. How to make it, adjust it, share it, etc.
And the bonus for the users is that when the major master packages of the software come out, the easier to handle, trimmed down versions benefit.
Actions in Photoshop CS5 that would have taken multiple steps, are simplified so everyone can enjoy the benefits.
To start with, Lightroom added the ability to import and tag stills AND video to your computer in the last build.
Now you have that ability in Elements 9.
Photomerge in CS5 gave you the ability to easily make an HDR image, combining the best exposures of 3 shots to make one.
You have that now in Elements 9.
There is a new feature called "Out of Bounds" that helps you make incredibly dynamic 3D-esque images in a few simple steps.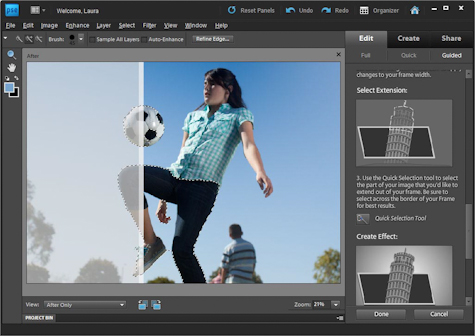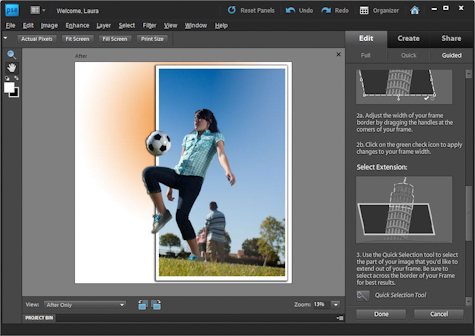 That process and more, such as Lomo effect, let you know that they understand what the effects are that you are asking for.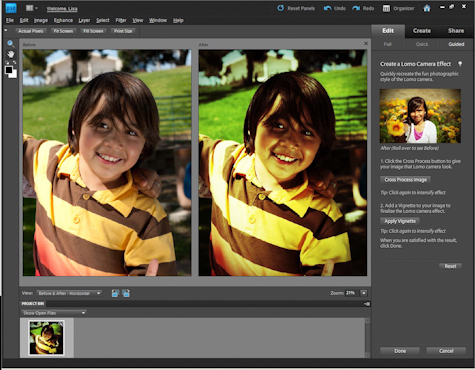 Toss in some face recognition software, just like iPhoto, and you've made tagging you images a whole lot easier.
One thing that we always love to do is make panoramics. you know standing in one spot and hopefully turning in a smooth arc, so you can stitch the frames together later and make one looooong image?
After going through each iteration of the choices of stitching, there are always blank spots, which we lived with.
not anymore.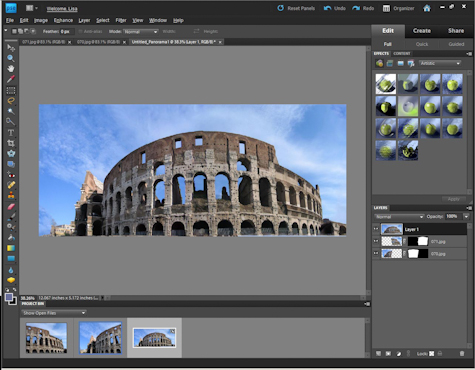 The new Elements can do a content aware fill, just like in CS5 and add in the information to complete a smooth panoramic.
And if you need to make a shot fit in your photo album and don't want to crop anyone out?
Try this new Recompose feature in Elements 9:
There are so many cool new features in this version, that it is definitely worth the upgrade.
only about $80. for the new version, with mail-in rebate.
And if you you would like the new Premier Elements video editing, which is way more robust that iMovie, get the combo pack for only $120. First time on the MAC and we are digging into it as we speak. Yeah, adding animations into our little homemade movies. Like that.
Take it all for a test drive, as Adobe always lets you check it out for 30 days, for free.
We do that all of the time, and it's really the best way to check yourself, before you wreck yourself.
Sharing photos and videos with your social media families is the norm, and Adobe gives you the sweet tools to tie it all together, easily.
If CS5 was too much to bite off, this may be the perfect tool for you. Incredible features, allowing you deep control over how your images look, and the way you present them to the world.