Weekly Giveaway – Jill Greenberg gets all Simian on ya
We are huge fans of Jill Greenberg. We really are.
From the first time we saw her End Times series of babies in their truly end time photos, she had us.

A very controversial portfolio of images, as the babies were crying. Those who weren't parents thought, perhaps, she made them cry for the photo.
Quite the contrary, babies cry. They just do. And parents know very well when that end time is near.
She in her brilliance, captured this end time, and the style of the images and lighting, have defined her.At the same time, her distinctive look caused her to be copied throughout the photo world.
Here she copies herself, with
Glenn Beck
for GQ magazine:
This week we have one of her books to giveaway, Monkey Portraits, where she will have you seeing personalities in the simian world like you may not have seen before.
Plus we have the hardcover edition for you.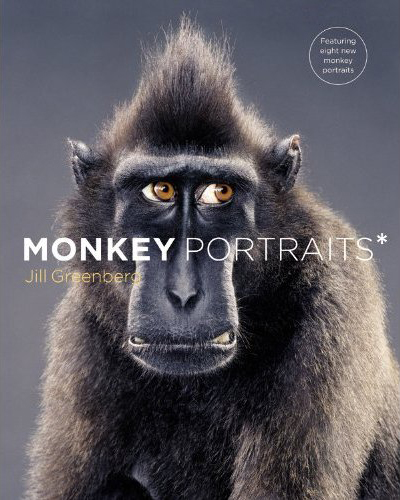 Book Description from Amazon:
"We share about 98 percent of our DNA with chimpanzees, our closest biological cousins. And never have the similarities between simians and humans been so amusingly and brilliantly captured as in Monkey Portraits. Jill Greenberg has spent 15 years photographing celebrities–from Clint Eastwood to Drew Barrymore–for leading publications, but has recently focused on actors of a different sort. She has been photographing monkeys and apes, many of whom have appeared on film or in television shows. Her intimate portraits of these animals convey a startling range of emotions and personalities, and evoke an almost eerie sense of recognition. Each of these 76 amazingly anthropomorphic photographs will remind you of someone you know. These monkeys in all their glory will cause you to laugh out loud and to wonder just how different we truly are."
We have one of these to give away this week, and you may know how this works:
Just like this-
1. Be a subscriber to our free weekly Newsletter
2. watch your inbox on Weds. The Newsletter is sent Weds. morn at about 9:00AM PST.
3. Read it, enjoy, share, catch up on what you may have missed the past week in the world of photography.
4. Answer the simple question included in the email, and reply back to the sender (us!)
5. All correct responses are compiled and we use random.org to determine a winner.
pretty darn simple, if you ask us.
And if you'd like to get a copy of this book without waiting to see if you are this weeks winner, click here

, although this is the paperback version, and we have the hardcover for you.