It wasn't love at first sight, but then….The Olympus PEN E-P2
The current rage of 4/3 sensor, mirrorless cameras first came onto our radar with the Olympus E-P1. One of the judges for a photo contest we ran, Let's Do Lunch!, was Lou Manna, an Olympus Visionary photographer.
You know, every camera company has a roster of professional who use their gear and show you how to get the most out of it.
Anyway, when Lou ran us through the features of the EP-1, (in this video)
Just added! Video from an Olympus company rep going though accessories and the 4/3 sensor size comparison at the end of this article.
we felt that it was time to take a look at the 4/3 sensor series. So as soon as the E-P2 was available we got one into our hands.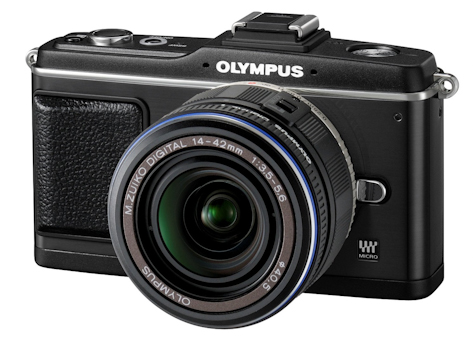 At first, we kinda felt like it was a camera in a funny category: more than a point and shoot, but was it on par with a DSLR? No prism, so it was a very quiet camera with no mirror moving. Looked like a baby Leica with a fraction of the price tag.
It has the ability to use lenses from the Olympus line AND most any other manufacturer with a 3rd party adapter.
It was that Goldilocks and the 3 bears scenario we've discussed here before: is one too big? another too small? Is this one just right?
But how did it perform?
Armed with a few lenses, we took it to SXSW Music/Film/Interactive festival, and wasted no time shooting Gym Class Heroes in a small club.
Set at ISO 6400, lens was a 14-42 mm. zoom, and was all out at 42mm, 1/160 sec. f/8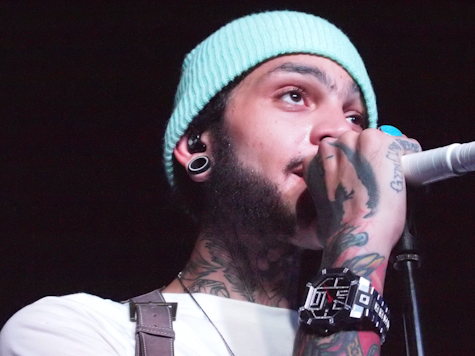 © Damon Webster
and here is a detail:
You are looking at a 72 dpi file so quality lower than standard.
Here is what we found: at an extreme ISO, changing light conditions, this camera delivered an excellent RAW file, and the grain structure, although present and visible was tight. By that we mean the pixalation was more like a fine film grain than a digital pixel mess.
Couple that with the ability to render a true 16:9 format and we were good to go.
With the small size, street shooting with this was a much easier situation, especially in NYC.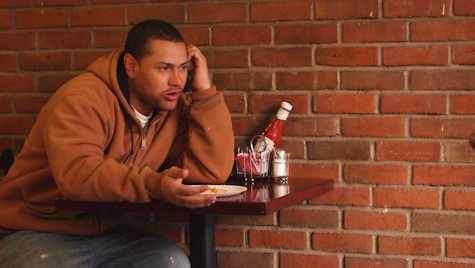 © Damon Webster
We have been accused of being paparazzi in Los Angeles carrying around a full frame DSLR. Why?
Because it's so big, they tell us. And there are a ton of em' here. Paparazzi, that is.
So a more stealth size, to say nothing of the lighter weight, and the ability to carry more lenses, due to sheer mass was a pleasure.
OK, you have a 4/3 sensor, ISO max @ 6400, single, continuous or tracking auto focus, and full range of lenses.
The ergonomics ( or mouth feel we like to call it: based on food companies formulations of how a product feels in the mouth) is brilliant.
The placement of the dial for adjustments are very natural: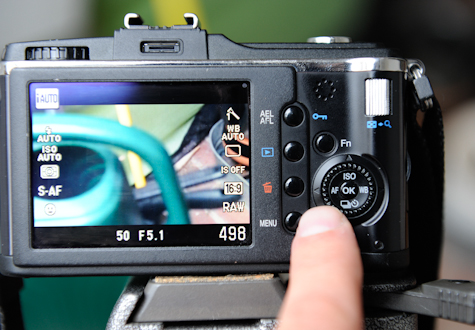 This dial is right by the thumb, and picks your menu item.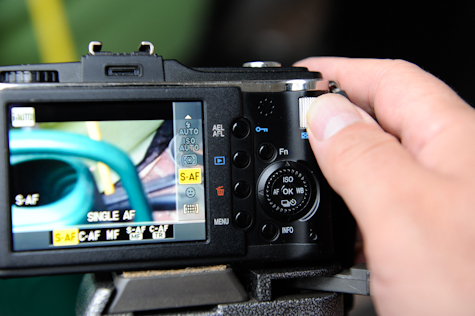 And this upper wheel works different and has enough of an alternate feel to the other than even when you are not looking at the back, you can easily adjust things. This one scrolls through your choices in the menu.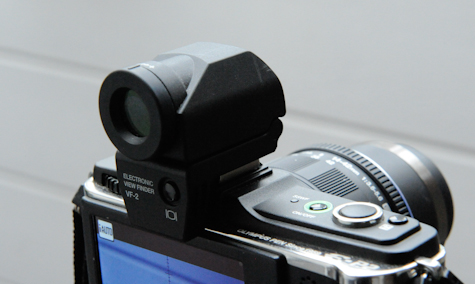 If looking at an LCD is not your thing, and a viewfinder is where you need to be, this articulated optional unit has amazing clarity. You slip it into the hot shoe so flash is not an option with this in place.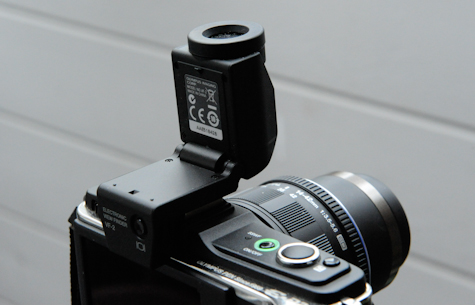 The viewfinder was also a plus shooting on the street.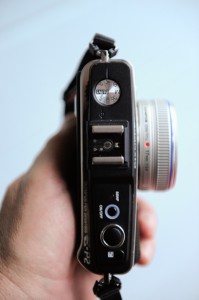 The 17mm pancake lens made for this series, became the go-to lens for us. It made the entire profile of the camera so slim, it was the first thing we grabbed when hitting a personal event.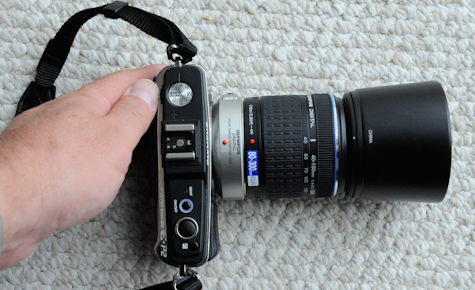 The 80mm-300mm equivalent lens, saved on a major family moment.
While at a graduation, we didn't want to run to the stage embarrassing the family member. This lens allowed us to capture the moment from our seats.
Did we mention it was a video moment? Yep, this unit does 1280 x720 HD video, with 64bit stereo audio.
Let's recap: mirrorless design, takes tons of lens from a variety of manufacturers, good size 4/3 sensor, tight grain at high ISO (up to 6400), shoots HD video, and has an electronic viewfinder available.
Is there a con in all of this praise? yes.
The shutter response was slower than the Nikon D700, full frame DSLR. No getting around that. We've now been looking at a few mirrorless units and it just is the case with these pups at this point.
Of course a point and shoot will kill you in lost moments. This is not that. There were some moments photographing a tennis match that we switched to sequential shooting and anticipated the coming action and shot multiples, at about 3 frames a sec.
The price point is about $900 USD with the one zoom lens of 14-42mm. In the middle, as we said.
For those that don't want the bulk of a full framer all of the time though, this is an excellent choice.
This is a camera we would buy. Once again the right tool for the right job: one camera for a suit jacket pocket, one camera to do the heavy lifting (the full frame DSLR) and this camera for the everyday use.
We were so impressed with this system that we give it our highest recco for purchase.
More mirrorless systems are here ( Sony NEX) and more are coming.
This smaller footprint and high quality camera will become a strong category in the photography world, and Olympus has set the bar pretty high.
The best camera is the one you have with you, according to Chase Jarvis. Yes, we know the cell phones have some great capabilities, but with the size of these, you'll want to get your everyday photos into a better place. And hey, you can probably use the lenses you already have with a 3rd party adapter.
Of course you want specs, right?
Click here for the official word.