Weekly Giveaway – Weegee: The Hits!
Everytime we come to the beautiful city of NYC, the work of this photographer always seeps into our mindset at some point.
Arthur "Weegee" Fellig captured the city that sometimes could only be revealed by the bright pop of flashbulb. And original tabloid shooter, his work was a raw look at the city that never sleeps.
The high society posers, the man/woman on the street, the gangsters were all fair game to his Speed Graphic and single use flash bulbs.
We'd like to offer this book as a primer to Weegee's work.
Not definitive, but the classic images that may be in your mindset somewhere.
Weegee (Phaidon 55's)
will start you on a path of history: this man truly had a fascinating career. Not glamorous, and as a matter of fact, a bit of the opposite as he would troll NYC for the events that defined the night, with a trunkful of gear in his car.
There are many books on this man's work, and even some movies, but let's start you off with this volume.

And once you get hooked, check out this page of books and media
relating to the life and times of this photographer.
Honestly, when we first discovered a large body of his work, the hunt was on. In that hunt we found an old VHS only movie of this odd man who fancied himself a bon vivant and ladies man, working his photographic skills to his best advantage in those areas.
Portrayed by Joe Pesci in the movie "The Public Eye" you can get a sense of who this man was, in a Hollywood-ized kinda way.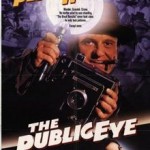 Because we have been jamming, the whole giveaway and Newsletter this week will be pushed by a day. So the giveaway entries will be accepted up to Sat. Nov. 6, 2010.
If you are not quite sure how to enter to be eligible for the free book( yes, free), you have to be a subscriber to the free (there is that word again) Newsletter that has all of the details.
This week it'll show up in your inbox on Thursday, not Weds., which is the usual timing.
So….subscribe here, check out the photo news in the newsletter, and enter to win a free Weegee book.
We give away photo stuff every week so stay with us and you never know. You could be adding to your photo goods.