The pro back-up system that simply works: Wiebetech
You know that we are all over the back-up way of life. And you need a solid work-flow to make sure that there are multiple copies. Ever had a hard drive crash? No? You will. All of the manufacturers know hard drives don't last forever.
There is something called MTBF, and it's not just is not just a random collection of letters; it stand for Mean Time Between Failure.
Yeah, not to make anyone crazy, but every hard drive you have includes that as one of the specs. Or should. Many do.
The point is that you will have to keep backing up and doubling (or tripling) copies of the raw media you have generated over your digital life. Every few years, you should generally transfer materials to a new drive. Stinks, but that's what the deal is.
Ok, now THAT conversation is out of the way.

But what kind of systems exist for the massive gigs of material you have made?
There are some choices out there, and sometimes the ones that talk the loudest and most often, win the business.
At one point a company called Buffalo was becoming the standard brand for digital storage in the world of photography.
Then came Drobo, whose proprietary software backup system promises a safe and secure method. It's the proprietary part that concerns us a bit.
We have been using a G-Speed ES from G-Technology for a couple of years now, and so far the service has been great.
But here's the thing: between our stills and video media, the need for hard drive space has been increasing exponentially and we are getting a little tired of all of the external hard drives dongling off of each other in daisy chains.
And we'd love to keep upgrading the G-Speed, but we need a new hard drive sled, or enclosure, for each hard drive we replace.
So we went looking for a simple solution.
And we think we've found it.
The WiebeTech RTX220-QR Hard Drive Array –
system is a bulletproof housing, with the ability to use hard drives without sleds, and with a simple button press, set your RAID array settings. the one we used did Raid 0 and Raid 1. Plus you could set the alarm system to let you know when there might be an impending drive failure.( that MBTF thang). The software it uses is a standard in the data business, meaning your drives can be read in a variety of manners, if need be.

This company is just coming into the photo market string after finding huge success in the federal and forensic arenas. If you're familiar with any cop shows, you know that the integrity of data for the feds and the CSI or SVU or whatever you call them is critical.
These things are built like tanks.
So, back to the hard drives not needing any sleds: (the sled is the holder that a hard drive would be mounted to before inserting into a RAID unit).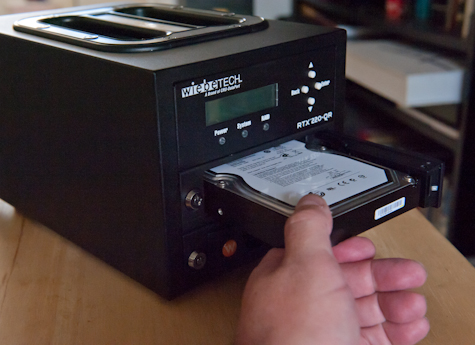 The high quality hard drives like Hitachi can be had in 1T, 7200RPM for about $55. If you are building a mirror back-up system for your work, that's a cheap price to pay. Then when the disks are full, you can put them into anti-static cases and store em offsite. Or keep one around with notations and store the copy elsewhere.
You can go for a 2 bay, 4 bay or 8Bay unit, depending on your studio needs.
It uses a standard Disk Backup 3 software, that we were happy to see, since we use the same software in our Voyager Q Hard Drive Docking Station
system. That one is basically a one disk system you can use to pull copies of your materials at one time, or use to access single drives. Like the drive you filled up in your Weibetech RAID array, stored a copy offsite and kept one onsite.
Make sense?
Simple is the key:
No sleds needed equal cheaper storage price. Common software means longevity and ability for many ways to read your drive. You could essentially plug the drive into your desktop computer and read it. Can't say that about Drobo. You use their system only.
One of the people we spoke with is creating a white paper on the truth about RAID and data back-up. If it's anything like our conversation, you want to read it and we want to share it. Here are some of their other paper on the subject.
Now count up your hard drives, see how much each system would cost you initially and in the future, and the math should show you have a solid player in this company.
This is how we're gonna work it:
• Get the 4 bay unit and do a Raid 1 array with 4 1T drives
• When the drives are full, 2 (which are mirror copies) go to anti-static cases and go off site.
• the other 2 drives stay in house in anti-static cases, and get a print out of the files on each.
• 4 new drives get purchased and the cycle of back-up starts again.
• The Voyager single drive reading system, is used when we need to access the older material on the drives we made in the WiebeTech.
The beauty we find about all of it is that the manual that came with the Raid System reads so clear and concise, that we know anyone can set up a working system for their studio with ease.
Highly recommended.