Weekly Giveaway: A sweet tool, that fits on your keychain
Have you ever had to move a large batch of files from one computer to another?
Not quite "hard drive" large, but maybe a set of images you've been working on and need to change workstations?
Or perhaps your portfolio looks great on that screen, if they could only get a solid wi-fi signal.
We've been in enough situations where just using a thumbdrive to copy a file and carry with you to a new location is faster, and ultimately cheaper.
There are always at least one in our gear bag.
And there is one that we carry on our keychain: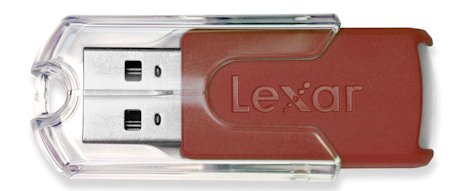 The Lexar JumpDrive FireFly 16 GB
, has been in our hands for awhile now, ever since we started to give them away to investors, with our complete history, powerpoint presentations, videos, and illustrations all in one cool tiny (less than 2″x1″) package. With 16gb capacity, not only were people thrilled to get it for the enclosed info, we think, but knowing that they had a huge back up stable drive in a unit that could easily fit on their keychain.
And we're giving one of these away this week. We'll keep this as small as the Firefly itself.
*Make sure you are a subscriber to the free weekly newsletter.
*Watch for it on Weds. in your inbox.
*There will be details on how to enter in that newsletter, as well as some recap of the week, and extra bits not on the site.
and there you have it.