Weekly Giveaway – Since we're in a Rock & Roll frame of mind….
After a solid time of shooting, then sharing some rock photography of ours, you deserve to see some of the finest there has been.
Subjective of course, but this body of work, that was first an exhibit at the Brooklyn Museum, has been identified as one of the best overall collections of the genre: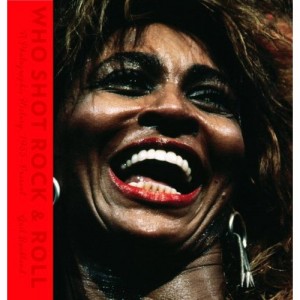 And this week we have 1 copy of this very cool book for one of you.
Who Shot Rock and Roll: A Photographic History, 1955-Present
is a fairly complete look at the major players in that arena, along with some of those whom you may not know their name but know their work.
Curated by Gail Buckland, she wandered through the archives of over 100 photographers, to pick out images even they had forgotten about and wrote of their history. She has either collaborated on or written 11 books of photographic history and has been a professor at Cooper Union in NYC, so she come from a solid place of knowledge regarding the relevance of the images.
What we particularly like about the book are the stories behind the photos. Or the mindset of the shooters at the time. Sure, there are plenty of current players in this field represented like Mark Seliger, but do you know who Don Hunstein is?
Only the photographer of perhaps the most iconic album cover in rock history:
Freewheeling Bob Dylan.
No, seriously.
This book caused us to seek out the rest of the work of many of the folks in here.
And the layout is great because there are bite size nuggets of copy to give you an insight. Just enough to tease.
Our only complaint is that they sometimes send you to the back of the book for the last bite of verbiage.
On the way though, you'll catch all of the album covers these artists covered in miniature form.
All in all, this a great collection of rock & rollers captured by some of the unsung photographic heroes, as well as the celebrities in their own rights.
So, this week we have 1 of these books to give away.
Sweet, right?
And it is so dang easy to enter the giveaway.
Just make sure you are signed up for the weekly NEWSLETTER (here) or sign up at the top right of this page.

This is how it works:
Every Weds. at 9:00AM PST, an email will appear in your inbox from us. Inside will be all kinds of goodies.
Recap of the week, some additional info just for subscribers, and the "special word".
Why do you need a "special word"
Because of these instructions for the giveaway:
1. Hit reply to the NEWSLETTER
2. Put the "special word" into the subject line of the email (included/revealed in the newsletter)
3. Delete body of email (saving server space)
4. Add a shipping address
5. Hit Send

That's pretty much it. And the secret word is not like finding a needle in a haystack.
Heck, we just want you to have some fun with this.
And be ready to ROCK!