Weekly Giveaway : Elliot Erwitt-Personal Best. If you're in NYC, you may get it signed.
The master of the ironic photograph, Elliott Erwitt, will be honored with a major exhibit at the International Center Of Photography.
A member of the prestigious Magnum group for many years, he is this years recipient of the ICP Infinity Lifetime Achievement Award.
We are proud to have met the man and shot a video with him (in our Video Shorts Page). Click on playlists for specific subjects.
Gentle and disarmingly funny.

From the ICP site:
Elliott Erwitt is both an eyewitness to history and a dreamer with a camera. Distinguished as both a documentary photographer and filmmaker, Erwitt has made some of the most memorable photographs of the twentieth century, including astonishing scenes of everyday life, filled with his own special poetry and wit, as well as portraits of Che Guevara, Jacqueline Kennedy Onassis, and Marilyn Monroe. Born in Paris in 1928 to Russian émigrés, Erwitt grew up in Italy and France and emigrated to the United States with his family in 1939. Drafted into the Army in 1951, he continued taking photographs for various publications. Decommissioned from military service in 1953, he was invited to join Magnum Photos as a member by its founder Robert Capa, one of Erwitt's mentors. He served as President of the agency for three terms. While continuing his work as a photographer, Erwitt began making films in the 1970s. His documentaries include Beauty Knows No Pain, Red White and Blue Grass and The Glassmakers of Herat. He also produced 17 comedies and special satire programs for HBO. While actively working for magazine, industrial and advertising clients, Erwitt has created books and exhibitions of his work. To date he has produced more than 20 photography books including Eastern Europe (1965), The Private Experience (1974), Personal Exposures (1988), To the Dogs (1992), and Elliott Erwitt's Paris (2010). His photographs have been featured in exhibitions all over the world, in venues including ICP, The Museum of Modern Art, The Art Institute of Chicago, The Barbican in London, The Reina Sofia Museum in Madrid, the Spazio Oberdan in Milan, and many other European and Asian museums and galleries. Erwitt has lived in New York City since the 1950s. With his love of taking pictures, his flexibility and adaption to the requirements of the profession, his personal interests, and the response to his work, Elliott Erwitt continues to be one of the leading figures in the world of photography.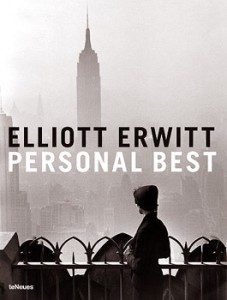 So this week, we are giving away a copy of his book "Personal Best", and it will be purchased from the ICP bookstore, so if you are in NYC, you can possibly have it signed on Friday, May 20, 2011 (6-7:30PM) at ICP. Only books purchased through the bookstore, are eligible for this signing, so we'll send the receipt to the winner as well.
Details on how to be the one winner of this book, will be included in this weeks free weekly Newsletter, coming out Weds. AM.
Yes, we're well aware that we give a lot of Mr. Elliotts' books away here.
What can we say?
It's some of the best photography, and we never get tired of picking up one of his books and looking at the images, yet again.