Patrick Hoelck checks into the Polaroid Hotel, and leaves his door slightly ajar.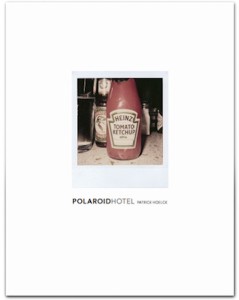 Multi talented artist Patrick Hoelck has produced a new book of his work, all consisting of Polaroids, from the SX70 family of formats.
Initially raising money to fund the project on Kickstarter, the donations surpassed the necessary dollars to get the project funded.
He's got a lot of fans.
Within an opening statement, primarily authored by Gisela Getty, he speaks to the freedom of using a medium where you're never quite sure what you're going to get, as opposed to his daily photographic work, which demands more precision and technique.
The looseness and apparent off handed quality of the work, bring his book into an almost Warholian zone.
Very personal, very raw.
Sure, it's the people and things around him, that become his subjects. Beautiful, young. woman and celebrities are, shall we say stripped naked in front of the very simple lens of the Polaroid.
What you get is a glimpse into the artist's life, as sexy, electric, mundane,and haphazard as it can be. The door to his room at the Polaroid Hotel has been left open a crack so you can see what goes on.
With a few, nearly monochromatic LA landscapes, the majority of the images are somewhat closeup of details of his work and life.
You can get a sense of his vision as a film director, although the photos would perhaps be edited together as a dream or recollection sequence.
He appears connected to each, but flows quickly to the next.
At first blush, the book appears slim, but the photographs are plentiful and seeing more wouldn't make it a more complete thought.
The last shot of a pile of shoes titled " Europeans" gives the onlooker a choice to continue the journey in the next volume, or stop here for a moment.
Overall, it's a very personal look into an artists life outside of money.
The signing party at Lead Apron Gallery, belied the huge fan base that Patrick has.
From the celebrities,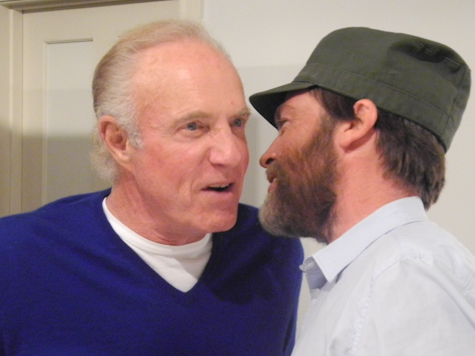 Patrick and James Caan
to puppets,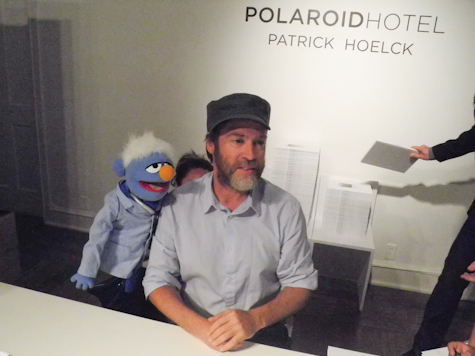 and quite honestly, everybody wanted a piece of him that night.
Probably one of the biggest crowds we've seen coming out for a photobook signing.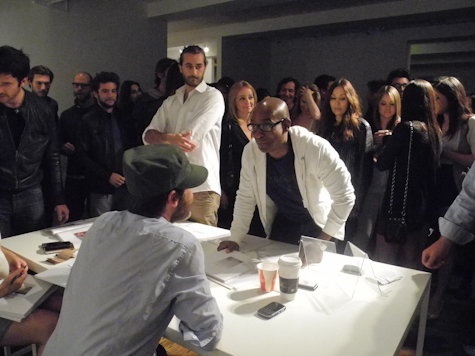 which all made his publisher/and gallery owner, Jonathan Brown very happy.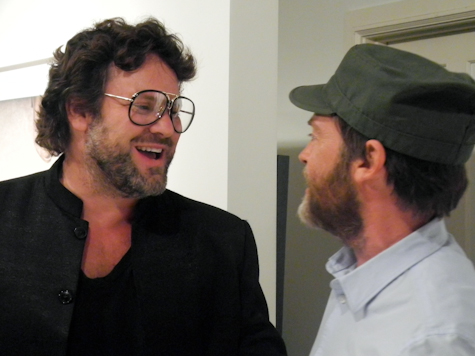 Check out his site for more on Patrick Hoelck, and contact Lead Apron if you are interested in purchasing a book. And if you are ever in need of an out of print photo book. don't forget to check in with them.
They may have you covered.