Weekly Giveaway – Let's light this candle! Or let Joe McNally show you how.
Probably a good idea to let one of the masters of the speedlight give you his version of lighting first.
Even if you think you got it all down, Joe McNally has some lessons for you that you need. We all need em.
And if you just bring your speedlight out for some flash on camera, you're about to discover how much creative options are already in your gear bag.
The Hot Shoe Diaries: Big Light from Small Flashes
is close to becoming a photo classic, at the very least it is a primer that all shooters should have.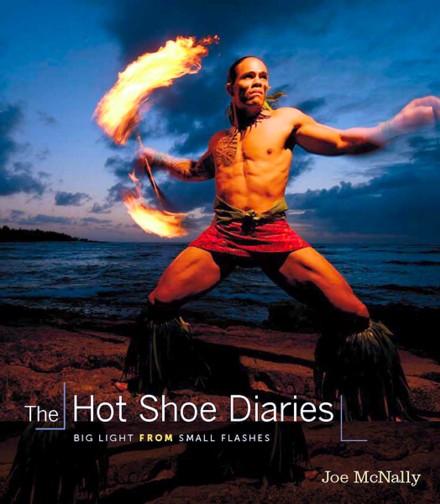 And we want one of you to have one as a gift from us.One of you, anyway.
It's easy.
You just have to be a subscriber to the weekly Newsletter. On Weds. you'll get the details on entering.
No Suduko, fancy die rolls, scratch offs, scavenger hunts, MBA, PHD, box tops, or UPC codes.
Nope.
You'll see. Just wait til you get the newsletter. Plus some bonus things, not on the site.
And we won't be sharing your email addresses. With anybody.
Not how we roll.
For those of you who are curious: The title Hot Show Diaries is indeed a coy reference to the semi erotic series on HBO starring David Duchovny, called "Red Shoe Diaries".
How far we've come.