'Scuse me, while I kiss the sky! Happy Earth Day!
Like it or not,as photographers we are adding to electronic landfill everytime we upgrade a camera body, or change cell phones or replace a computer.
Sure, we're not dumping processing chemicals from our personal and pro labs, but there is a big footprint, absolutely .
How can we help reduce that carbon footprint?
A big one is rechargeable batteries.

Our brand of choice is La Crosse Technologies Alpha Power Battery Charger. The system allows you to discharge and refresh, prolonging batt. life, protective circuitry to prevent overheating or overcharging, and lot's more. Simply the best, in our opinion.
Check out the site for more details
One of our favorite items from CES, and yes we use it every day, is this Dexim Visible Green Smart Charge & Sync Cable for iPhone
.
Simply put, you charge you iPhone or iPad with the cable, you get a visual on the speed of energy going through the cable, and then, this is the important part, it shut off the electricity to the unit, eliminating vampire charging. You know all of your electronics are are drawing power when plugged in. Even if they are off.


Greensmart bags has been at it since 1995 and we checked these bags out at CES in January. Although not essentially camera bags manufacturers, their messenger bags and laptop covers, are pretty darn good AND they are so proud of how they've recycled, each bag displays a badge.
"The interior and exterior fabric used to create this eco-friendly Baringo messenger bag is derived from 100% post-consumer recycled plastic bottles – keeping a total 31 bottles from ending up in a landfill. Plastic bottles are collected, ground up, washed to become fiber, spun into yarn, woven into fabrics, and sewn into bags. The overall process uses less energy than making polyester out of virgin chemicals and has resulted in the recycling of over 750,000 plastic bottles for bags so far."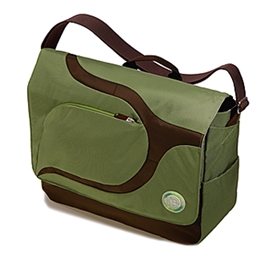 We have been using one of these laptop messenger bags
for walkabouts, as it holds an iPad, and we'll throw a mirrorless camera in there, with a coupla
lenses,extra batt, flash, and of course, a reusable water bottle.
The build is good, the strap comfortable. We had concerns about no padding on the strap but it hasn't been a problem.
Plenty of dividers, zippered pockets, and some padding but not a ton.
If there is any complaint on the bag, it's that the magnets used to close the outer flap are a bit weak.
We wish we could recco a great Solar Panel system for your photo needs, but we can't. They keep getting better, though.