Wet, Metal, Photos – yeah, we're talking about Tintypes @PhotoboothSF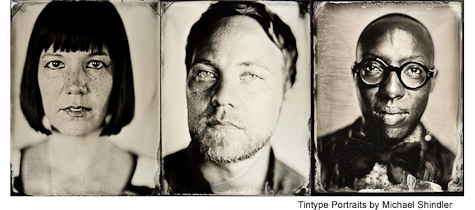 Billing themselves as "The world's only Tintype and Polaroid portrait studio" Photobooth SF came onto our radar via the interwebs, and a couple of our chief spotters, Kate and Tito, who scan daily for cool stuff.
For you. For us.
We watched this video:

…and we were hooked.
Luckily, ever year we go to the Academy of Art in SF to do portfolio reviews for the photography department (more on that later).
Staying another day would allows us to visit the Photobooth SF storefront and see the process first hand.
When you walk in, you may be greeted by Vince, one of the owners who will show you some of the latest analog finds in the world of photography. Along with selling refurb and new polaroids, the lomography line-up, and Impossible Project instant film, they come across various imaging delicacies, that you'd have to hit every flea market and ebay to seek out.
On this day, it was a police evidence Spectra Polaroid with all the close-up lenses and the ever elusive case.
Sweet.
But we digress.
We came for the tintype experience.
For those of you digital natives, here is a good explanation.
Yep, it's shooting with a wet plate, that has been coated in a silver halide mixture suspended in a collodion mixture. You might as well click and read it.
So after wandering around the store and seeing way too many cool cameras, we were ready.
Michael Shindler has been shooting these for over 20 years.
What is unique about Michael is not just the fact that he uses a process from the 1850's, but he is an excellent photographer who knows his medium so well, his lighting captures more that any tintype has before.
By chemically understanding the properties of his homemade emulsion, he understand what parts of the color prism are best suited to his subjects coloring.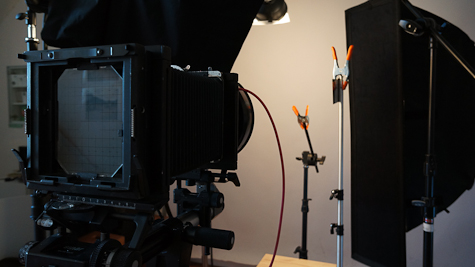 His lighting setup is all strobe, and it's a good thing: ISO of tintype is maybe .3.
His light meter goes down to ISO 3 so he just extrapolates exposure from there.
There is a rig to help keep your head steady as the depth of field is tiny. His precise focusing is critical to the end result.
Once he knows he has a client for a sitting, he makes a fresh wet plate, and then loads it into a modified film holder.
Having to use it 15-20 minutes after it's made, assures a speedy session.
Then, it's lights out, or red, for the processing.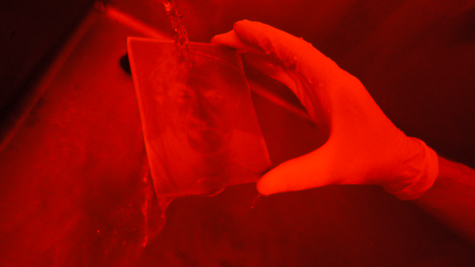 For those who have been in a wet darkroom, you know the thrill when an image begins to appear on the paper, and in this case the metal plate.
While in the room, a knock came at the door:" two more portraits, Michael", and he started to make the new, fresh plates while ours was in process.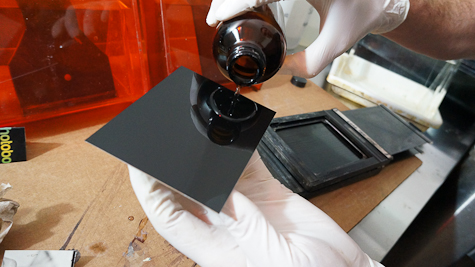 Years of doing this has helped him streamline his workflow and it is a thing of beauty to watch.
Even after the plate comes out of the chemicals and washes, there is more image shifting occurring. Putting the plates into a drying box, the liquid mask evaporates and you are left with the finished image.
Served up to you in a lovely embossed viewing envelope, or you can splurge and get the stunning shadowbox framing, which sets it apart from the rest of your standard photos in a frame. Of curse you won't be walking out of the store with it.
But wait, there's more……
If you like , you can also get a fine-art Gicle prints made on Hahnemuhle Photo Rag paper. In a variety of sizes. They shoot a perfect copy of the tintype for their files, use that for the print.

How much do we love this set-up?
Enough to say that, although The Golden Gate Bridge and Alcatraz are pretty cool, you have to arrange your next visit to SF to include this.
Make a reservation, as this is all hand made stuff.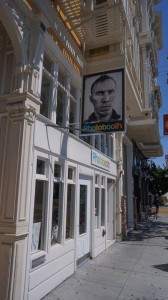 Photobooth
1193 Valencia Street @ 23rd
San Francisco, CA 94110
415-824-1248
Store Hours:
NOW OPEN MONDAYS 1-7pm
Wed 1-7pm
Thur – Sun 1-9pm
Tintype Hours:
Thurs – Sat 2-8pm
Sun 2-6pm
Our main purpose in San Francisco was to review the portfolios of the graduating class of photographers at the Academy Of Art.
Every year we find some stars, and this one was no different.
More on that shortly.