Adobe Elements 11 changes the focus starting with the Home Screen
Price alert! Amazon listed this combo pack of Adobe Photoshop and Premiere Elements 11

for $100! Seriously a great deal.
Ok, carry on.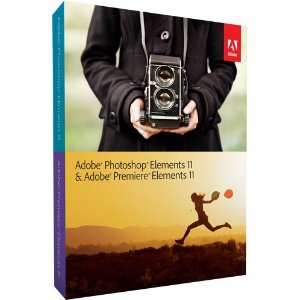 Ahhhh…
We have finally come to a collective consciousness that we shoot sooooo many digital images, it is getting to be a bit unwieldy.
Yeah, the enthusiasts and pros are used to this, and have a workflow set up, making it easy to locate images.
With most folks, not the case.
The numbering systems attached to each image file, just becomes a string of digits. How can you locate your favorite shot of that BBQ last summer?
Thankfully, Adobe has addressed this in the latest edition of PhotoShop Elements 11.
You can tell right from the start-up screen that this is a different bit of software.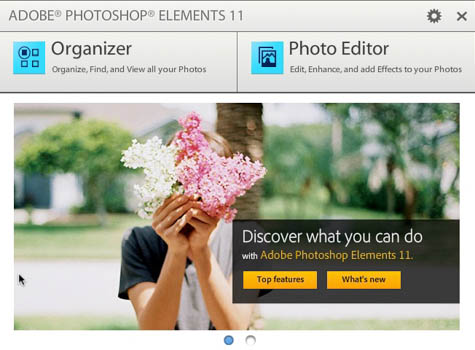 When you are ready to truly organize your photos, the Organizer lets you organize by face,place, event, and date. And if, by some chance, the dates on your photos are off, you can adjust and change.
If you haven't geotagged your images when you took them, have no fear: tag em when you organize em.
The facial recognition is just ok, as every one of our friends who is follicely challenged became as one.
Events were easy to tag, as photos taken on the same date were put into stacks.
No, the visuals for organizing tools aren't sexy, but you better believe you need em.
This is one of the cleanest, simplest ways for the neophyte to organize their photos.
Now go to the other side of the program and that's where you'll get the real deal.
With 3 levels of image adjustment:
Quick, that'll give you the simple choices and show you what a click will do. And you can show the before and after as you go. It even has a toothbrush tool to easily whiten the choppers:
Guided, as you begin to understand the tools and what they may do, this level gives you written descriptions to walk you through the adjustments, so you not only see what it the function does, but you learn why you are using it.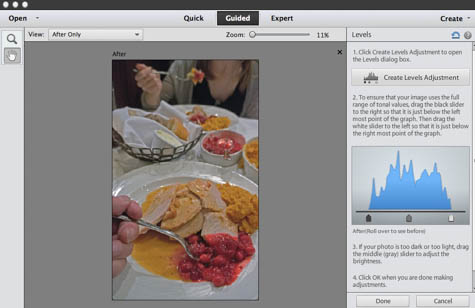 Then you get to Expert. When you are at this level, you will have (hopefully) understood what important tools like layers do, and be able to utilize the full set of tools that program supplies.
What you also get are some new effects that kept us up for hours, playing.
And the beauty of each effect is the ability to refine it for intensity.
Graphic Novel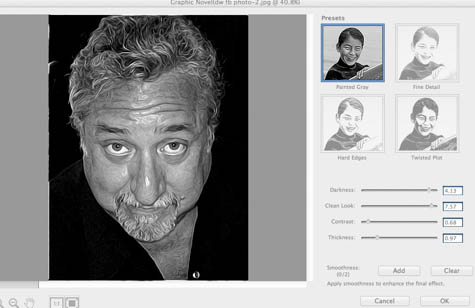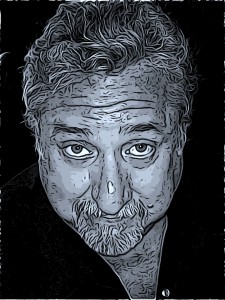 Or go Cartoon: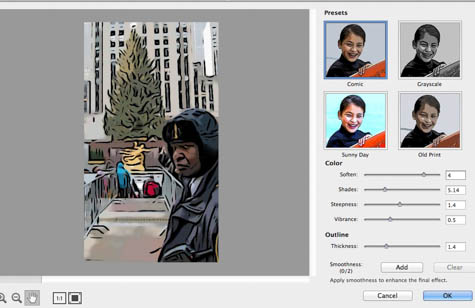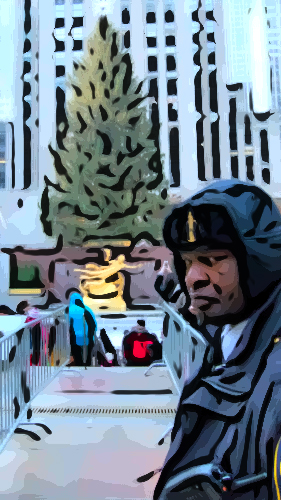 The brush strokes and outline that this effect algorithm lays on your image, is fascinating. You may have to go through your folders to find the best image for the effect, but we were impressed by the tree and statue at Rockefeller Center line strokes, that came out with one click.
Yes, another specific filter to be used when appropriate, but dang fun.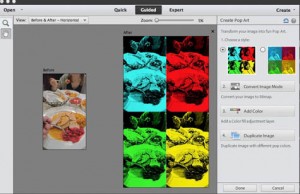 Or is Warhol more your taste?
We won't go all the way there, but you can.
Here's what you have: #Adobe,The undisputed leader in image software continues to make their top tier products, Like CS6, the best possible.
They take the learnings from that, understand the people that don't need the Ferrari, and developed for them, the most intuitive, useful, fun image editing/organizing software out there.
Multi-step tasks, have been simplified to a simple keystroke, in the Elements series.
Elements 11 continues that thought process and adds high powered organizational tools.
One thing we haven't touched on, is the video editing software, Adobe Photoshop and Premiere Elements 11

.
For a short stroke cost add-on, about $50.00, you get a powerful editing program.
This one allows you to post to all of the popular sharing sites from the program.
And for effects, if Avatar blue skin floats your boat, you have that effect.
Sidebar: 2 years ago, Apple had the pro editing market with Final Cut Pro. They then overhauled the entire program and, in the process, PO a lot or pro editors.
Some went back to the previous edit leader, AVID, and some went to Premiere.
Gaining a foothold is this user robust editing program, which has a interface not dissimilar to FCP.
What does that mean to you?
Well, by learning the Premiere system, you are getting into, what may be becoming, the new standard of video editing programs.
And you get it for $50. with quick and expert modes to help teach you.
We highly recommend the Elements series, as a gift and as a solid working tool for the enthusiast photographer/videographer.
Great value at $100 MSRP for Photoshop Elements 11 alone, and $150 MSRP for the Photoshop/Premiere Elements package.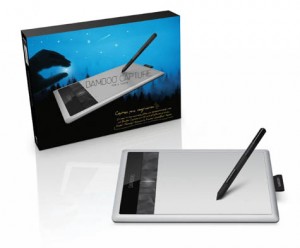 In addition, one tool we always suggest is a Wacom Tablets
. For a bit more precision in your image editing, and pen and tablet, is truly the way to go.
We travel with a small version of the Bamboo Capture.About $85. At the office, it's the Intuos5, with a range of prices depending on size.
We do dream about a Cintiq

, with a monitor that you work directly on. Pricey, even for the smaller version but….
And if you read this far, hopefully you saw the notice at the top of the review: both programs,Adobe Photoshop and Premiere Elements 11

for $100.
We'll be back soon with some more looks at software.